Gather 'round, folks! It's time for show and tell.
Lemonly celebrated its 11th birthday this summer, which means we've been creating sweet visual content for over a decade. 🎂
Some of our favorite visuals to design are animated infographics. We love these projects because — like static infographics — they help our clients clearly communicate their unique stories, but with a bit more zest and motion than a static piece.
Animated infographics allow us to tell stories in a ton of unique and fun formats. The animation can be simple and limited or complex and intricate, but motion always adds another layer of intrigue and insight to the storytelling.
Here are 10 ways we've brought stories to life with animated infographics over the years.
---
Change in motion: Classic Reveal Uniform (Green Bay Packers)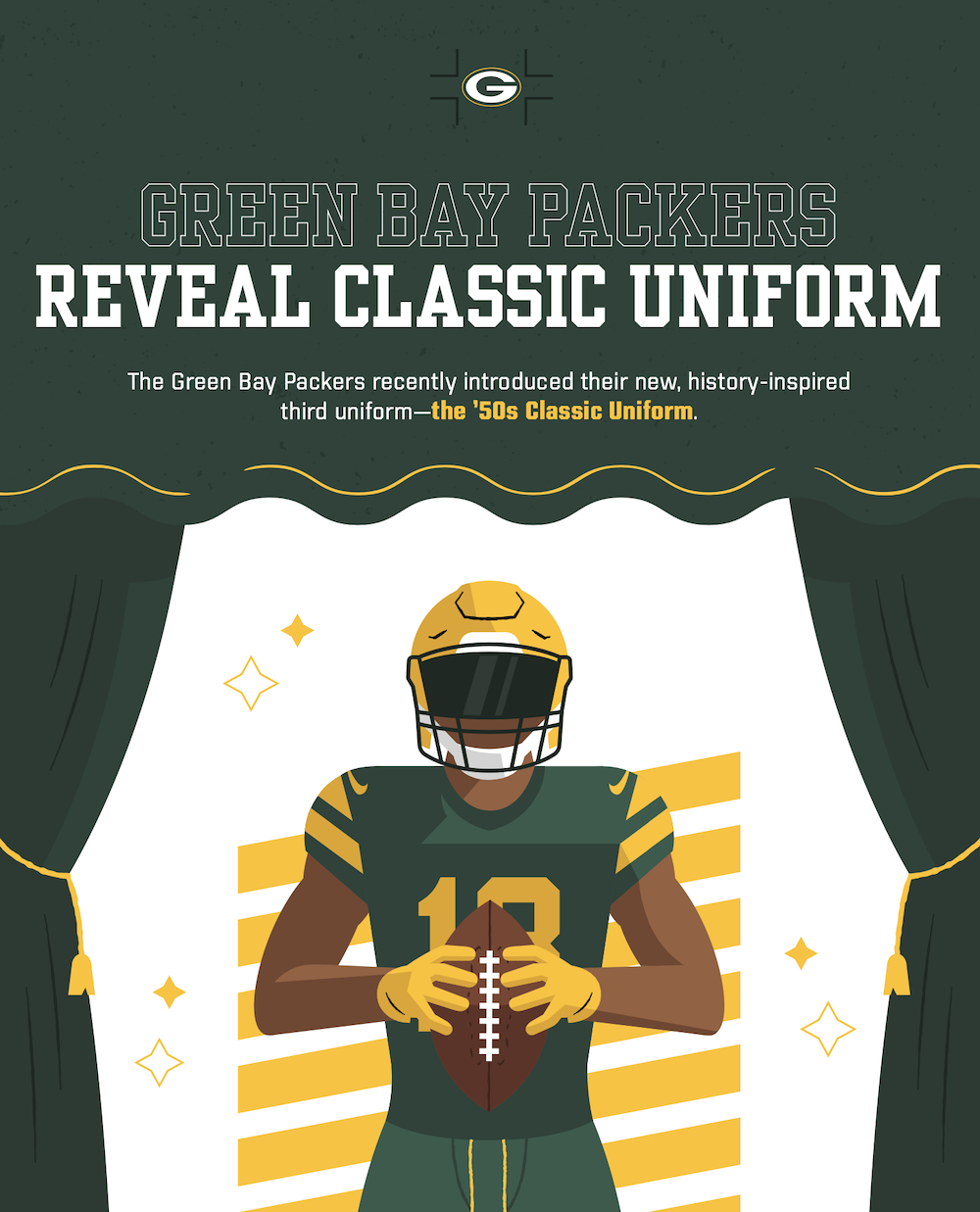 What it is: An animated infographic for the Green Bay Packers showing off some of the team's vintage uniforms and what makes them special. In this infographic, the animation helps fluidly show the changes that have taken place as the Packers have updated their uniforms.
What makes it great: This infographic does a stellar job telling the Packers' story through the unique angle of their uniforms. Viewers can easily understand how the team has changed over the years with this visual timeline, and the simple, engaging animations encourage readers to scroll on.
Eco-friendly movement: Responsible Business Report (S'well)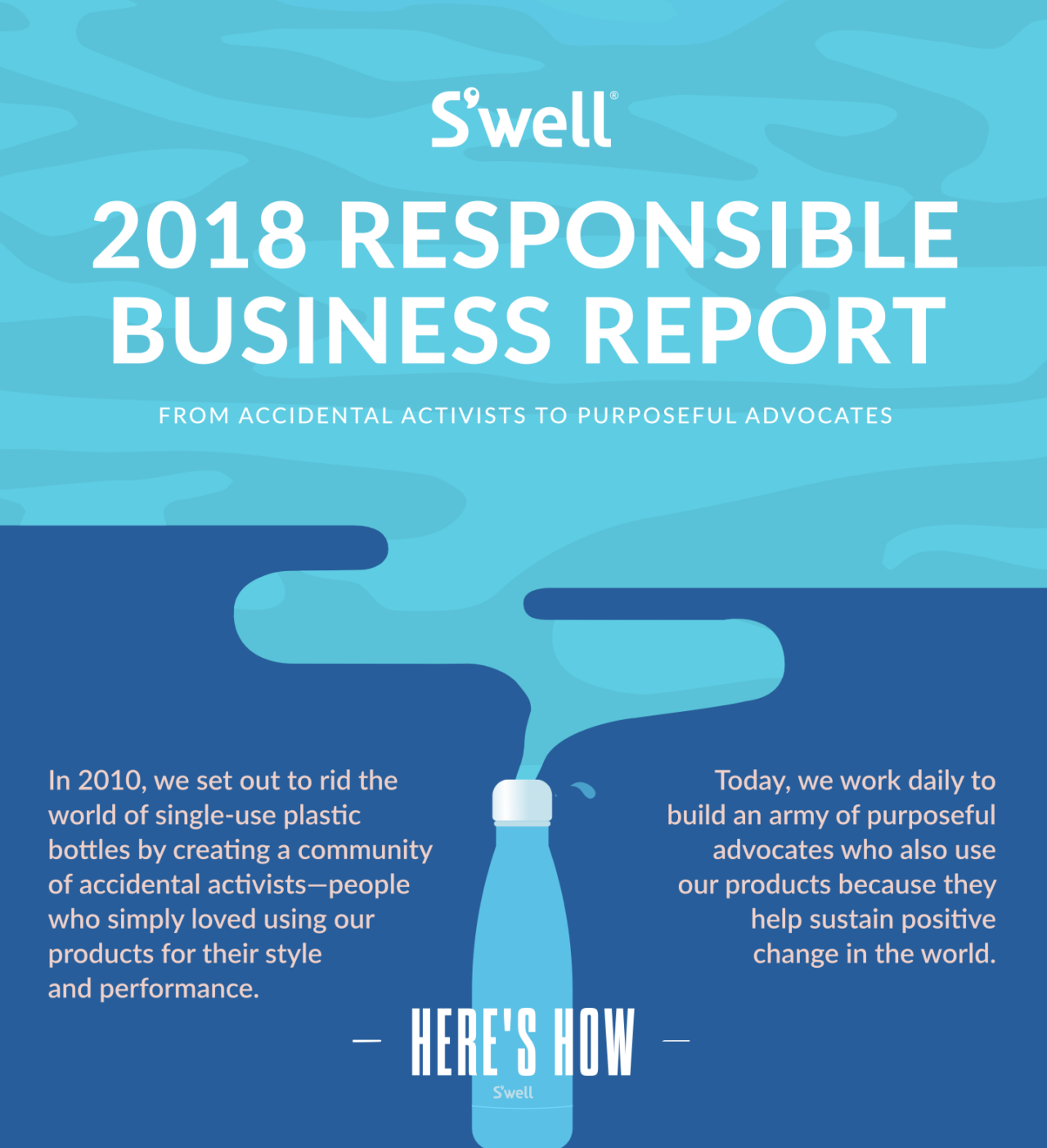 What it is: An annual report showing how S'well's water bottles and sustainability programs have made an impact on sustainability and decreasing single-use plastics. Animated arrows and packaging in this infographic show the cause and effect of Swell's eco-conscious business practices.
What makes it great: Right away, this animated infographic kicks off with a clear, impactful purpose statement: "From accidental activists to purposeful advocates." The infographic tells that story with smooth animations that help the viewer understand S'well's process and how it helps fight against overconsumption. These animated visuals are clear, colorful, satisfying — in a word, swell.
Easy flow: Assessing Postpartum Depression (Google)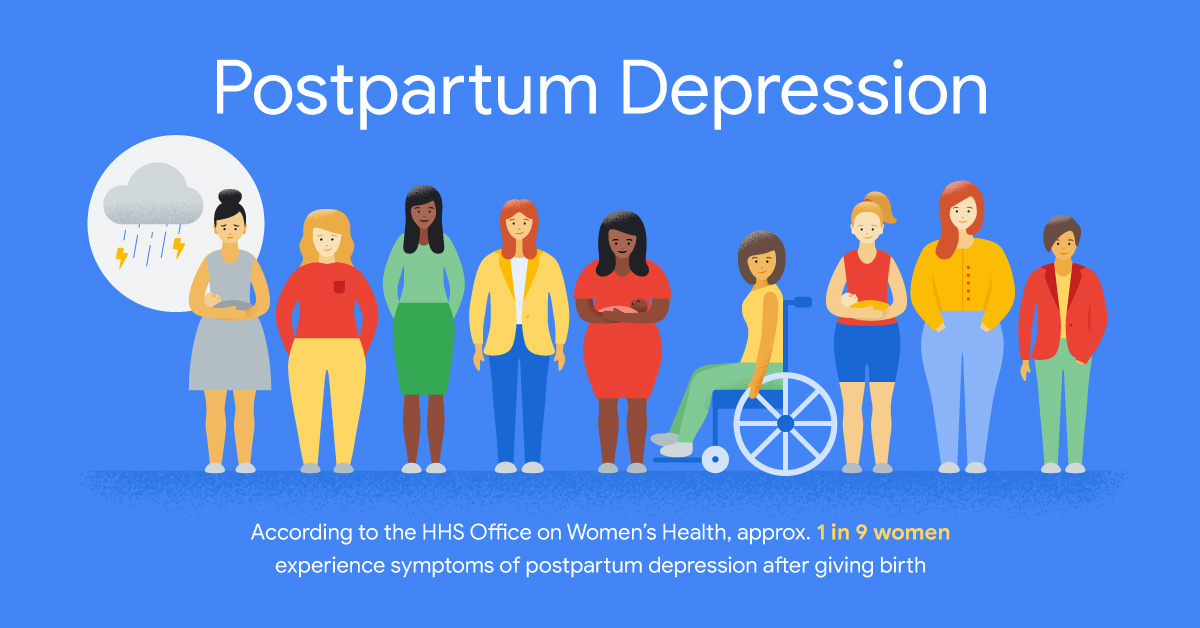 What it is: An educational infographic for Google explaining the symptoms and causes of postpartum depression along with resources for new parents experiencing postpartum depression. The simple animations help keep the tone light and polished while making the information easier to process.
What makes it great: Infographics tell stories in a clear, engaging way, which is especially important when those stories cover tough topics. We like to have fun here at Lemonly, but we love making a positive impact on important topics like conversations around mental health. This animated infographic really works because it includes a ton of useful information for people who need it without feeling busy or cluttered.
Moving meanies: Why Zero-Trust Security Architecture is Critical (Leidos)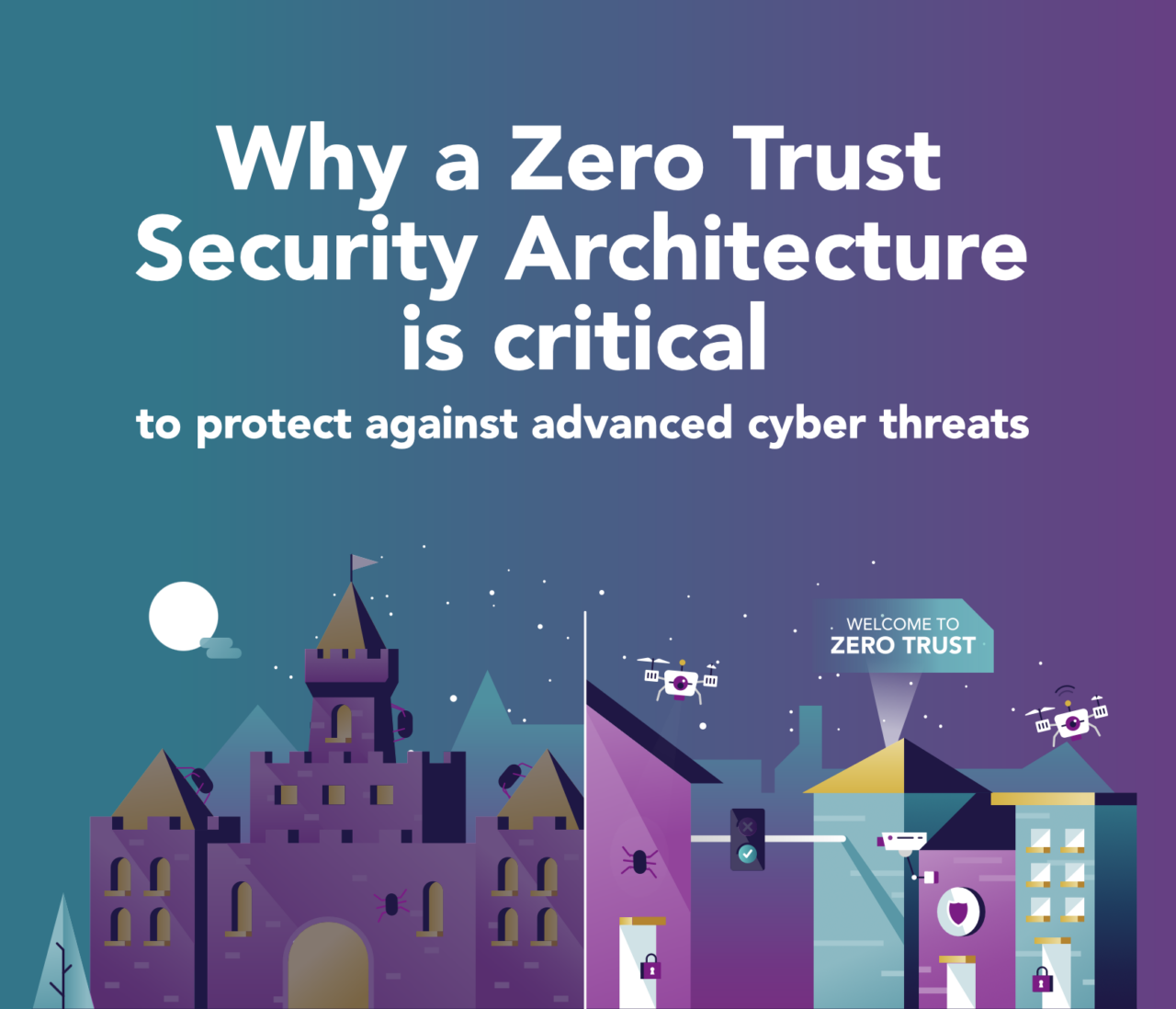 What it is: An animated infographic for Leidos that describes why companies should develop strong cybersecurity measures with a "zero-trust" security architecture that requires multiple verification steps. The animated elements represent active threats to cybersecurity, and the moving antagonists keep this infographic interesting.
What makes it great: Aside from incorporating a sweet visual metaphor, this infographic is an excellent example of content and design coming together to tell a cohesive story. The castle imagery drives home the point that your cybersecurity is like a fortress, and the constantly moving cameras reflect how cyber attacks are always a possibility. Spooky.
Contraption in action: Cloud Transformation with Google Cloud Platform (Virtusa)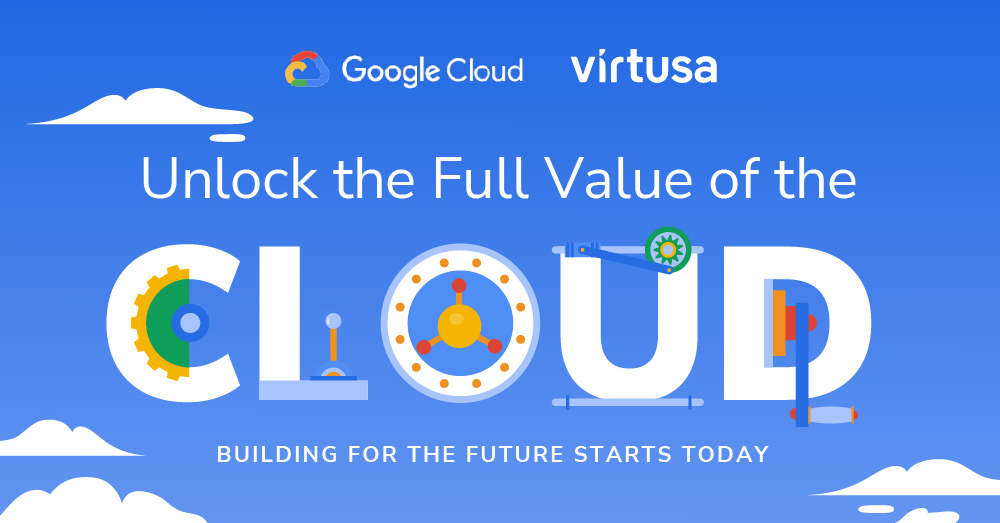 What it is: A Rube Goldberg machine-inspired infographic that explains Google Cloud Platform's capabilities and why they're useful for forward-thinking businesses. The animation here helps clarify the story of moving to the cloud: It's a bit complicated, but the payoff is worth it.
What makes it great: The animation really takes center stage here, and for good reason. The moving machines, gears, chutes, and cranks show that the shift to the cloud is, indeed, a technical process, but bright colors and fun animations make it clear that it doesn't have to be stressful. Animated elements play off of each other in a domino effect that shows how each step in the process is connected.
Clickable fun: Sioux Falls Must-Sees for the Whole Family (Experience Sioux Falls)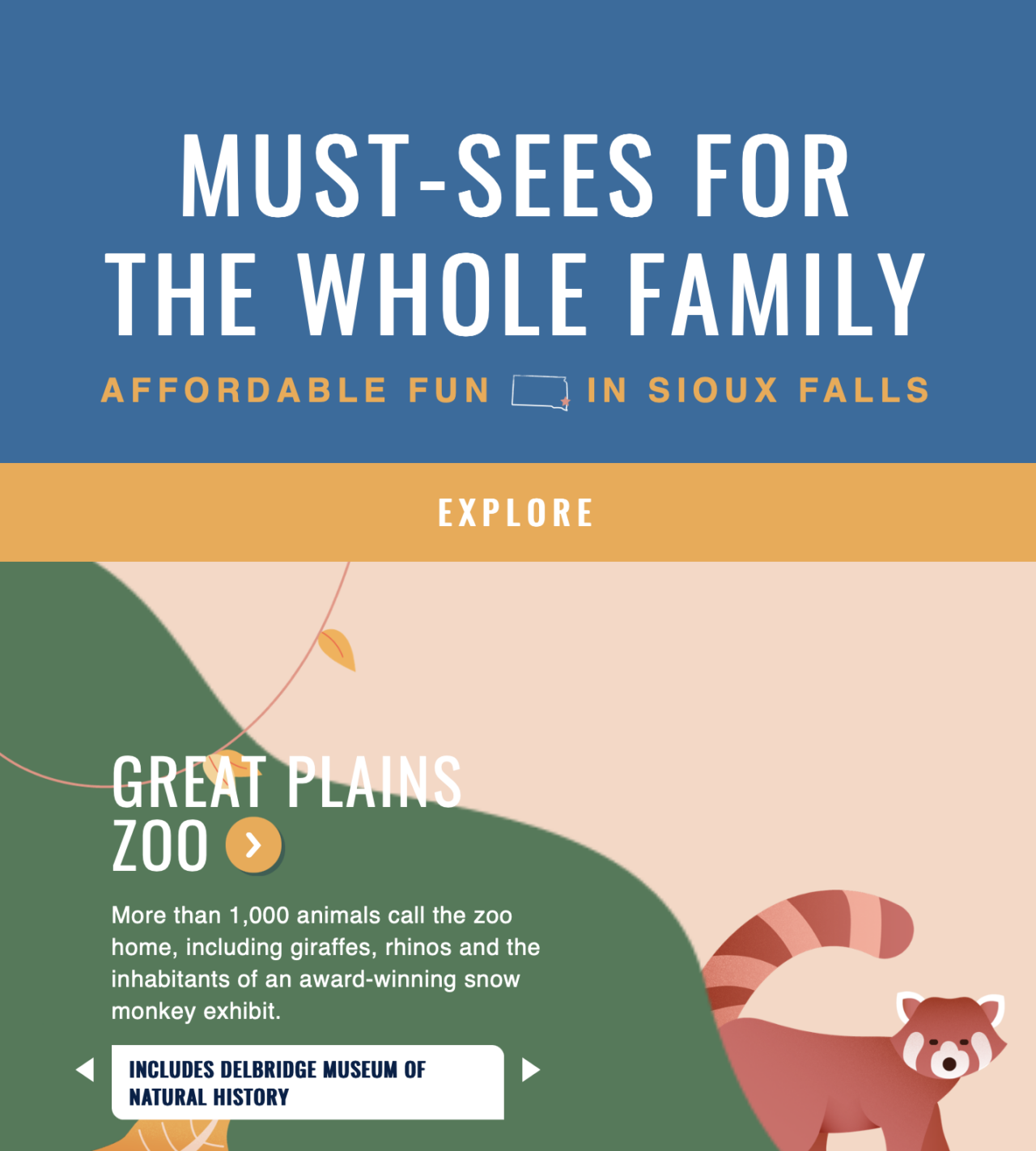 What it is: One of a series of animated infographics showing off Lemonly's home city: Sioux Falls, South Dakota. In this one, we worked with Experience Sioux Falls to illustrate and animate some of the city's favorite family attractions. The animated elements here are clickable, so they help tell the Sioux Falls story by allowing people to scroll through more content than could be shown on a single image.
What makes it great: This infographic really shines thanks to its interactivity. Readers can click through fun facts and amenities for some of Sioux Falls' top spots and navigate quickly from the infographic to external websites to help them plan a fun day or short trip to Sioux Falls. Each section feels distinct, with a lovely color palette and nicely flowing animations that tie the whole piece together.
Animated savings: Change the Way You Save (Save)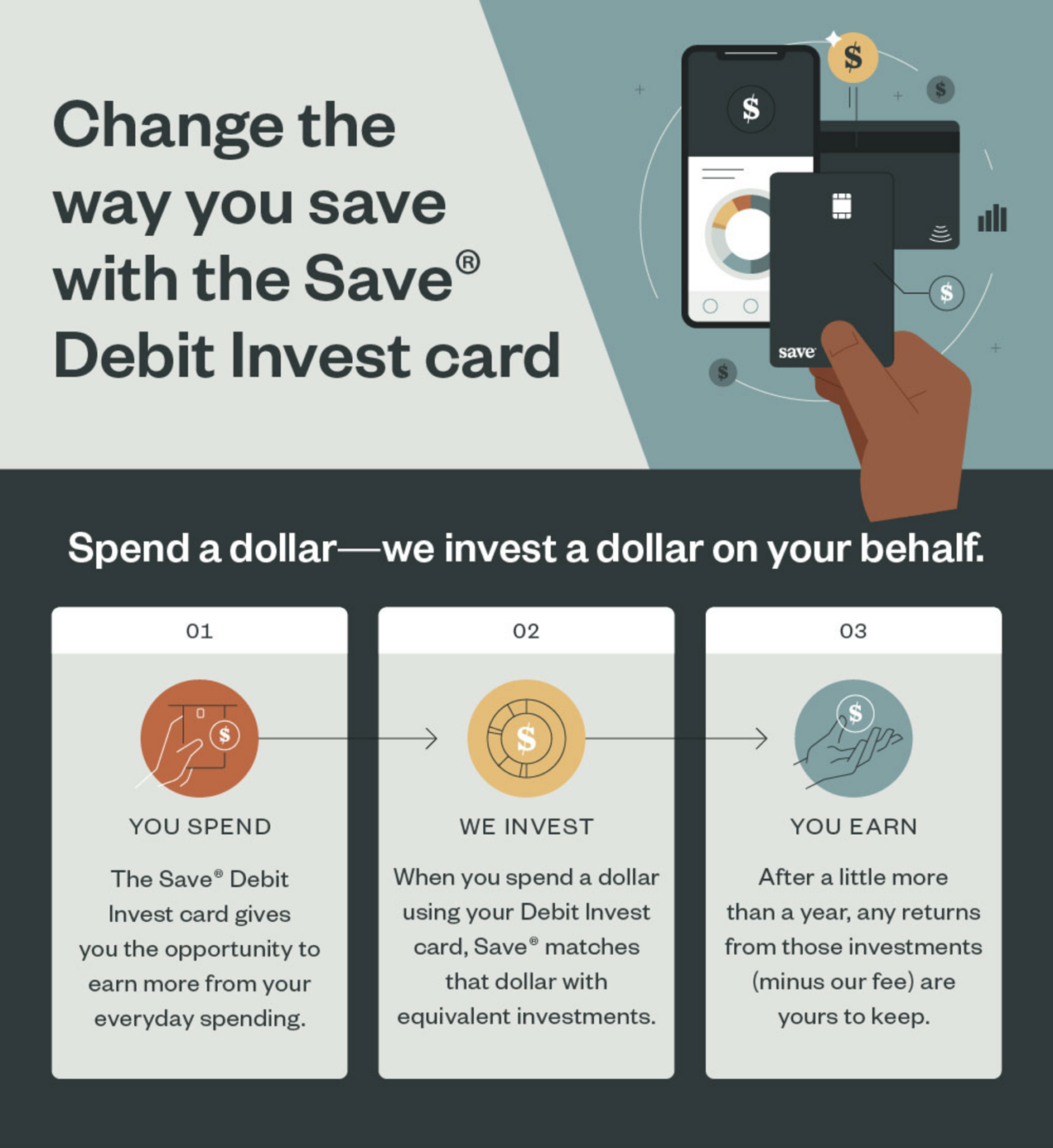 What it is: An animated infographic explaining the perks of the Debit Invest Card from Save. Subtle stroke animations guide viewers through the steps from spending to saving, visually communicating the simplicity of the process.
What makes it great: The animations and concise copy in this infographic do an awesome job of clarifying the Save investment process. People want to know exactly how their money is handled when investing, and this infographic clearly explains how the Save Debit Invest Card works using animated elements.
Dynamic drivers: Win the Race to the Cloud (Expedient)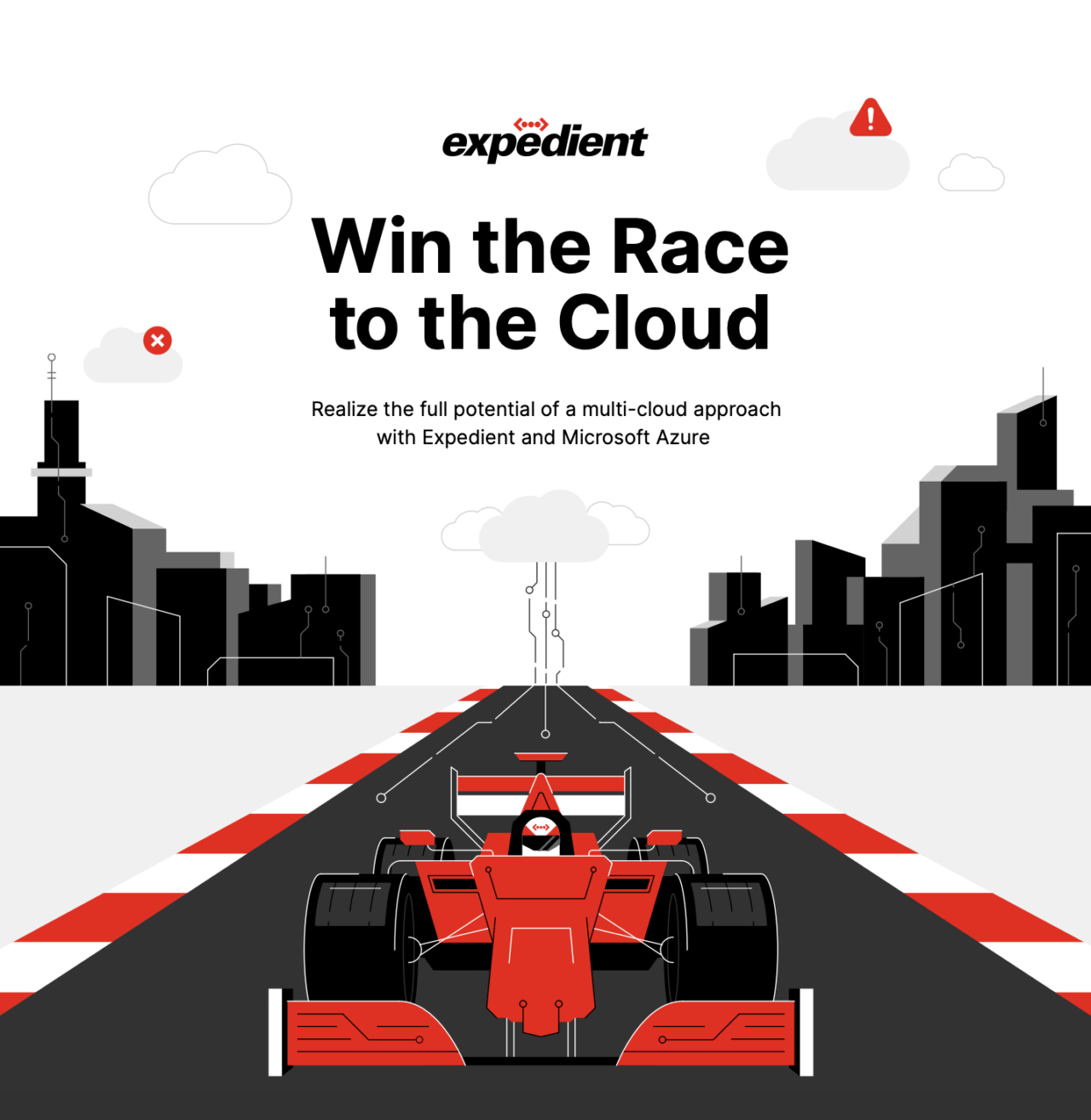 What it is: What's black and white and red all over? This animated infographic for Expedient, of course! This racecar-themed piece explains the benefits of using a multi-cloud approach with Expedient and Azure. With a simple, bold color scheme and lots of fun Easter egg animations, this infographic makes cloud transformation fun.
What makes it great: It manages to include a ton of animated elements without feeling overwhelming or "busy." We love the parallels the infographic highlights between a racecar track and the threat of other drivers of cyber attacks.
Ideas in action: Top 5 Trends for Learning and Development (Inkling)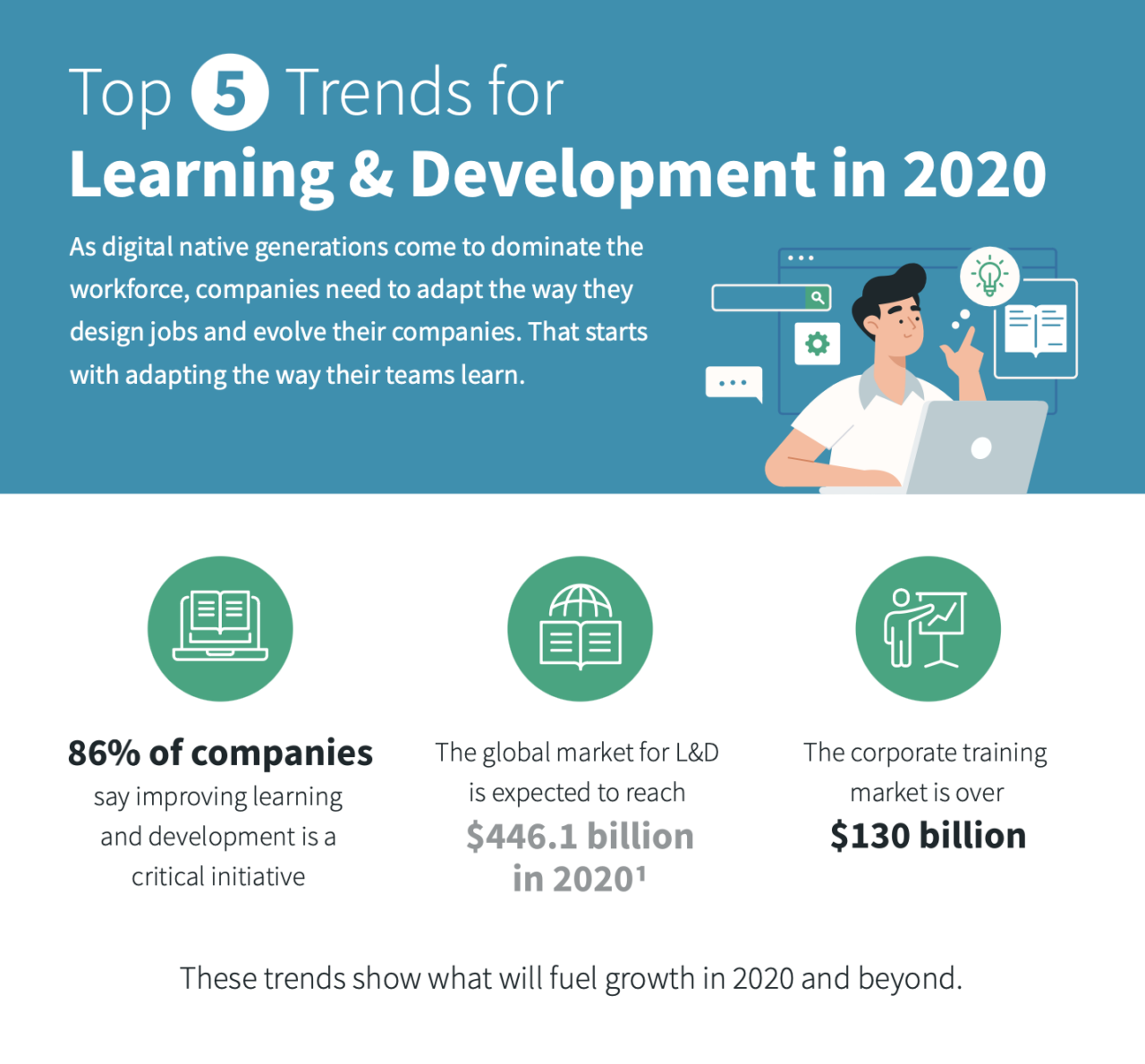 What it is: An animated infographic for Inkling about emerging trends in employee education. The animations in this infographic keep it simple, but they add just enough action to keep the reader engaged and excited to read more.
What makes it great: Most of the animation here happens on the human characters, which makes the whole infographic feel friendly, fresh, and fun. The characters are diverse and the animations are smooth. The animation emphasizes their centrality to the piece and the importance of taking a human-centered approach to education.
Out-of-this-world motion: Another Giant Leap for Mankind (Lemonly)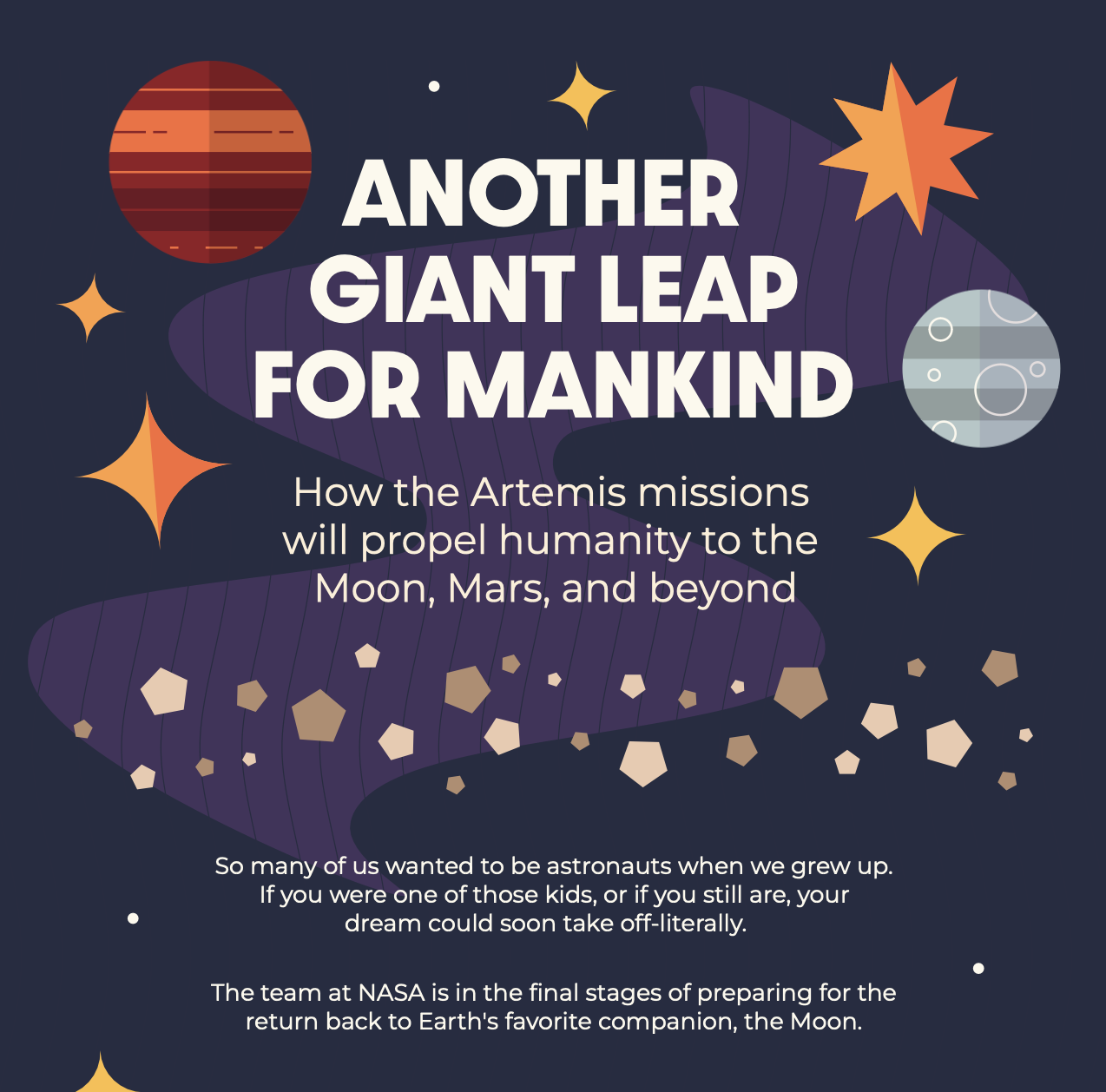 What it is: We had to end this list with an out-of-this-world infographic we made just for fun. Lemonly's SLICE interns of yesteryear created this educational animated infographic about the launch of NASA's Artemis missions. Here's another case where the animated elements do a great job of engaging the viewer without taking away from the content — they actually make the content easier to understand.
What makes it great: The gently floating cosmic elements give the whole piece a spacey feel, and the color scheme makes it all feel so inviting. The animations on the NASA technology help the viewer understand why the tech is so innovative, and shooting stars and orbiting planets make the whole thing feel more fun and exciting.
---
And that's ten! We've got even more fun ways to tell stories in our arsenal, but we'll let you explore more static and animated infographics on your own.
Find something to inspire your next project? Reach out to us to talk about making your very own animated infographic masterpiece.