This year marks the 25th Anniversary of Shark Week and we've got a few shark fin-atics here at Lemon.ly so we figured hey, why not make an infographic? In fact, we made TWO infographics in honor of Shark Week. But don't worry, they don't bite.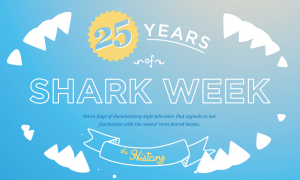 Having started in 1987, there's a lot to celebrate for a quadrancentennial. Not only has Shark Week been around for 25 years, but it has been one of Discovery Channel's most popular programs with over 30 million viewers. We have an infographic for all your Shark Week history needs along with a line-up of this year's new specials.
Since these shark tales may have heightened your fears of swimming and got you thinking twice about taking a dip (in both freshwater and saltwater) we've created a Shark Week survival guide (coming soon) providing you with shark defense – ensuring your best chances of surviving a shark attack.