Can you name your company values? All too often, vision and mission statements are nothing but a few lofty words buried on a page of your website that's likely to get about as many visitors as an ice cream truck in Antarctica.
Not around here. If putting them on our wall wasn't enough, we're constantly developing ideas to put our core values into action — one such idea being the Adventure Bonus. I'll let our first recipient, Senior Designer Ashton Dockendorf, give you the details.
1. So what's this Adventure Bonus business all about?
Adventure obviously means something different for everyone. But getting out of the area where you live and work every day can be a huge help when it comes to experiencing new things. With this bonus, Lemonly provides you an additional week of PTO and a voucher to take a trip with a significant other or friend anywhere outside of North America within a year of your 5th anniversary with the company. It's a literal representation of how much we value adventure, taking risks, and trying new things.
2. Where did you go and why?
Europe has always been on my bucket list, but around the time I was planning the trip, my youngest daughter was still under a year old and I knew I didn't want to be gone as long as a trip of that magnitude would require. So with that, I put Europe firmly back on the bucket list and started talking to a friend who had been suggesting taking a trip together for awhile. In the end, warm weather and a decently short flight (my husband HATES flying) became our filters, so we started looking at places in the Caribbean that we both hadn't been and ultimately decided to check out the Dominican Republic.
3. Tell us about your trip!
Obviously, we did our fair share of relaxing (read: cocktails under a cabana) and like any good Midwesterner in the middle of winter, we soaked up as much sun and surf as we could. We also played some golf, snorkeled, rode dune buggies around the coast, toured a cocoa plantation, and made "friends" with a parrot (which I did not enjoy). I think the best part of taking the trip, or really any travel, is chance to push yourself out of your comfort zone. We all get used to being in our same environment day after day, and anytime you can get out and experience new people and a new culture, you're learning to be a more aware and empathetic person.
4. What advice would you give Designer Brett Hanes, our next Adventure Bonus recipient, about taking his trip?
Both Brett and I are busy working parents, so I know that as parents we don't get a lot of opportunities — monetarily or time-wise — to spend on ourselves. Just go relax and enjoy!
5. How is Lemonly different than it was in 2012?
So much as changed at Lemonly since then. There's obvious things like our employee roster, office space, and procedures, but more than anything, we've just grown up, as a company and as individuals. A lot changes in your 20s into your 30s, but something I've really valued about Lemonly is its embracing of this growth and meeting it with flexible and creative solutions. At our core, we're still that young, scrappy, and hungry company, but we've just matured!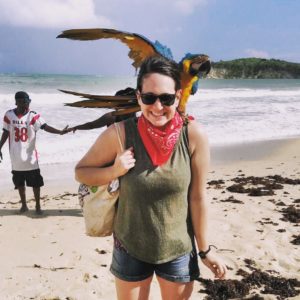 — — —
Culture is a nearly constant topic of conversation around here. From the beginning, our co-founders, John and Amy, have wanted Lemonly to be a place that fosters mutual respect and appreciation — if my co-workers and I feel supported and valued, we're likely to be more committed to the company and its goals.
The Adventure Bonus rewards employees for continued loyalty and, we believe, boosts their development by reinforcing one of our core values. Also, you get to go on vacation.
Win, win, win!