Back in January, I made a few predictions for 2016 in between crafting theories for "Making a Murderer." When it came to social media, I bet that 2016 would be The Year of Snapchat. I haven't regretted it for a moment since.
It seems like businesses large and small are finally taking advantage of this highly-visual, highly-populated medium. Snapchat is keeping up the pace, introducing new and innovative ways for users (and sponsors) to present their visual content.
I co-founded a design firm that specializes in visual storytelling and we're still betting on Snapchat. Here's why…
It's crazy visual
Everything we do at Lemonly involves visuals and storytelling. Snapchat is at the intersection of these two things. You can take photos, videos, use emojis, apply filters, and make doodles. It's crazy visual, and as you put multiple pieces of content together you create "Stories." This is our turf!
It's evolving
It's not early days for Snapchat, but it still feels like it's in its own "Wild West" days. When the concept was introduced in 2011, people were quick to peg it as a "sexting app." Brands kept their distance. Now, it seems as though the app introduces a new feature every month, and brands are taking notice.
Though they have a loyal group of users, Snapchat continues to innovate and evolve, adding features like the Discover content tab, face recognition lenses, branded geo-filters, best friend emojis, and, most recently, "Memories" –– the option to save your Snaps to a folder for future use or pull in images/video from your phone's camera roll.
Now is the time to jump in and figure it out. Experiment with the app and make the rules of the Wild West of Snapchat.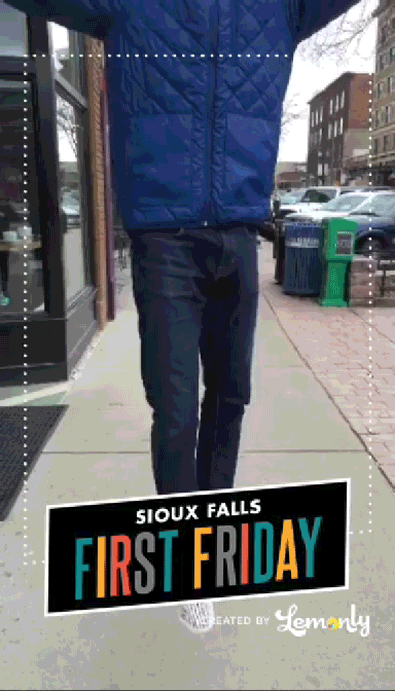 It's creative
We're a creative design shop. Snapchat is creative. Super creative. It seems every week people I follow create unique content that I didn't know was even possible on Snapchat. As a creative group, we want to create content that aligns with our strengths and pushes our creativity. This app gives us the option for both of those.
Ultimately, I do believe the best content always wins. Sure, it helps to have a huge ad budget or a brand with massive reach, but if you get on board and create the most compelling Snaps, you will find traction.
It's a valuable target audience
I know what you're thinking right now, and the answer is no. Snapchat isn't just for sexting and teenagers goofing around. This platform is becoming THE way many teenagers and twenty-somethings communicate. Take a look at the demographics.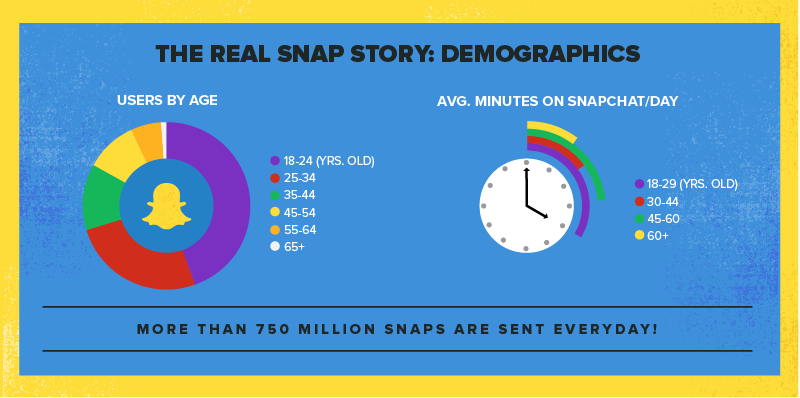 The 18-34 demographic makes up 71% of users, and the number has to be even larger considering the comScore survey ignores folks under 18. This is an incredibly valuable demographic. These individuals are young, impressionable, and influential. They're tastemakers for the future and still developing their purchase behaviors. I want to reach this demographic and many of our clients do too. Don't ignore it.
It's on trend
What's popular right now? Selfies? Check. Mobile? Definitely. User-generated content? Yep. I'm even noticing the social networks that seem most on fire right now (Snapchat and Instagram) don't allow the sharing of links. It's about creating and consuming the content right within the app, no leaving the app or outside distractions.
Snapchat is at the intersection of all these trends and with the numbers reaching massive scale (over 750 million snaps sent every day) this isn't just a fad, it's a trend.
It's fun
Like, really fun. Snapchat feels to me the way Twitter did in 2008 when I joined. It is compelling, fresh, and addictive. I know the teenagers who have used Snapchat heavily for three years are laughing at me right now, but I really enjoy it. In a time where updating your social media accounts can feel like a task, posting Snaps is fun, and that matters to me.
I can't predict the future, but Snapchat is definitely wearing shades because it looks bright.
We're still betting on Snapchat at Lemonly in 2016, and I'm confident I'll feel the same way come December.
Follow @johntmeyer and @thinklemonly on Snapchat to see how our bet turns out.