We call them our designers, but the folks behind the "visual" part of Lemonly's "sweet visuals" could have a number of names.
Illustrative storytellers, graphic wizards — I'll stop myself. Whatever we call them, our designers are artists. In their latest monthly creative workshop (learn more about that here), Molly led the team in an exercise in fine art with a graphic design spin.
Here were the rules (or guidelines)
Choose one artist to influence your design

Base your design on a specific piece from that artist or his/her overall aesthetic

Translate your chosen artist's work into another design style (your own or one you'd like to try out)

Take as many artistic liberties as you would like

Can't decide on an artist? Here are a few options: Andy Warhol, Keith Haring, 

Salvador Dalí, Henri Matisse (feel free to use any artist you'd like)

You have 40 minutes to select an artist and start translating to another style
Why did Molly select a fine art theme? Here were her thoughts:
"As designers, I think it is important to stay in tune with the fine art world and continually apply fine art principles to our design work. The divide between fine artists and graphic designers is often debated, but as a designer who attended a fine arts school (I believe most if not all of us did), I'd argue the differences aren't as vast as many think."
"I apply many of the same principles I use when painting as I do when designing an infographic at Lemonly, so I thought, why not create a workshop that directly correlates the two?"
"As designers, I think it is important to stay in tune with the fine art world and continually apply fine art principles to our design work."
Here's a selection of the pieces created out of the workshop: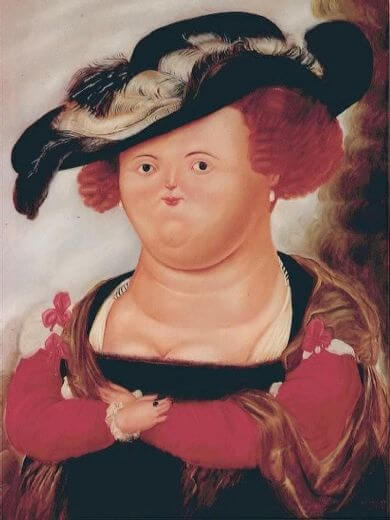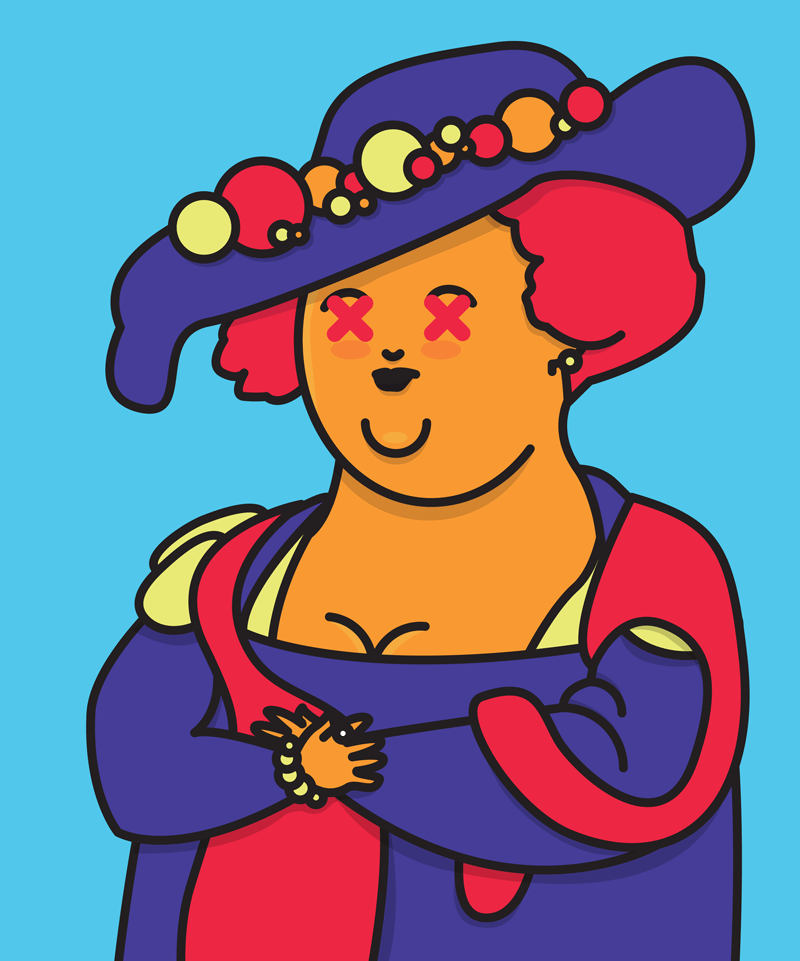 Michael M – "Mrs. Rubens" Fernando Botero
"I had the choice to pick any artist, so why not pick the one with the most ridiculous style? I picked Fernando Botero because his perspective and style is pretty amusing. He simplifies reality into geometric shapes and gives everything a bit of girth. So I thought, 'It's time to make some girthy circles.' Botero simplifies reality. I wanted to simplify Botero."
---

Dafne – Picasso
---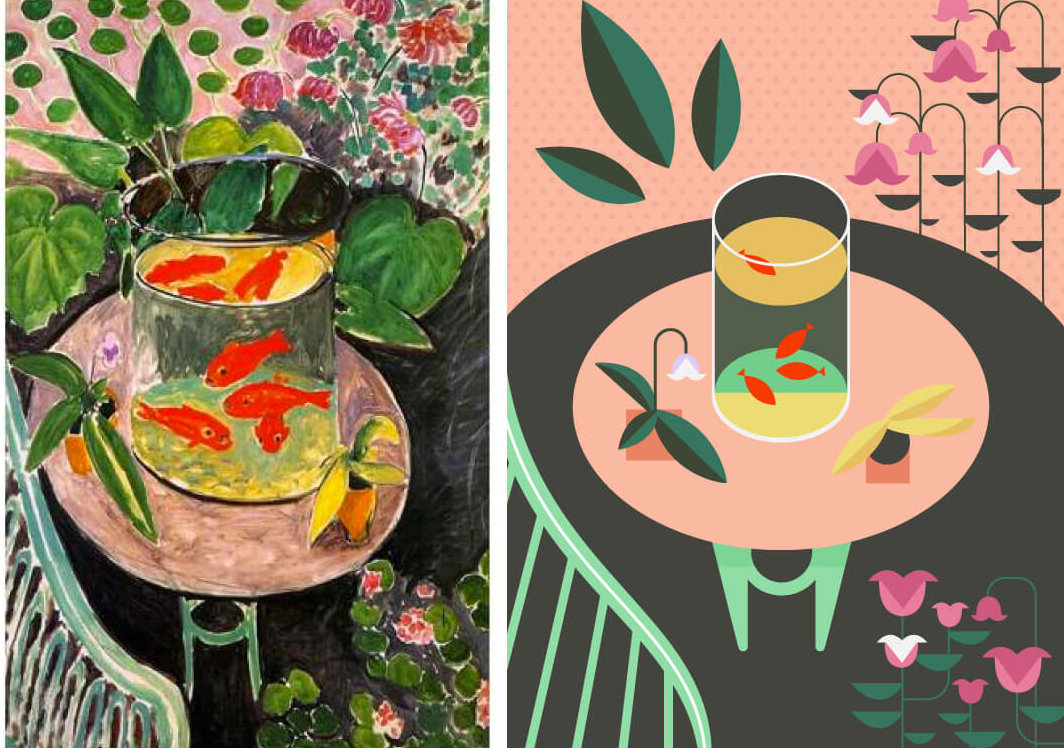 Lan – "Goldfish" Matisse
"This was a very fun project because there are so many different ways to approach how we perceive and break down an image. The workshop's quick time frame and less time to refine resulted in strong concepts and simplistic work. This made me realize I really should visit the art gallery more often with the Vancouver crew."
---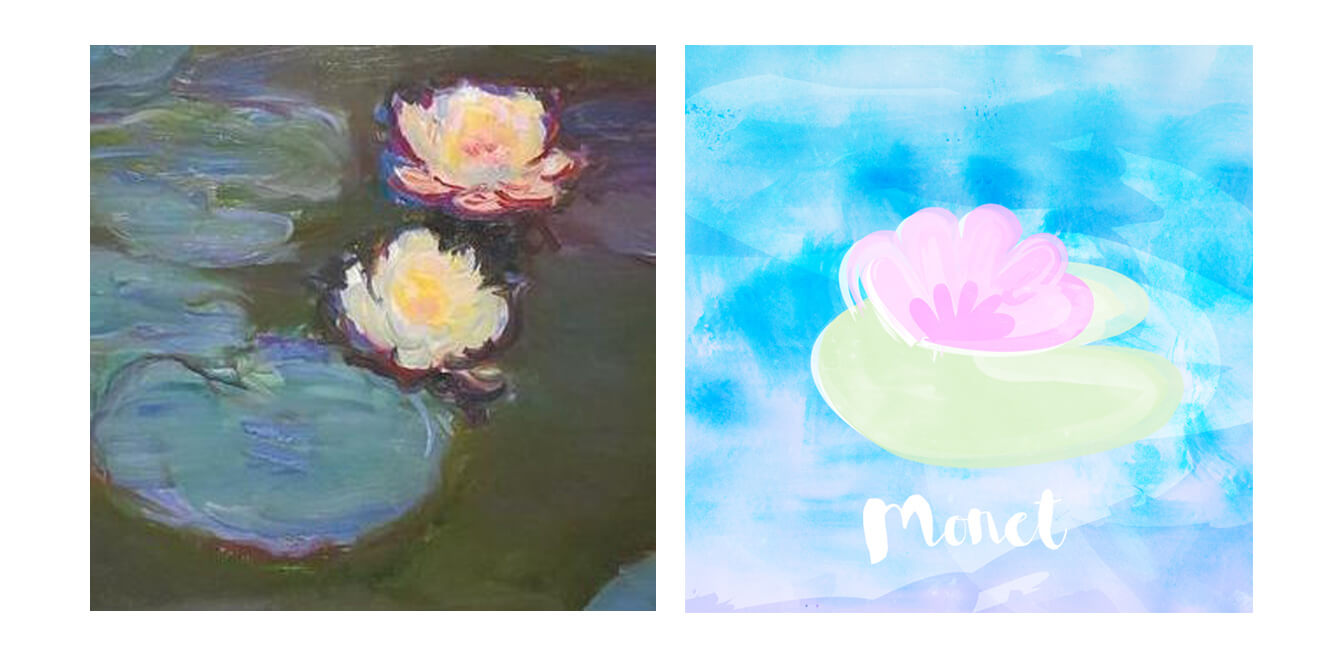 Amy C – Monet
---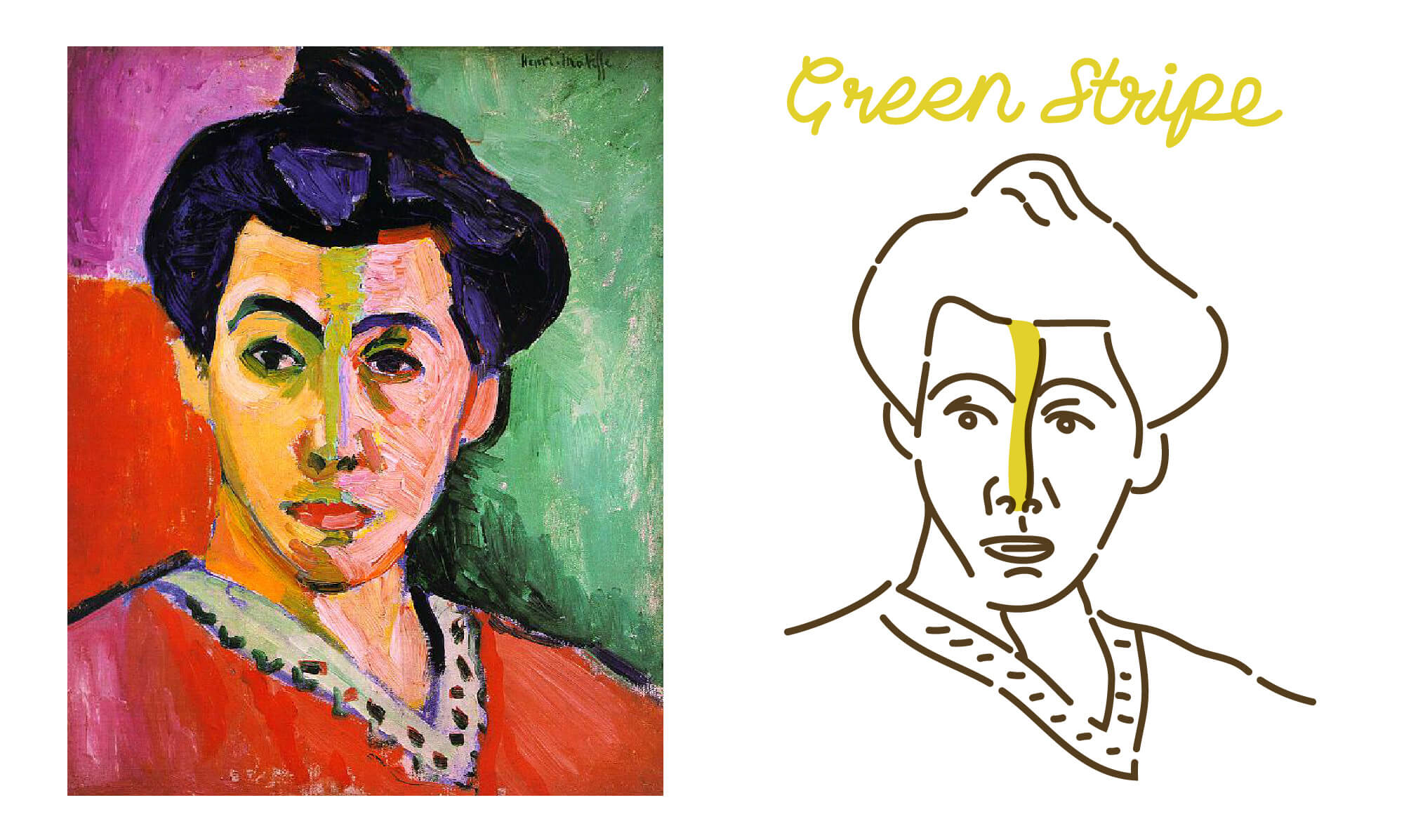 Brett – "Portrait of Madame Matisse (Green Stripe)"
"When I create illustrations for design work, my approach is very similar to how I learned to paint. I'll start with something loose and messy, then take a step back and tighten it up, then mess it up again. This back and forth process is the same whether I'm moving paint across a canvas, or pixels around on a screen."
---

Alyssa – "Sunbath" Matisse
---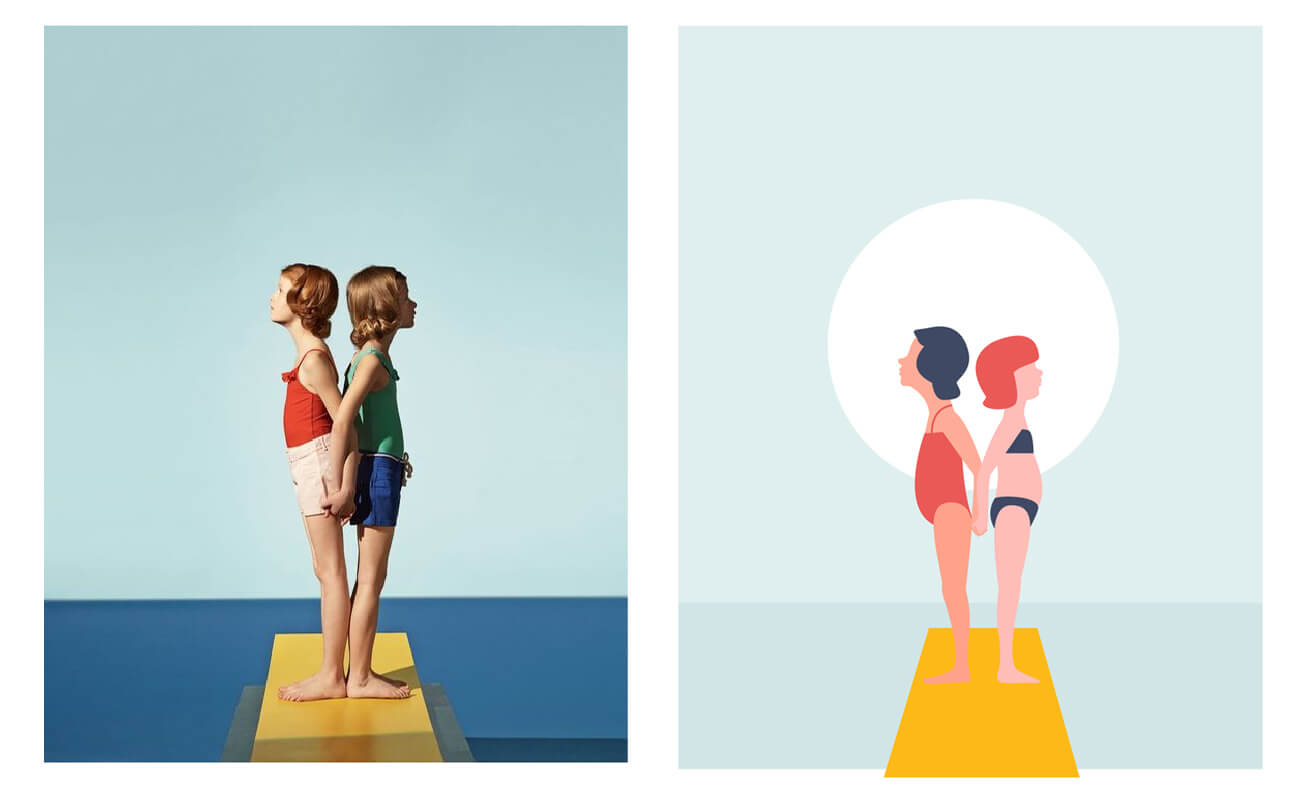 Molly – "Série Mode: David Hockney's Pool" Oliver Spies
"I chose a photograph by Oliver Spies, inspired by David Hockney's popular pop art aesthetic, frequent use of primary colors, and the subject of swimming pools. Nothing invigorates me more than experiencing beautiful piece of art, such as this one. I left the workshop excited about all of the possibilities for my upcoming design projects and reminded that I need to take more time to look at art."
---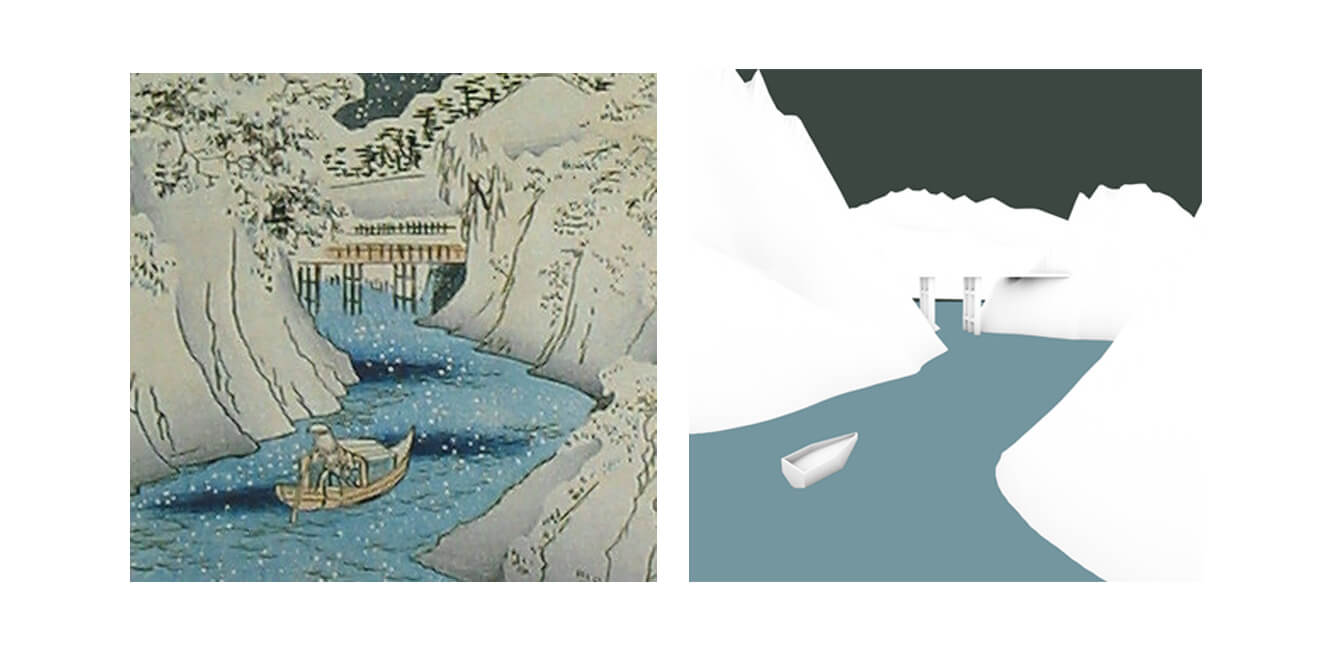 Chris – "Snow" Hiroshige Ochanomizu
---
Stay tuned to see what our next creative workshop entails! If you're thinking of hosting one for your creative group, let us know! We'd love to see what comes out of it.