OK, Lemonly is no Scranton-based paper company. But that doesn't mean we can't aspire to be finer versions of ourselves.
And so, in a long line of traditions lifted from "The Office," we recently started our own Finer Things Club — or clubs, rather. On many given Wednesdays over lunch, you can find Lemonheads discussing a podcast, a book, or a movie. And on other Wednesdays toward the end of the day, you can hear a table being flipped and beer glasses being broken as a heated game of Monopoly Deal boils over. (Just kidding, we steal each other's money with a smile.)
Because we all could use a little more non-work talk with our coworkers, right?
(Note: You can send us suggestions for games, books, podcasts, and movies at the bottom of this post.)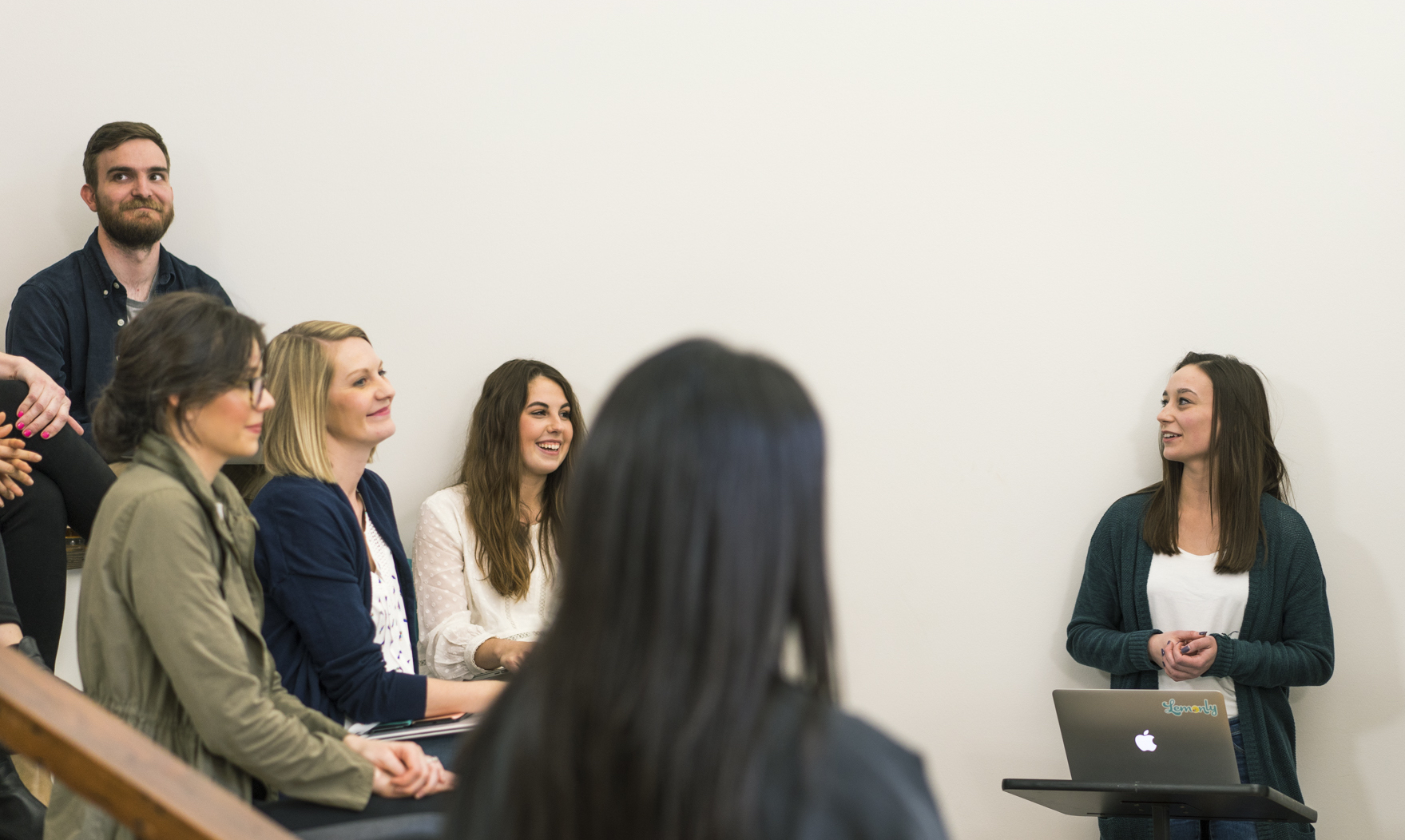 Playing
The original -Ing Thing, our Playing Club got its start a few years ago, and we quickly learned the lesson that some games take forever to finish. (Sorry, boss, for that one, super long Settlers of Catan showdown over lunch).
As with all our clubs, the key is to have one person act as club president, picking a few choices and letting the group vote on them. While the ultimate goal is togetherness, it's all too easy for these clubs to feel cliquey. So we make sure to give everyone ample opportunity to nominate things and then offer a diverse selection to choose from: In the case of our games club, that means simple, artsy ones like Concept, alongside more complex, nerdy ones like Carcasonne. Ultimately, you know it's working best when a different group of coworkers meets each time.
One tip to really make these games count: Pair up when possible, and opt for a cooperative game like Pandemic every so often. It's rare that a team can work on something together that doesn't involve work, so you gotta take advantage.
Examples of games we've played:
---
Reading
As part of Lemonly's increased emphasis on wellness, our content manager Maddie Mack led the charge to create our book club earlier this year. Gotta get those brain cells a-buzzing to ensure true health, right? For those of us like me who feel nostalgic for English class, the discussions have been incredibly engrossing.
The trend so far seems to be that we want to read the classics we never got around to as youngsters. But every so often, we'll take a break from the heavier tomes and transition to lighter fare like Creativity Inc., about Pixar's work culture, which we're currently reading.
Examples of books we've read:
---
Listening
This is my personal favorite: the podcast group. It's where the conversation has inevitably shifted back to work the most often, but that's OK. We've been able to discuss current events like the Facebook/Cambridge Analytica scandal and how it relates to our jobs in advertising. And we've also talked about how our own "don't rock the boat" niceness can have the same halting effect that it had for the stiff-upper-lipped oilmen featured in an episode of Invisibilia.
Maybe you're thinking you won't find something that interests your team. Well, I'm currently subscribed to 75 podcasts, so I bet I could recommend something for ya. Awake my hibernating Twitter profile here to tell me what podcast you're looking for.
Examples of podcasts we've listened to:
---
Watching
Finally, a safe place to break out the terms I learned from that one college film class I took! "Did you guys see the sweet cucoloris in that exposition?" Not really. Above all, with any of these clubs, we don't want to fall into the trap of spouting brainy vocabulary for the sake of sounding smart. Sure, it's OK to talk about how a movie made you think, but at least in a work context, it's equally important to talk about how it made you feel.
It's illuminating to learn how coworkers relate to stories, especially at a story-driven company like Lemonly. And having the set-aside time to delve into those meaningful conversations about how our personalities mesh and differ is very valuable for when we collaborate during work hours.
Examples of movies we've watched:
All in all, Lemonly's -Ing Things are a success only when we feel comfortable taking a full lunch hour. Of course, every workday should offer a full lunch hour, but understandably, when we feel more busy, it's easy to skip an optional get-together. So it's important that leadership shows buy-in by joining these clubs every so often, as they do here at Lemonly.
With that, we wish you the best of luck in the games at your own workplace, and may your conversations be fruitful and full of insights. Huzzah!