As the story for 2014 comes to a close, we find ourselves thinking back on all of the things we have done and the new people we have met or reacquainted ourselves with in the past year. As the year closes in the sports world, so did the professional playing careers of many athletes that fans won't forget, including Derek Jeter, Champ Bailey, Teemu Selanne, Derek Fischer, Landon Donovan and many more. These players had countless memorable moments, each unique to a time and place in the lives of their fans. Iconic players like these have the unique ability to transcend fan bases and gain recognition from all fans, making their retirements social and information-based events.
Infographics and motion graphics are powerful ways to tell the story of an athlete's career, whether it is something offered to fans on game day, on social media or during a special event. Infographics, whether static, interactive, or motion-based, have the ability to reach fans from a variety of subcultures in fan bases; from the number-crunching fans to the historians, all can come together and share their points of view. Their ability to comment on a moment or highlight featured in the infographic or video allows fans to relive that moment in a way that a simple comment or tweet can't. Here are some video and infographic examples that honored a few of those momentous moments and athletes in the past year.
Vince Carter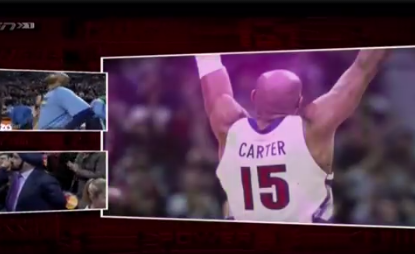 In 2014, we even saw a couple rifts in sports come to terms with one another. Vince Carter received a heartfelt return to Toronto as a tribute video was played in venue when Carter and the Grizzlies visited for a game. You can see the clip here, courtesy of Sports Illustrated.
Brett Favre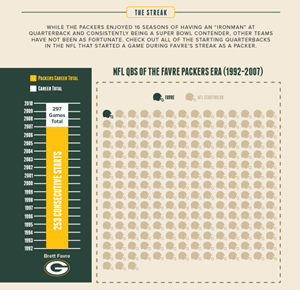 Here at Lemonly, we also helped bridge the gap in the Favre/Packers saga by working with them to create a Favre retrospective infographic for the announcement of his number being retired to reacquaint fans with the quarterback that helped crown them as champions once again in his career. The infographic allowed fans to relive their favorite Favre moments and help the fans reminisce together through comments and shares.
George Seifert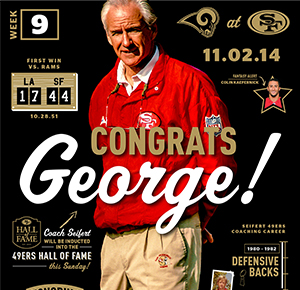 In the age of dual screen experiences, instant social media access it is important for teams to not forget their history and how that can be used to access their segment of their fan bases that are history buffs and also the number-loving fans. The 49ers put out a infographic earlier this season for George Seifert and tied it with the game the team was playing the week they were inducting him into their Hall of Fame.
Derek Jeter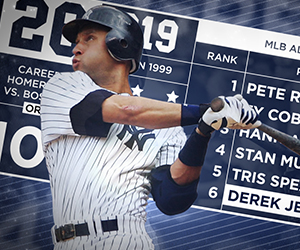 What can even be said about the career of Derek Jeter? One of the most iconic players in MLB and Yankees history played his farewell season in 2014. To help close out his career, we worked with MLB on a video highlighting Jeter's career.  The video was released before his final home game for any fan to see, not just the fans in venue for the game. This allowed fans from all over the world to engage in a conversation about their favorite Jeter moment and discuss his career numbers.
When 2015 closes, we will see another group of athletes hang up their uniforms while fresh faces become new fan favorites and future legends. Will infographics become the way to remember our favorite athletes as sports teams look for more ways to break down the barrier of in-game content and social media content or is video the preferred route? As fans, we love revisiting team history because those moments helped shape us into the fans we are today. We can relive and share milestones on social media with our fellow fans, pointing out our favorite moment across generations and the world.