Among the things that make Lemonly a terrific place to work is the fun, enthusiastic environment. For a person who spends 40% of their waking hours here, this is important. Equally important is producing great work. I'm here to tell you that fun and productive work can co-exist. Here's how:

Work Hard, Play Harder
There is a difference between horseplay in the workplace, and having fun. Lemonly is not absent from occasional tomfoolery, but we like to keep it mature and professional. Here are some of my favorite Lemonly traditions that bring fun into the workplace:
Bringing pets and babies to the office.

Having food weeks like Crock Pot week, Savory Spring week, Pumpkin week, and 'Murica week.

Enjoying an occasional beer.

Birthday celebrations
.

Exchanging funny animated GIFs daily.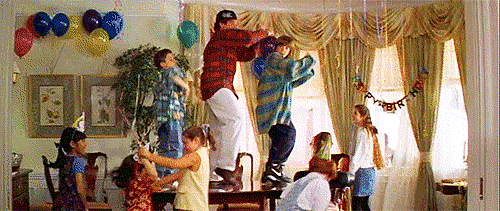 The list could go on. You're probably wondering how we get any work done with interruptions of babies and funny animated GIFs. Yes, these things can be distractions if they get out of control, but they are important for creating positive attitudes. Positivity is a powerful asset. Combine it with a group of people who are lucky enough to love what they do for a living, and you've got a recipe for great work.
Make Goals Fun
Goal setting can do harm when done poorly in the workplace. This is often the case when the goals are set from the top down without involving the team as a whole. For effective goals at Lemonly, everyone helps design both individual and team goals. It's more fun when you don't feel like a paid-for machine striving to meet metrics set by your boss. Instead, we feel motivated and inspired because we are equally invested in what we are trying to accomplish.
Take Down the Walls
Lemonly has an open-office floor plan, which means there are no walls or doors between workers. Everyone is physically in the same room — aside from our remote employees — working side-by-side. This makes everyone feel more connected in the space. It allows for the free exchange of ideas (and Nerf darts).
Inherently, this environment can make it harder at times to shut out distracting noise, but if you walked into our office right now as I am writing this post, you would hear nothing but the soothing hum of the air conditioner and focused minds churning away. Much of the time that's how it is here. When it does become noisy due to multiple conversations going on, your best friend can be a good set of headphones. We also encourage remote working and utilize a standing desk area. Switching up the scenery is a great way to get out of a creative rut.
Look up the word "work" in the thesaurus and you'll find the word "fun" at the top of the list of antonyms. This is an accepted reality for so many workplaces, but not at Lemonly. There is nothing wrong with buckling down to spill some blood, sweat, and tears, but that doesn't mean it should be miserable. My job satisfaction is a product of looking back each day with pride, knowing that I accomplished something. Having fun does not make that harder to do, it makes it easier.