Imagine you hired a wedding planner months ago, and the big day is fast approaching.
What? You want to… OK, sure, let's imagine the wedding planner is Jennifer Lopez. Whatever floats your boat.
Anyway, you've been calling and calling, but you can't seem to get her on the phone. All you get are these assurances via text that she's been hard at work and will meet your deadline:
Don't worry! Jenny from the Block has everything taken care of.
Come on, JLo! I didn't even tell you what I wanted out of this hypothetical wedding!
Seriously, where's my questionnaire!? There'd better be a chocolate fountain and a bouncy house at our reception or I'm sending you "Out of Sight."
Get it? That's a movie you were in. "Out of Sight."
Hello?
A project without prep is no project at all
Just as you wouldn't allow a wedding planner to arrange your wedding without your input, clients shouldn't allow agencies to work on their projects without the proper Q&A before kickoff.
At Lemonly, we call that crucial preparation stage our Ingredients. We think they're so important that we built a webapp to better ask and organize those questions.
Take a look at an example project. (Go ahead. Click "Next" at the bottom. It works.)
☝ Pretty slick app there, huh?
A quick backstory of our Ingredients questions
It wasn't always this way. The first version of our questions began years ago with a simple form on our site. They weren't the prettiest, but they got the job done while we were still a small team.
Then about a year ago, we met for our annual hackathon. (See more on our hackathon here if you'd like.) Over two days, one team developed and presented a case for beautifying what we then called our Getting Started Questions, or GSQs.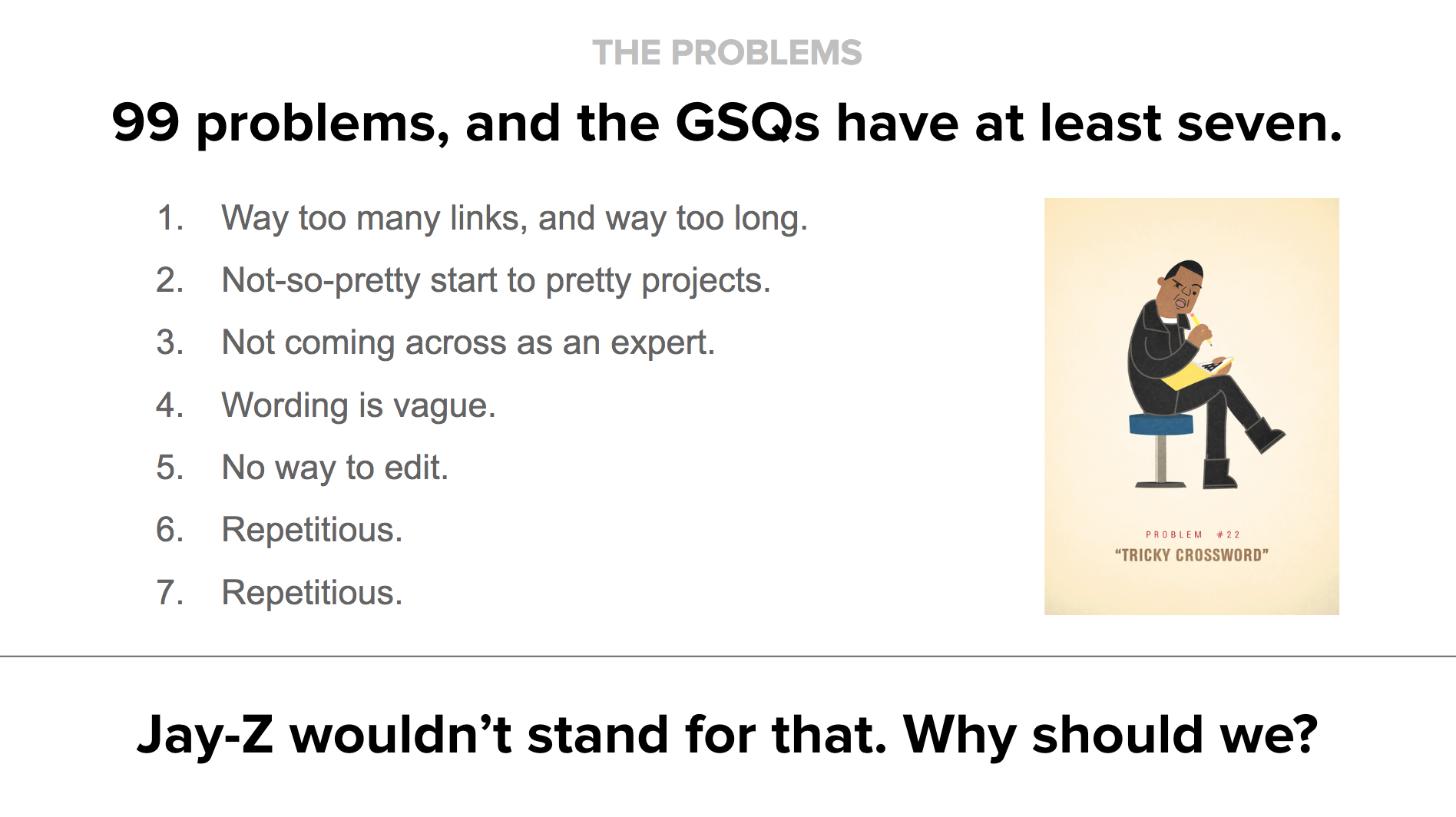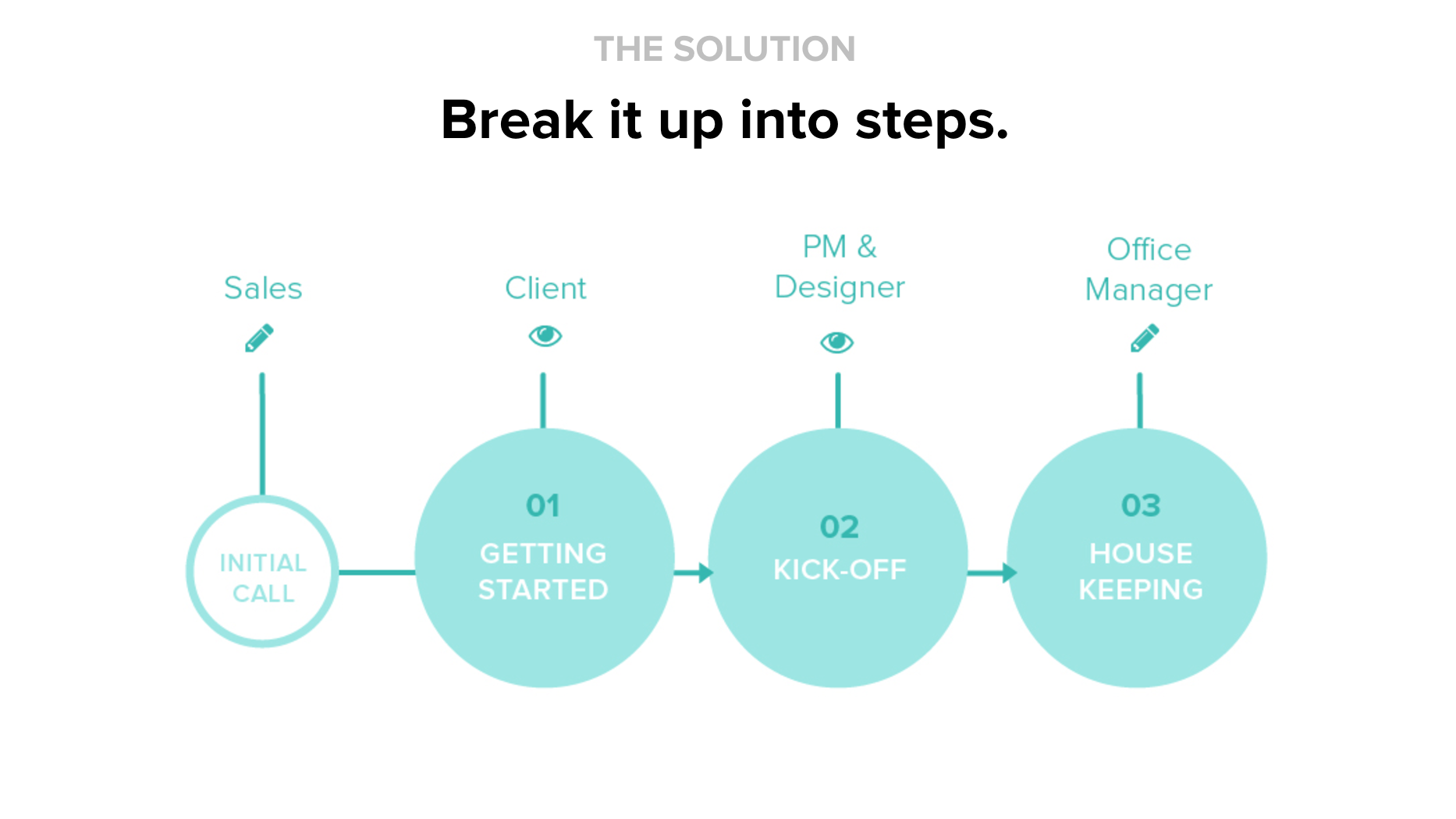 Designed by Lan Yan and developed by me, the resulting webapp also features a rolodex of our clients' info, powerful search functionality, and the ability to take meeting notes and automatically save them with their respective project.
Here are the quick-hit features of Ingredients:
Auto-saves all responses: You know those forms that take you 30 minutes to get to the last question, and your computer freezes up and you lose everything? Our Ingredients don't do that.
File uploads: Easy peasy file uploads, filed under the appropriate question. For a design firm trading in brand assets, photos, and more larger downloads, this was essential.
Visual questions: We can now ask, "What styles appeal to you most for your project?" and offer visual examples for clients to choose from. You know how a picture is worth a thousand words, right?
Followup questions: This one seems basic, but followup questions make it so clients only have to see questions relevant to them.
Projects can be locked at kickoff: Very rarely, clients would change the parameters of a project after it had started. Now with the ability to lock Ingredients, our project managers can ensure a solid baseline of understanding once we're started.
Here's what our project managers have thought about Ingredients:
"Ingredients has established the 'getting started' phase of our projects. It helps lay the foundation for our creative professionals to develop the best possible product based on the client's needs. Ingredients clarifies goals and objectives, gathers project assets, provides background for design, holds all parties accountable, indicates metrics for success and identifies key project details all in one easy to access, convenient location." — Amy Thorne
"Ingredients has been the most efficient tool for getting the client and our team on the same page. Clients come to Lemonly with such excitement to create something amazing, but it can be frustrating to verbalize an idea. Our tool, Ingredients, asks clients questions that they may have not talked through internally, so it allows their team to be on the same page as well." — Tess Wentworth
---
The reception from clients has been positive, and as we've continued to hone our questions, fewer and fewer things have fallen through the cracks. Lemonly is process-driven in all our work, and our Ingredients have ensured that projects start off on the right foot.
If only our wedding planner could have been so lucky.