There are few things we love more than welcoming a new Lemonhead to the team. Well, consider us stoked. Lemonverse, meet Jade Delaney!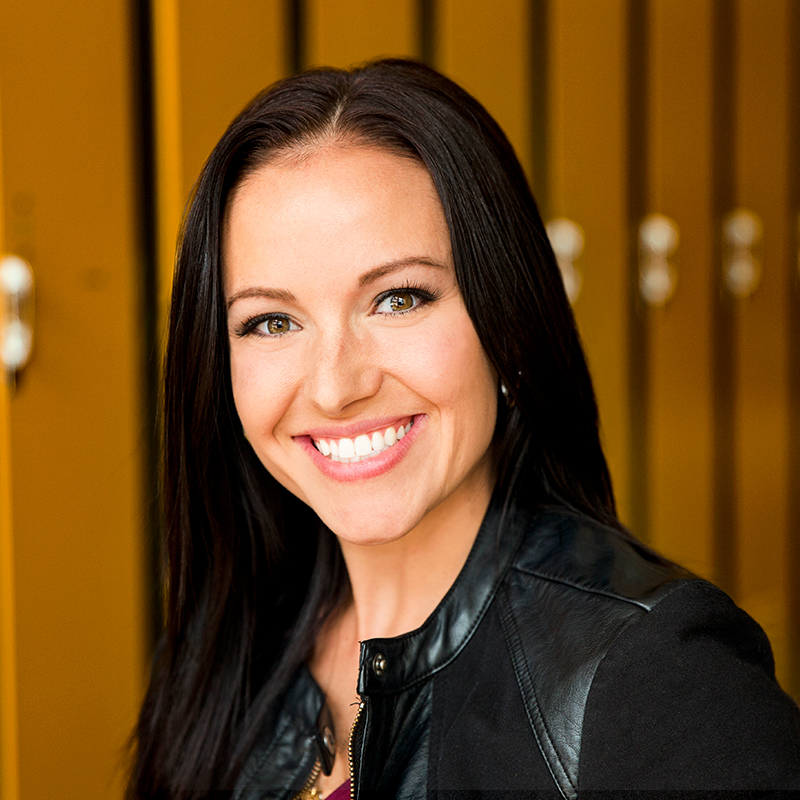 How to best describe Jade? A Myers-Briggs ENFP. An Enneagram 3 (wing 2). A former farm girl from Tyler, MN. An SDSU Jackrabbit. A one-time contestant (and case model!) on "Deal or No Deal." Add to that list her new title as Lemonly's business development manager.
We subjected Jade to Lemonly's typical "get to know you" interrogation. Learn more about the latest Lemonhead below!
---
What do you like to do in your free time?
I love spending time with my boys! My husband and I enjoy traveling, working out in our home gym (biggest positive from COVID), and sneaking away to a cocktail bar to try the latest old fashioned (him) or spicy marg (me). I love playing "animals" (obvi dinosaurs or lions) with my 3-year-old and cuddling with my 6-month-old. There's rarely a quiet moment in our house, which is such a blessing!
Do you have any pets?
YES! I have the world's sweetest dog. Max is an almost-5-year-old golden retriever (who would honestly make the best office dog). He was by far my greatest late-night Facebook Marketplace purchase.
What's your favorite genre of music to work to?
I have four main buckets of music depending on what I'm working on. In no particular order:
Safe & Sound by Taylor Swift

–

I love listening to this on repeat. In college, this was my paper-writing song.

Classical piano – For when shit is serious!

Big Booty Mix – For when I need a pick-me-up.

Greatest Showman Soundtrack

– For when I want to belt it out.
Do you have a favorite blog or podcast?
Yes! 
Blog: A Beautiful Mess. 
Podcasts: To start my day, The Messy Masterpiece with Tori & Chad. For driving time, NPR TED Radio Hour.
Name something on your bucket list.
I'd love to take a tour of Scandinavia. I want to lean into my Danish heritage and bring out more hygge! Candles, coffee, and a cozy blanket—sign me up! 
As a kid, what did you say you were going to be when you grew up? 
Let me paint you a picture really quick:
It's your typical summer day as a Minnesota farm kid in the late 90s/early 2000s. I trot down my stairs, carrying my portable karaoke machine loaded up with the latest Spice Girls cassette tape. I take my 4-H pig for a quick walk around the yard and water my mom's flowers. After chores, I hop on my 4-wheeler and drive over to my grandma's to sew the latest piece in my growing clothing collection. On my drive, I stop at my "super-top-secret-thinking-spot" to daydream about my adult life.
Those daydreams almost always involved me being named the CEO of Vogue, being a top clothing designer, or hosting a talk show. 
What is one thing about yourself that would surprise people?
That I was a contestant and case model on "Deal or No Deal"! This was by far the coolest experience of my life to date. The producers encouraged me to let my personality shine and just totally be immersed in the moment. 
My episode is #530 and can be found online at CNBC.com, or if you're a night owl, you might catch a re-run here and there. The episode is something I'm really proud of and look forward to sharing with my boys as they get older! 
What drew you to Lemonly?
I have been a huge fan of Lemonly since the very beginning! I was fortunate enough to meet John while I was competing in the Miss South Dakota Organization in 2012, and having that personal connection made me pay attention to Lemonly's amazing work and infectious culture. 
When I think of Lemonly, I think happy! This team, work, and culture is so vibrant. The company is constantly evolving, innovating, and dreaming up the most beautiful things. 
Name one dream client and why Lemonly should work with them.
FARE, also known as Food Allergy Research News. Unfortunately, my son has life-threatening allergies to dairy, eggs and nuts, so I know first-hand how complicated and scary the world of food allergies can be. 
FARE is doing incredible things to help the 85 million Americans impacted by life-threatening food allergies live a happier and healthier life. I'd love to partner with them to bring some clarity to vital topics like how to use an EpiPen® and bring their "stop.look.ask.go" concept to life to help train daycare/school staff who care for little ones with food allergies. 
A close second would be The Home Edit. Think of how beautiful that partnership could be!
What question are you dying to answer that we haven't asked?
Biggest life-changing adventure to date? 
What's the answer?
Study abroad trip to India! We visited Jaipur, Agra, and New Delhi. We went on several tours, and what I remember most is that each guide told India's history as if they were reading from a children's book. 
That trip and those experiences helped me to understand the power of storytelling, specifically with retention. In addition, the vibrant textile designs and bold spice colors continue to serve as a visual inspiration for me.
If you had to pick one for the rest of your life, would you choose burritos or pizza? Why?
Hmm… That's a tough question. A world without burritos or pizza would be dark, but a life without breakfast sandwiches and cold brew—now that is unthinkable!
---
We're so excited to have Jade on the team and to see what great things she does at Lemonly!
Meet the rest of the Lemonheads over here and sign up for our monthly Lowdown to keep up with Jade and the team all year long.