A quick check in from our interns, Olivia and Patrick..
As Olivia and I wrap up our third week at Lemonly, we keep asking ourselves, "Where did the time go?" In three quick weeks, we have already learned an astonishing amount. We attribute our learning to the educational resources Lemonly has available and the knowledgeable mentors guiding us.
In the Office
During my first week at Lemonly, John assigned me as the project manager on my first client. I am working with the talented Lemonly designers to create an infographic focusing on early language development. Owning a project from the ground up has enabled me to quickly learn about Lemonly's project management approach. I also wrote and edited several infographic briefs, as well as compiled various distribution lists in order to maximize the reach of infographics we design. Olivia has been just as busy. Last week, she finished designing her first Lemonly infographic about the unhealthy American diet (graphic coming soon). She has also manipulated an existing infographic to make it responsive. In between these bigger projects, she has been designing graphics containing quotes from various members of the Young Entrepreneur Council. She has particularly enjoyed the constructive feedback and design advice she has already received from other Lemonly designers.
Out of the Office
Olivia and I have also been keeping busy and fit outside of the office. Each Tuesday we have been soaking up the sun while playing sand volleyball. We both located our respective gyms and have been doing yoga. Olivia experienced her first downtown Sioux Falls First Friday last week where we checked out the new bakery, Breadico, and listened to live music at the block party. We also have begun sharing recipes that serve as easy lunches.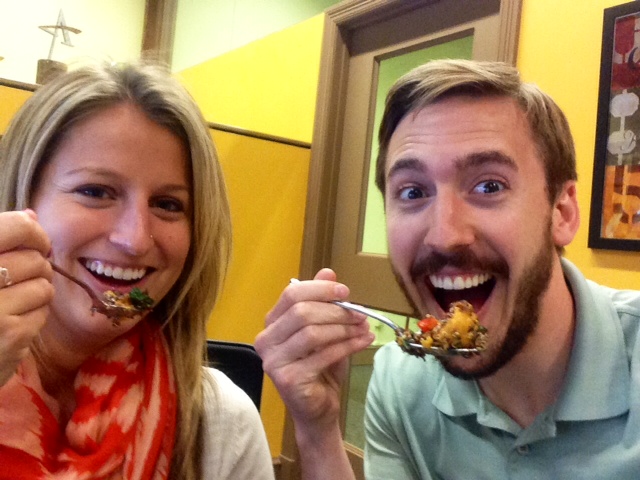 In addition to collaborating on lunch ideas, we just decided on our first infographic collaboration and will be producing an infographic on the subject of a healthy "media diet." Everyday we wade through a vast sea of media from several different mediums. Our infographic will explore this topic and how you maintain a healthy "media diet" in order to consume information that makes you happier, healthier, and smarter. Stay tuned!
Update: Our first intern collaboration is complete! Check out our "Media Diet" Infographic.