It's most definitely beginning to look a lot like Christmas here at Lemonly HQ. Since our Christmas party is tonight, we figured a little holiday playlist creation was in order.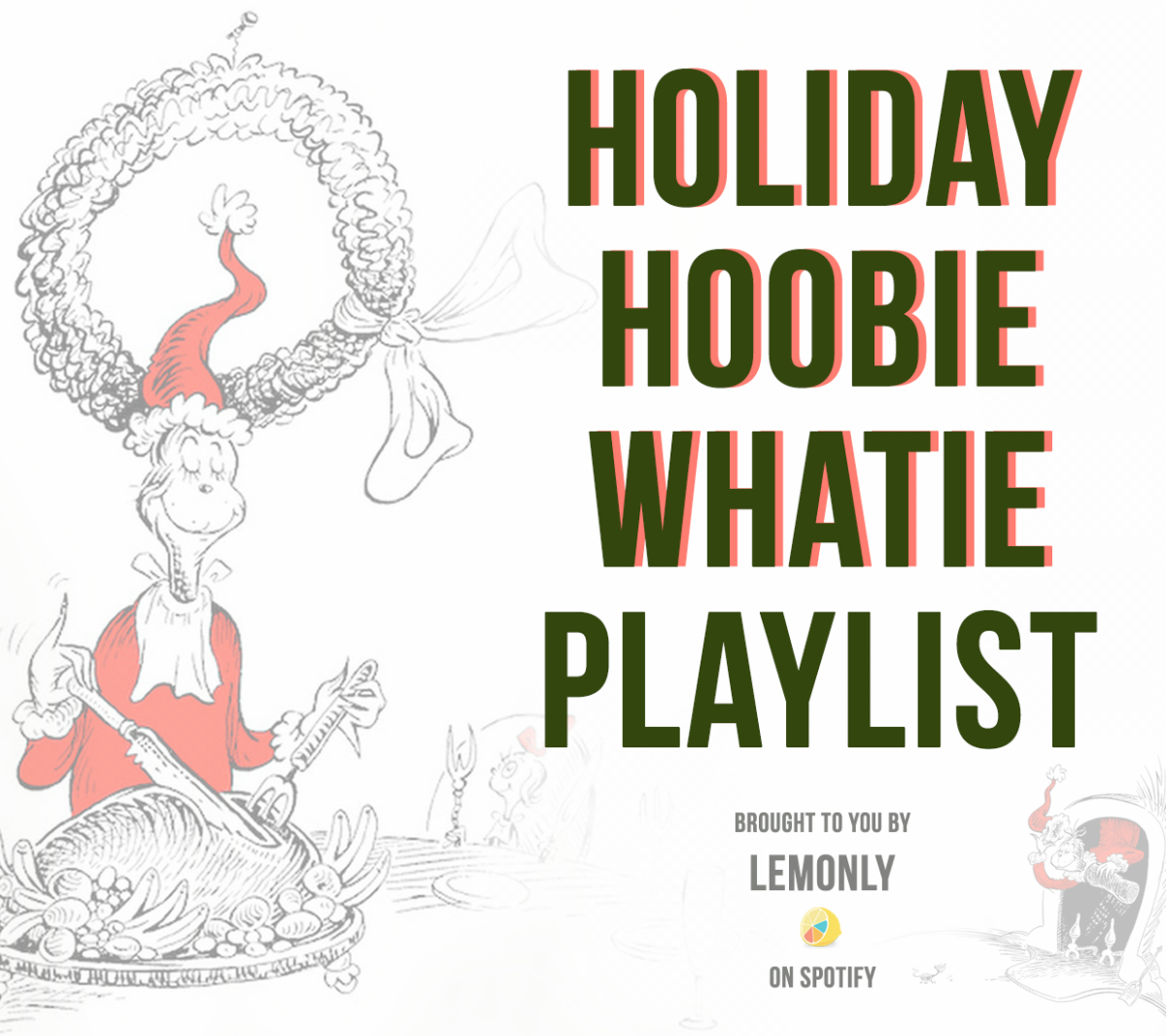 From classic carols sang by Frank Sinatra to the pop covers of Christmas classics by N*Sync, we've got it all. Fan of the How the Grinch Stole Christmas? What about Home Alone? We've got the iconic tracks from those soundtracks, too.
If this playlist doesn't put you in the mood for a little hot chocolate and family fun, not a whole lot will. 🙂 We've made this playlist collaborative, so if you have some tunes to add, just follow it on Spotify!
If you'd like to continue to get in the holiday spirit, check out our guide to what's in a fruitcake, our holiday movie flowchart, guide to Christmas around the World, and our holidays on a budget video.
Wishing everyone a wonderful holiday season!
– The Lemonly Crew
Access the full playlist here or see the tracks in alphabetical order below.
Frank Sinatra – Adeste Fideles
Michael Bublé – All I Want For Christmas Is You
Mariah Carey – All I Want For Christmas Is You – Original Version
N Sync – All I Want Is You (This Christmas)
Michael Bublé – Ave Maria
Frank Sinatra – Ave Maria
Glee Cast – Baby, It's Cold Outside (Glee Cast Version)
Dean Martin – Baby, It's Cold Outside – 2004 – Remastered
Smash Mouth – Better Do It Right
Carl Zittrer – Bob's Major Award
Tyrone Wells – Carol of the Bells
John Williams – Carol of the Bells – Voice
Jonathan Coulton – Chiron Beta Prime
Mariah Carey – Christmas (Baby Please Come Home)
Leona Lewis – Christmas (Baby Please Come Home)
Michael Bublé – Christmas [Baby Please Come Home]
Harry Potter Soundtrack – Christmas at Hogwarts
Matt Wertz – Christmas In The City
Dave Matthews Band – Christmas Song
Vince Guaraldi Trio – Christmas Time Is Here – Vocal
Dave Barnes – Christmas Tonight (with Hillary Scott)
Glee Cast – Christmas Wrapping (Glee Cast Version)
Nat King Cole – Deck The Hall
Glee Cast – Deck The Rooftop (Glee Cast Version)
Glee Cast – Do They Know It's Christmas? (Glee Cast Version)
Mary J. Blige – Do You Hear What I Hear?
The Killers – Don't Shoot Me Santa
Glee Cast – Extraordinary Merry Christmas (Glee Cast Version)
Jose Feliciano – Feliz Navidad
Crystal Lewis – Go Tell It on the Mountain
Glee Cast – God Rest Ye Merry Gentlemen (Glee Cast Version)
Vince Guaraldi Trio – Greensleeves
John Lennon – Happy Xmas (War Is Over)
Nat King Cole – Hark! The Herald Angels Sing
Vince Guaraldi Trio – Hark, The Herald Angels Sing
Michael Bublé – Have Yourself A Merry Little Christmas
Kenny G – Have Yourself a Merry Little Christmas
Frank Sinatra – Have Yourself a Merry Little Christmas
Frank Sinatra – Have Yourself a Merry Little Christmas – 2002 – Remaster
Judy Garland – Have Yourself A Merry Little Christmas – Meet Me In St. Louis Original Cast Album Version
Mel Torme – Have Yourself A Merry Little Christmas – Voice
John Williams – Holiday Flight – Instrumental
Michael Bublé – Holly Jolly Christmas
Nat King Cole – Holy Night
Boris Karloff – How The Grinch Stole Christmas
blink-182 – I Won't Be Home For Christmas
Frank Sinatra – I'll Be Home For Christmas (If Only In My Dreams) – 1999 – Remaster
Carpenters – It Came Upon A Midnight Clear
Frank Sinatra – It Came Upon A Midnight Clear
Michael Bublé – It's Beginning To Look A Lot Like Christmas
Carpenters – It's Christmas Time / Sleep Well, Little Children
Glee Cast – Jingle Bell Rock (Glee Cast Version)
Frank Sinatra – Jingle Bells
Glee Cast – Jingle Bells (Glee Cast Version)
Frank Sinatra – Jingle Bells – 1999 – Remaster
Michael Bublé – Jingle Bells – feat. The Puppini Sisters
Nat King Cole – Joy To The World
Low – Just Like Christmas
Jimmy Eat World – Last Christmas
Glee Cast – Last Christmas (Glee Cast Version)
Glee Cast – Let It Snow (Glee Cast Version)
Dean Martin – Let It Snow! Let It Snow! Let It Snow! – 1989 – Remaster
Frank Sinatra – Let It Snow! Let It Snow! Let It Snow! – 78rpm Version
Crystal Lewis – Let It Snow, Let It Snow, Let It Snow
Vince Guaraldi Trio – Linus And Lucy
The Beach Boys – Little Saint Nick
John Debney – Main Title
John Williams – Main Title from Home Alone ("Somewhere in My Memory") – Voice
Bing Crosby – Mele Kalikimaka (Merry Christmas)
N Sync – Merry Christmas, Happy Holidays
Frank Sinatra – Mistletoe And Holly – 1999 – Remaster
Vince Guaraldi Trio – My Little Drum
Nat King Cole – O Come All Ye Faithful – 1990 Digital Remaster
Matt Wertz – O Holy Night
Nat King Cole – O Holy Night
Frank Sinatra – O Little Town Of Bethlehem
Vince Guaraldi Trio – O Tannenbaum
LCD Soundsystem – Oh You (Christmas Blues)
She & Him – Rockin' Around the Christmas Tree
Dean Martin – Rudolph, The Red-Nosed Reindeer – 2002 – Remaster
Chuck Berry – Run Rudolph Run
Michael Bublé – Santa Baby
Bruce Springsteen – Santa Claus Is Comin' To Town
Mariah Carey – Santa Claus Is Comin' to Town
Michael Bublé – Santa Claus Is Coming To Town
Jackson 5 – Santa Claus Is Coming To Town
Glee Cast – Santa Claus Is Coming to Town (Glee Cast Version)
Frank Sinatra – Santa Clause Is Coming to Town
Carpenters – Silent Night
Nat King Cole – Silent Night
Dean Martin – Silent Night
Frank Sinatra – Silent Night – 1999 – Remaster
Bing Crosby – Silver Bells
Sufjan Stevens – Sister Winter
Vince Guaraldi Trio – Skating
Leroy Anderson – Sleigh Ride
Kristin Chenoweth – Sleigh Ride/Marshmallow World (with John Pizzarelli)
John Williams – Star Of Bethlehem – Voice
Elton John – Step Into Christmas
Tyrone Wells – The Christmas Song
Crystal Lewis – The Christmas Song (Chestnuts Roasting on an Open Fire)
Nat King Cole – The Christmas Song (Merry Christmas To You)
John Williams – The House – Instrumental
Carpenters – (There's No Place Like) Home For The Holidays
Boris Karloff – Trim Up The Tree
Jonathan Coulton & John Roderick – Uncle John
Kelly Clarkson – Underneath the Tree
Dave Barnes – Very Merry Christmas
Glee Cast – We Need A Little Christmas (Glee Cast Version)
Boris Karloff – Welcome Christmas
Vince Guaraldi Trio – What Child Is This
Faith Hill – Where Are You Christmas
Bing Crosby – White Christmas
Rosemary Clooney – White Christmas
Frank Sinatra – White Christmas
Glee Cast – White Christmas (Glee Cast Version)
Frank Sinatra – White Christmas – 1999 – Remaster
Michael Bublé – White Christmas – Duet With Shania Twain
The Drifters – White Christmas* – Voice
Tony Bennett – Winter Wonderland
Rosemary Clooney – Winter Wonderland
Kenny G – Winter Wonderland
Dean Martin – Winter Wonderland
Paul McCartney – Wonderful Christmastime [Edited Version] – 2011 Remaster
Thurl Ravenscroft – You're A Mean One, Mr. Grinch