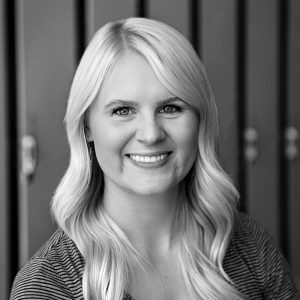 Welcome Kelsea, our newest project manager, to the Lemonly team! Hailing from right here in Sioux Falls, Kelsea holds an economics degree from South Dakota State University (Go Jacks!). We interrogated Kelsea with our notoriously tough Q&A to get to know her a little better. Read on to see how she fared.

---
How do you like to spend your free time?
Skiing, hiking, biking, paddle boarding, boating – anything outdoors.

What is one thing about yourself that would surprise people?
I'm just one semester short of finishing my software engineering degree!
If you could be any fictional character, who would you be? Why?
Tris Prior from Divergent. From a physical standpoint, she's a total badass: she can jump out of trains and climb up buildings. Plus, she adapts well to change, thinks outside the box and is a strong protector.
What's your favorite genre of music to work to?
Folk or 90s/early 2000s.
Do you have a favorite blog or podcast?

Name something on your bucket list.
I'd love to visit Norway.
What did you say you were going to be when you grew up?

An orthopedic surgeon.
What drew you to Lemonly?
I saw Lemonly's work on Instagram and was stunned by the aesthetic and how important data visualization is. I'm a very visual person, so being able to see data presented creatively as opposed to just a bunch of numbers made it easy for me to digest. I can see how a lot of people benefit from seeing information this way.

Why did you become a project manager?
I love organization – timelines, lists, and being the person who helps things run smoothly make me happy!
If you had to pick one for the rest of your life, would you choose burritos or pizza?
Pizza!
---
We're glad to have you on board, Kelsea, and we can't wait to see the great work you'll do!