Meet Michael, the newest member of the Lemonly team! This Alliance, Nebraska native has always had a passion for creating, whether it be songs, websites, or stories. (Does this make him a great fit here already or what?) 😉 After graduating from Omaha Code School this spring, we brought him on board to become the junior developer at Lemonly. Take a look at his Q&A to get to know him better.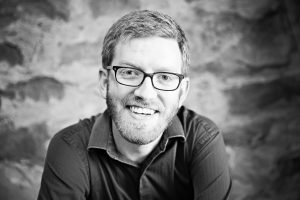 1. What led you to become a developer?
Creating something out of nothing is what I've always been driven to do. I started out my career as a journalist, writing and editing stories, producing videos and photos, and dabbling a bit with the web here and there. Over time, I've become more interested in the seemingly endless possibilities the web offers when it comes to creation. In the spring, I dived headlong into development through the inaugural course of Omaha Code School, and have loved every minute of coding since.
2. Do you have a favorite app?
Not to self-promote, but I've really enjoyed Lemonly's Storetime, especially as I've been getting to know Sioux Falls businesses after my move. Over the last few months, I've also fallen in love with Pack Dog's Snack app, which sends you five photos of puppies every day. I'm hoping to get a dog soon, so it's partly research and partly just adorable.
3. What do you like to do in your free time?
I love having my piano here in Sioux Falls, and I'm a couple songs into a web-based musical I'd like to write with a couple friends. I'm also looking forward to finding some open mics in Sioux Falls where I can play.
4. If you could be any fictional character, who would you be and why?
I'd be Phineas from "Phineas and Ferb." That show is probably the guiltiest pleasure I have, but Phineas's inventiveness (and redhead-ness) help to offset the feeling that I shouldn't be watching a cartoon made for children.
5. What's your favorite genre of music to listen to while working? Do you have a guilty pleasure artist you listen to that you're willing to admit?
I like listening to music without lyrics, mostly jazz like Bill Evans Trio and quiet, folk-ish albums like Andrew Bird's "I Want to See Pulaski at Night." And although I'm not too afraid to say it, I suppose Garth Brooks could be called a guilty pleasure. He was my hero when I was little, and I still like popping in "Fresh Horses" when I'm on a long drive.
6. Name something on your bucket list:
Ever since Microsoft Flight Simulator hooked me in grade school, I've wanted to get my pilot's license. This pairs with my love of traveling and goal to get to all 50 states and each of the continents.
7. What drew you to Lemonly?
My journalism background and love for design led me to love Lemonly's work immediately. I'm afforded a great deal of responsibility as a developer right off the bat, too, which is wonderful. I like being able to work on important projects right away.
We are not only excited about Michael joining our team because of his talent as a developer, but also because of his extraordinary creativity. Keep up with our newest Lemonly addition by following him @michaelsedits.