When life hands you lemons, you make lemonade. So what do you do when life hands you Lemonly? Well, if you're anything like us, you have a seriously sweet summer.
Lemonly is all about turning lemons into lemonade with our tried-and-true design process — it's a reliable recipe for sweet visual content that solves our clients' clarity challenges. Now that we SLICE interns are well-seasoned and nearing the end of our summer internship, we thought we'd share some of our own favorite recipes for a fantastic internship experience.
Austin (design & animation)
Austin's Animated Alphabet Soup is an extension of the perseverance, creativity, and tolerance for spontaneous Adobe crashes that all Lemonly employees possess. It's all but guaranteed to crash your senses, not your software.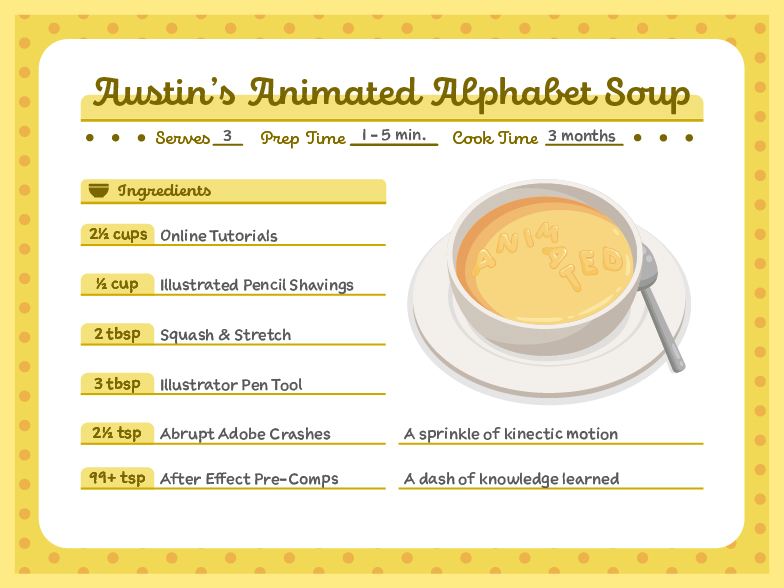 Combine online video tutorials with illustrated pencil shavings. Sprinkle in squash and stretch to add fluidity and character to the letters. It may feel a bit strange at first, but that's just the recipe taking shape. Add Illustrator pen tool and use wisely: It's a potent device.
Adobe crashes are vital in the dish. A little dash of frustration can be a strong motivator, and overcoming hiccups will only make your dish more authentic. Gradually mix in 99+ teaspoons of pre-comps. Yes, you read that right: Pre-comps are crucial to managing the complexity of the dish. Sprinkle in a touch of kinetic motion to bring your designs to life.
For best results, this recipe needs a bit of creative freedom and support from fellow Lemonheads. From motion graphics to illustrative design, this recipe demands a lot from you, but if you take time and make it with love, it can be something special.
Kent (design & animation)
This recipe is quick and easy to prepare and has just the right amount of savory and tang, making it a great meal for a busy week.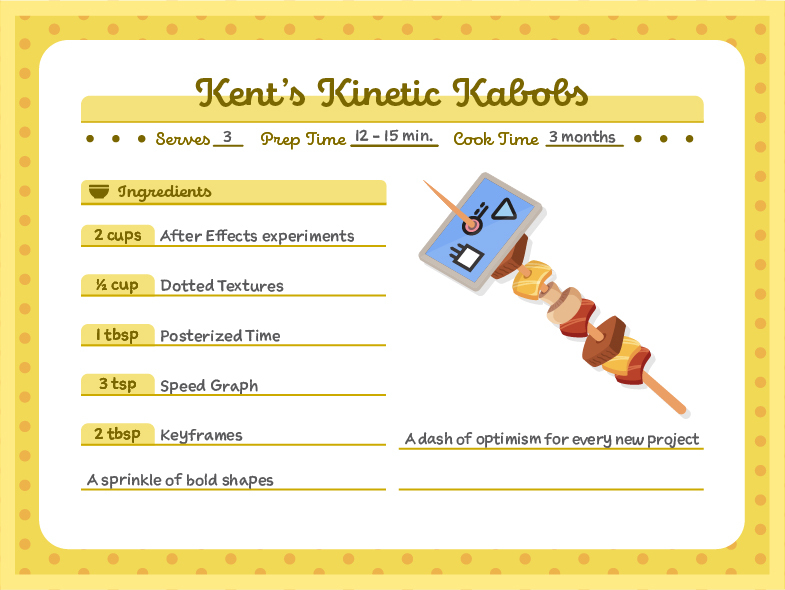 Stir After Effects experiments until all the failures are smooth. Combine with posterized time, and you'll begin to notice your work has kinetic value. Introduce Adobe Illustrator and allow the mixture to bake for about three months. You'll need to add dotted textures to capture the richness in your visuals. Garnish your blend of ingredients with bold shapes and optimism for every new project. Once everything is solid, drizzle keyframes on top to soak in all the movement.
Take out your skewers and slowly add the speed graph between each part of the kabobs. Grill each side to lock in the rich animation in your meal.
For best results, this recipe requires infographics and animated microcontent, supplemented with valuable feedback to bring the flavors to the next level.
Tessa (business development)
This recipe is sweet and refreshing with just the right balance of ingredients. It tastes like summer and is perfect for a dinner party with friends.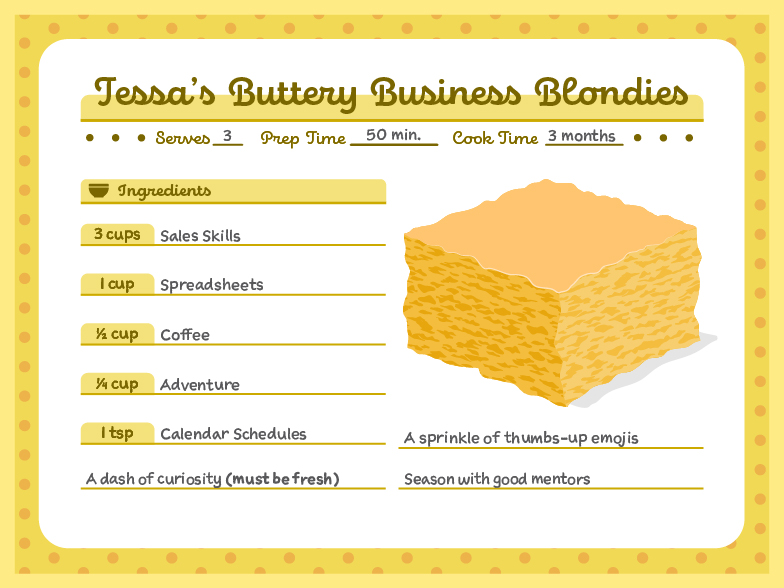 Mix together spreadsheets and Zoom calls. In a separate bowl, cream together sales skills, coffee, and adventure until smooth. Combine with good mentors, then cover and let the mixture rise to its full potential. Whisk slowly to incorporate both mixtures. Chill for several hours.
Spray your pan with some stellar Lemonly work before pouring in the mixture and spreading evenly. Sprinkle thumbs-up emojis on top of batter before baking for about three months. Garnish with fun coworkers and serve with Lemonheads.
For best results, this recipe needs a crash course in how the heck you sell infographics. Be prepared to learn a lot while making this recipe, including how to create a UTM tag and how to answer RFPs (and what UTM tags and RFPs are). When making this recipe, don't forget to lean on the Lemonly squad.
---
These recipes have brought a lot of sweetness to our already stellar summer, and we've been cooking up some great eats (mostly in the form of infographics) with our fellow Lemonheads. As our summer internship comes to a close, we'll be taking what we've learned "to-go" on our next adventures.