UPDATE: Hey friends! We had such great response to this blog post but unfortunately this was our April Fools joke of the year. 🙂 (Though we'd love to actually design our SD license plate someday.)
In an unprecedented move, the office of Gov. Dennis Daugaard has appointed Lemonly to design South Dakota's next license plate.
The partnership follows criticism of SD plates unveiled last October and sent to renewing car owners starting in January. The familiar faces of Mount Rushmore, disgruntled folks say, are "blah" and "disgusting." Others have said the updated angles of the presidents look inaccurate.
Past South Dakota license plate design, 2006-2015
(non-commercial standard)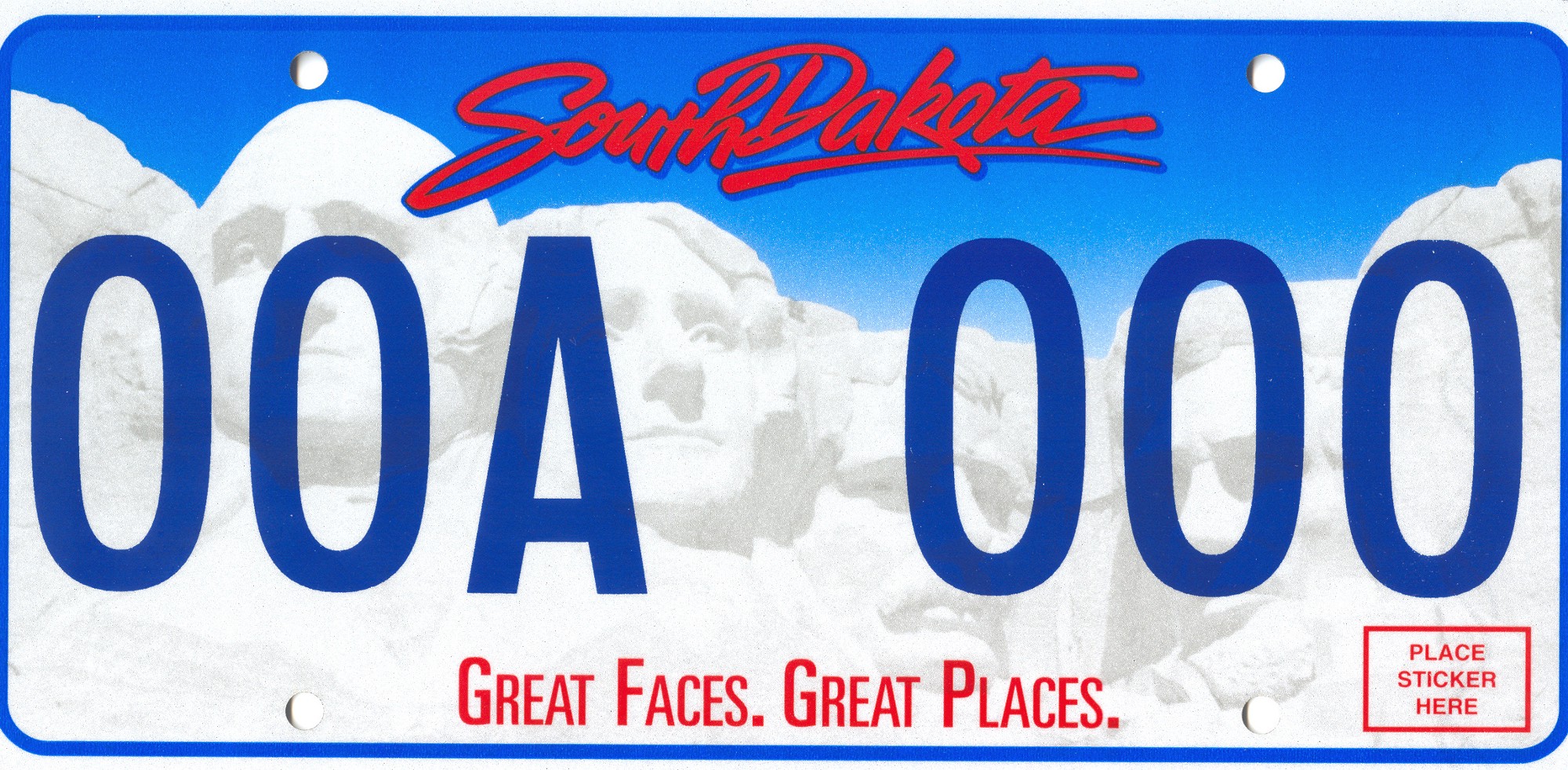 Current South Dakota license plate design, starting 2016
(non-commercial standard)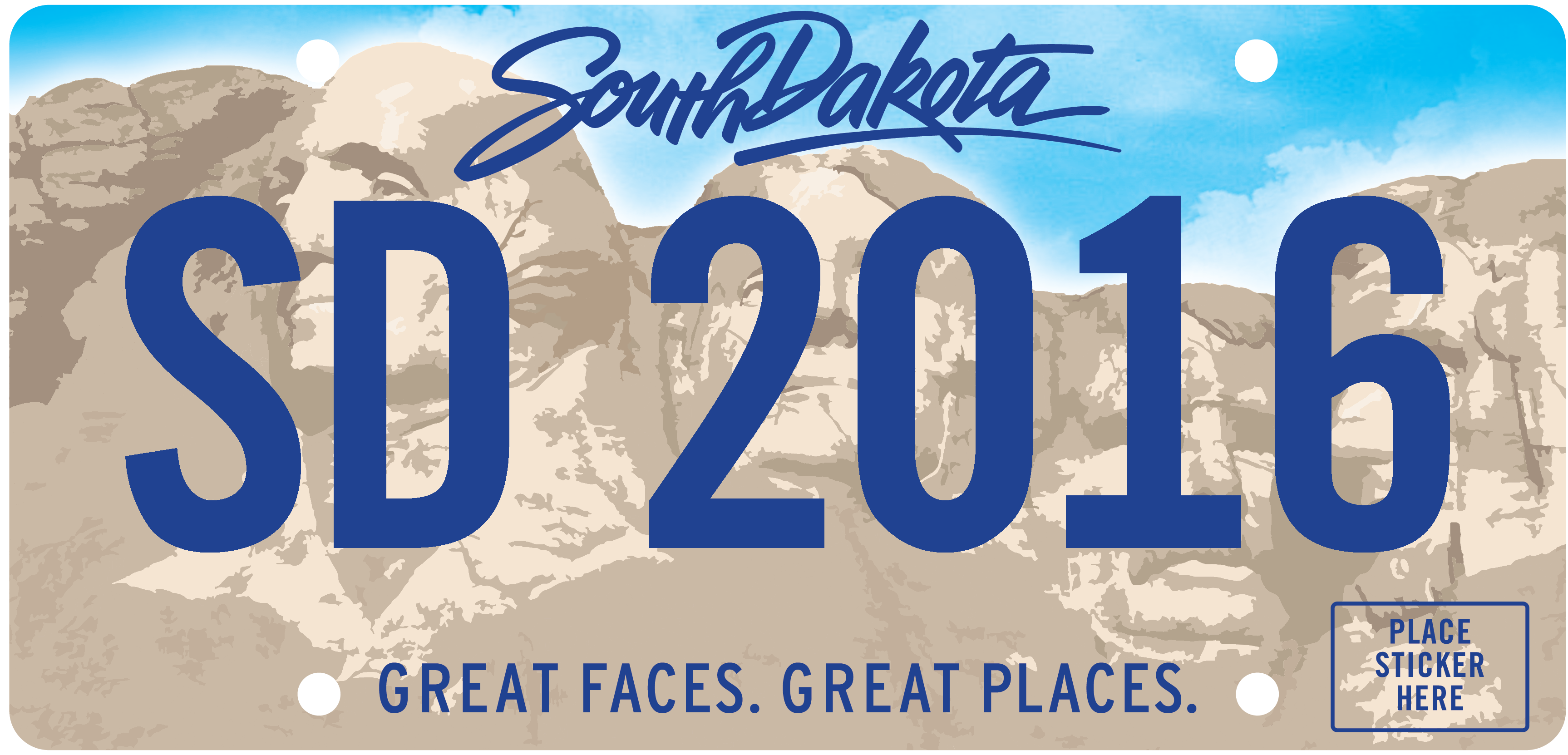 Even Pam Nelson, Minnehaha County treasurer, said, "So far I've heard nothing positive." But Blaine Kortemeyer, assistant chief of interpretation for the national memorial, said, "The new plate just has a different view point."
According to Sioux Falls' Argus Leader, 18 inmates working inside the Pheasantland Industries license plate shop can print, punch and bag about 23,000 plates a day. And having committed to a 5-year, $17-million contract with Intellectual Technology Inc., a California-based company, the state is on the hook for the currently implemented design until 2021.
But to assuage concerns with the design, an exploratory committee organized by Gov. Daugaard reached out to Lemonly in mid-March to begin a new design for 2022.
Were we surprised? Only a little. CEO John T. Meyer's Facebook post on the subject had elicited quite a response: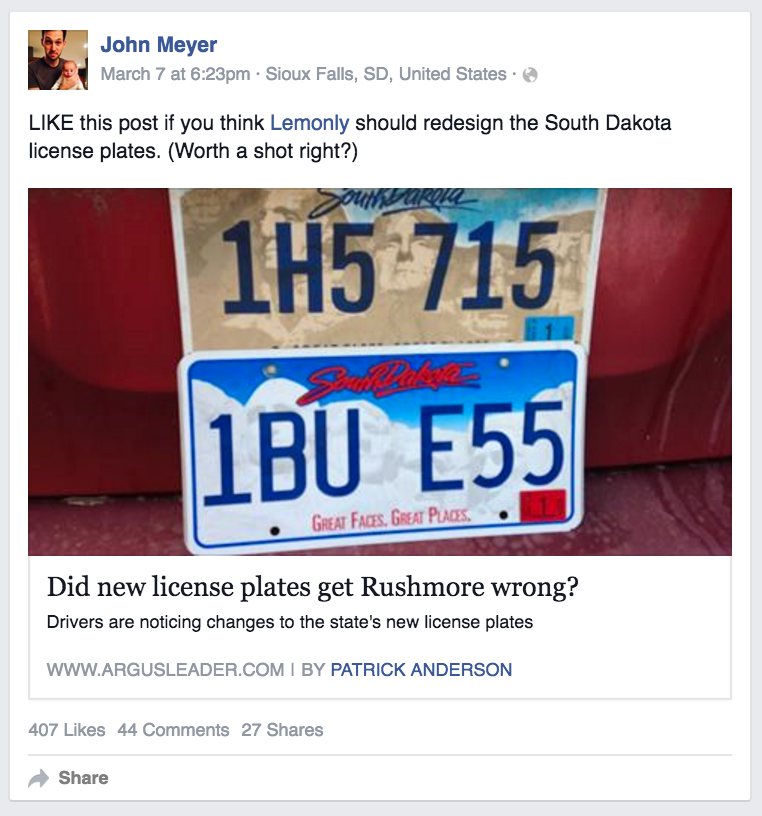 FEATURING A NEW FACE
Since 1939, state law has required license plates to include "a replica of the Mount Rushmore National Memorial sculptured figures."
To appeal to "millennials and creative types," the governor's office requested one more face to take up residence alongside George Washington, Thomas Jefferson, Teddy Roosevelt and Abraham Lincoln.
"My son was hip-hopping one day, and I could not make heads or tails of it," Gov. Daugaard said. "I asked him, 'Son, what are you even saying?' He says, 'Pops, I'm Alexander Hamilton!'"
"And you know, turns out it's a musical! Who knew? … Anyway, I say we put Hamilton on Rushmore."
WITHOUT FURTHER ADO…
We're proud to present our license plate design, championed by Brett Hanes.
Let us know what you think of the design by tweeting @lemonly.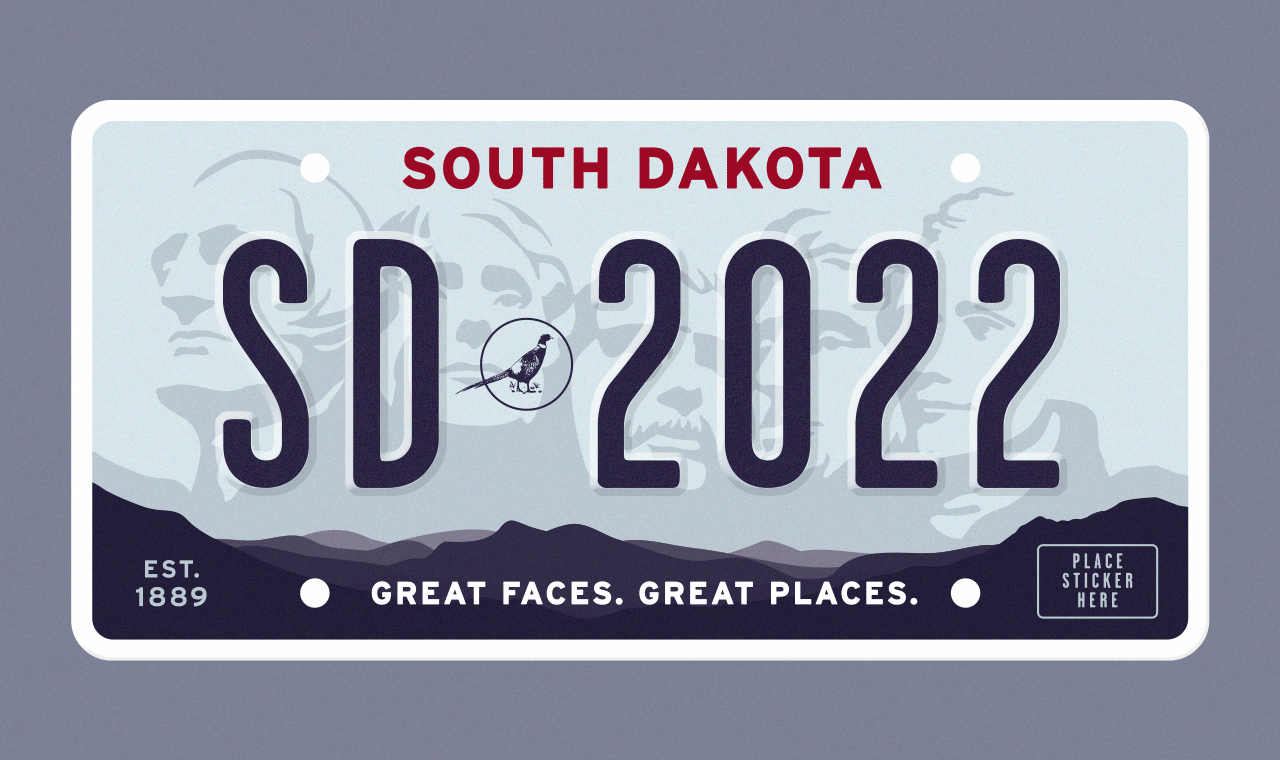 (Being April 1, we're also obligated to inform you that licensing fees increase today to fund roads and bridges.)
UPDATE: Remember that this was our April Fools joke for the year. Also, remember that Alexander Hamilton was not a president. 🙂