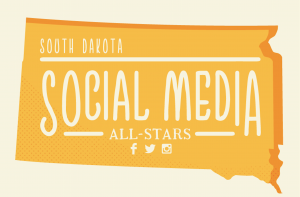 It's that time of year again! Time to take a look at the Great Faces and Great Places of South Dakota and their impact across the social media platforms.
In the past, we highlighted the veteran brands that have made their mark the past few years on Facebook and been a part of the top chart in 2011, 2012, 2013, and 2014. Here are some new items to talk about for 2015:
We're excited to add three new brands to the top "liked" Facebook list this year. Filly Flair Boutique, Klock Werks, and Abandoned, SD each earned a well-deserved spot amongst their fellow local brands.
Shoutout to the South Dakota School of Mines and Technology for being the school with the most likes. South Dakota State University came in a close second less than 1,500 likes behind. I sense a new rivalry…
It's fun to see how the local brands keeping us informed on news, weather, and all things important dominated Twitter, while Instagram proved to be more of a clothing boutique hub.
This year, we also thought it would be fun to see how South Dakota compared to North Dakota on the social side. Turns out we have a pretty strong Facebook fan base for the Sunshine State.
In this year's graphic, we decided to end with a few special awards of a few people that have an overall social media presence. Congrats to those winners as well!
See the infographic below for the full look at the state's Facebook, Twitter, and Instagram stats: