As Lemonly has grown and evolved, so has our need for different tools. One tool our entire team felt was incredibly important was a timeline tool — something that would help our Project Managers (PMs) to communicate dates, timeframes, and deadlines with our clients.
For a long time, each project manager was communicating this in a different way. One of us would create a calendar in Excel, another would export a spreadsheet of dates in a PDF, and yet another would send through a timeline tool that we created during Hackathon. We found that this wasn't providing clients or our internal team the continuity that they needed from one PM to the next.
While it's rare that our clients work with different PMs, we still felt that it was important that we all provide timelines in the same format so that everyone is getting the same Lemonly experience. In Q4 of 2017, our PM team decided to tackle this project as our team goal.
What We Needed
After a lot of brainstorming, the PM team came up with a list (which continues to grow) of things we needed and wanted out of a timeline tool.
It needed to have a list and calendar view, as different clients have different preferences on how they view their deadlines.
It needed to be color-coded so that you could differentiate a client due date from a note or a Lemonly due date.
It needed to be live and update as soon as we updated our timelines internally and downloadable to a pdf.
We wanted to be able to check things off when they happened (PMs LOVE checkboxes) and easy for both our clients and our team to use.
We also felt it was important for our clients to be able to export the calendar to their personal calendar if they wanted.
And we wanted a way to show multiple projects in one screen for those clients that had many projects running concurrently.
Introducing…
After consulting with our amazing developer, Michael, on all of these wants and needs, he worked some wizard magic and a few weeks later we were introduced to Lemonly Timelines! This tool checked every single box we had asked for and continues to evolve as we receive feedback from clients and uncover other "nice-to-haves."

How It Works
If you've worked on a project with Lemonly, chances are you received a timeline link for your project after your kickoff call. The timeline you're provided is a live link, meaning updates will be reflected as soon as your PM takes care of them on our end. We try really hard to keep your timeline up to date with the most recent deadlines.
Viewing options: You'll notice there are two different views: month and list. Just use the button at the top left to toggle between those two views.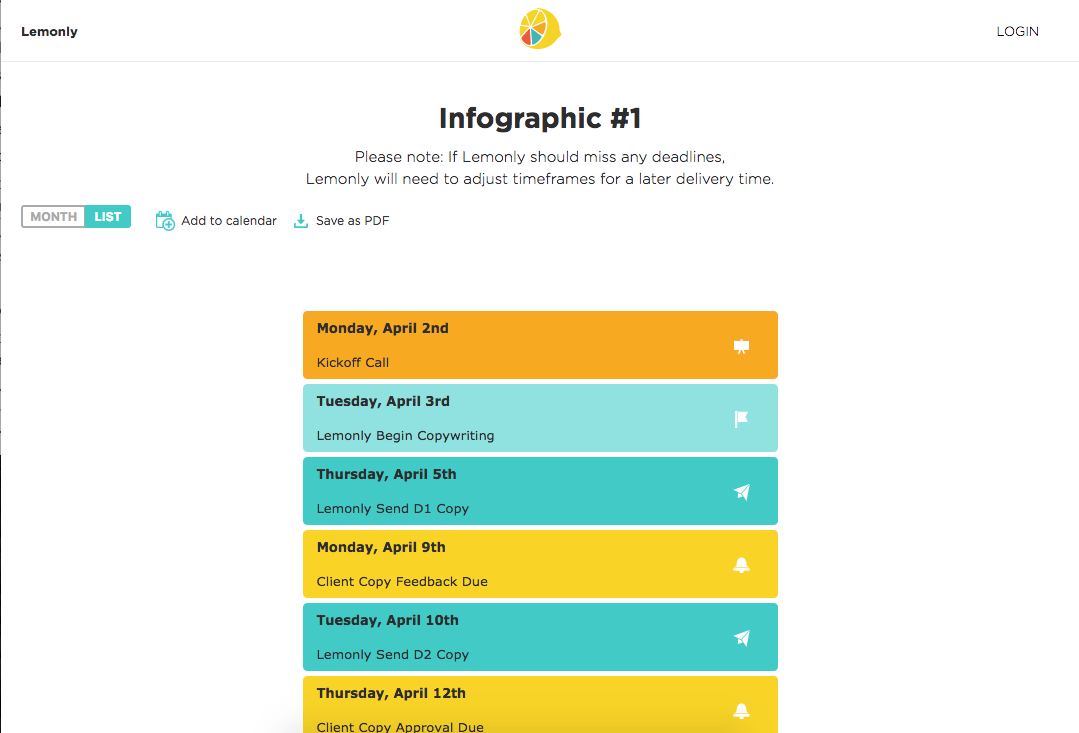 Next buttons: To continue to click through the timeline in the Calendar view, just click the arrow buttons in the top right of the screen by the "TODAY" button.
Adding to your calendar: If you would like to add the project due dates to your iCal, Google calendar or Outlook calendar, click the "Add to calendar" button in the top left corner.
Past due: When an item is past due, it will be underlined in red in the calendar view. Once the project manager checks this task as complete, it will appear greyed out.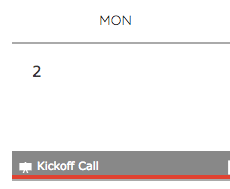 We know everybody's busy. Spending time and effort on tools like the Lemonly Timeline makes sure deadlines don't sneak up on anybody and no part of the project falls through the cracks. It may seem like another moving part, but we promise — once you have a chance to get to know our tools and processes, you'll love them as much as we do!