Project Managers: Who Needs 'Em?
If you know anything about the Lemonly process, you probably know that your project manager (PM) serves as your primary point of contact throughout the project. But once in a while, a client reaches out directly to the creative team member on the project to share feedback, ask questions, etc. Now, we're sure clients in these cases have only the best of intentions. They just want to make communication more efficient. Question about design? Ask the designer! Right?
Nooooot quite.
We're glad our clients love our designers and copywriters. We do too! Our producers are incredibly amazing and talented individuals, but asking them to resolve questions and address feedback pulls them away from what they're truly gifted at: designing or copywriting.
Enter the project manager.
PMs serve many purposes at Lemonly — as I like to say, we fill gaps. Not only do we act as the liaison between client and creatives, translating and helping to build trust between the two, but we're also box-checkers and executors who are always considering how we can improve processes. Productivity is our middle name. (OK, not actually, but if our parents were alright with it, we'd totally change them. Mom? Dad? Thoughts?)
If we expected the creatives at Lemonly to answer questions, consolidate feedback, update timelines, schedule check-ins, and keep a bird's-eye view of producers' queues across the company — all on top of producing visual wizardry, well…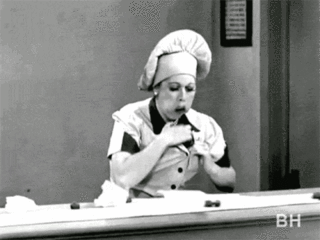 So, that pretty much sums up why PMs are our producers' best friends (right, guys? ?). But we do way more in a day than just relay messages from client to creative — a good PM is always thinking about a few key focus areas:
Efficient Communication
It might seem counterproductive to talk to a middleman if you've got design feedback, but it's actually more efficient! Our PMs have a pulse on every project and every team member's queue of work. When we receive approvals or feedback, we run it by the appropriate creative to make sure any changes make sense, and determine how much time it'll take to get to the next stage. From there, we add it to the queue, update the timeline, and make sure a draft is in your hands before the next deadline.
Schedules
Speaking of timelines and deadlines, did I mention we're fond of managing them? Lemonly project managers are able to strategically consider each project's schedule in a way that maximizes quality and effectiveness while being sure to cover client needs and desires. Once we settle on a target date, PMs work backwards to draw up a regimented timeline that will meet or beat this goal. Sometimes that means fewer rounds of revisions, tightening up turn-around times, or even moving the project to a different team member's court if they've got more immediate availability. Whatever that solution, we're armed with a playbook packed with ways to keep clients and creatives satisfied.
Workloads
Burnout is no bueno. If our designers are pushing pixels 24/7 or juggling too many projects, bad things start to happen. Project managers know when one designer is slammed with work and who might be able to take some on, meaning we can keep things moving smoothly for each client. We're also well-versed in our designers' and writers' specific talents and preferences. For example, Lan is incredibly gifted at whipping up user-friendly layouts for interactives, and Maddie kills it on writing technical pieces. This familiarity helps us match clients with the creatives best suited for their projects while maintaining sensitivity toward timelines and priorities — making everyone's job less stressful!
Relationships
We're experts on clients. Project managers know who you are, what company you work for, the brand standards that our team needs to follow, and even your feelings on the Oxford comma. We know that Brenda in Accounts will be reviewing this and she better not see a single character with gray hair or this project is going back for more revisions. We understand your internal processes, who needs to see what, and if there are extra departments (ahem, Legal) that need to be involved and when.
Every Lemonhead has one thing in mind: create work that blows minds and crushes goals. But project managers are the people most familiar with what those goals are, what your vision is, and what it's going to take to bring it to life efficiently and effectively. Now let's get to work!