Editor's note: After more than a year of company-wide remote work, we've added to this post with some of our remote-optimized and hybrid-friendly wellness programs from 2020.
---
You do better when you feel better.
With that in mind, allow us to introduce Lemonly's Wellness Task Force, or WTF. You've heard of our legendary Party Planning Committee, modeled after its Dunder Mifflin namesake. WTF is a new incarnation of that same mission—to add team bonding, learning experiences, and a little bit of fun to our workplace. (And yes, the content team insisted on calling it the WTF.)
Employee wellness matters. Everyone talks about work-life balance, but that's just not realistic in today's world. You need work-life harmony.
Your work is part of your life, and all facets of your wellness affect both your work and life.
And it's not just about nutrition and exercise. We created the WTF to plan activities and events that emphasize holistic wellness across all areas of the "Wellness Wheel"––physical, mental, emotional, spiritual, environmental, social, occupational, intellectual, and financial.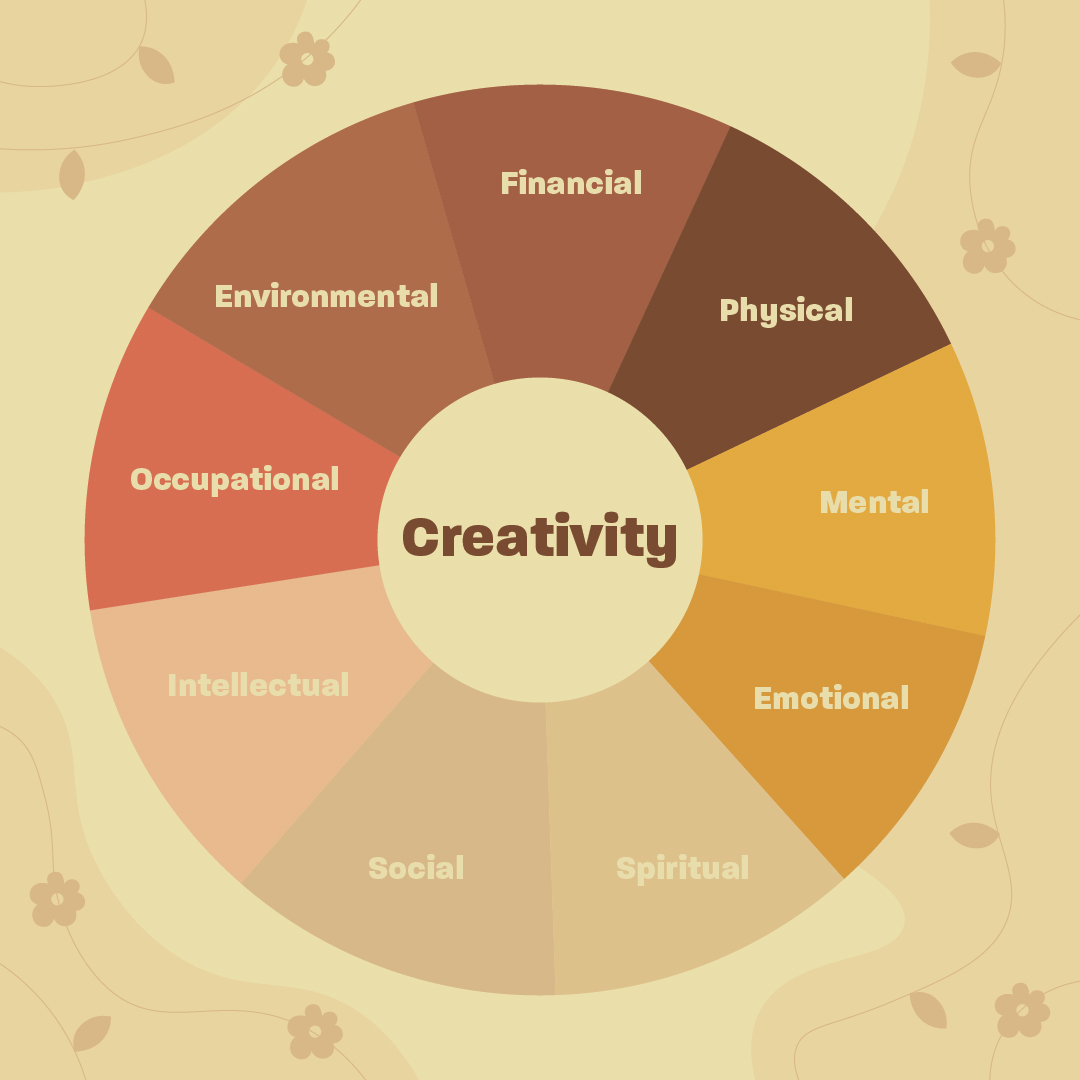 WTF initiatives give the whole team ways to manage stress, develop healthy habits, and challenge ourselves both individually and as a group. We get to have a little break from our everyday routines while participating in activities that support our work by supporting our wellness.
What kind of activities, you ask? We've got the rundown here, and check out the end of the post to see how you can easily put together your own office WTF.
(Psst. If you want to learn all of our company culture secrets, from hiring to benefits to core values, check out our company culture course.)
WTF Activities
Challenges
Participating Lemonheads tracked different metrics, winning prizes, "badges", and/or bragging rights.
Sleep. Sleeping more? I could win that challenge with my eyes closed. (I'm so sorry.)
Screen time. Visual Designer Molly absolutely crushed it, averaging a mere 11.5 minutes of phone time per day over two weeks. (We didn't count computer screen time. Our clients probably appreciated that.)
Water. Drink water! But like, a healthy amount of water. It turns out you can drink too much water. We did the research.
Steps. We added a few classic Lemonly Block Walks to up our step game.
Fruits and veggies. Basically this.
Breakfast & Lunch
WTF provides a monthly breakfast for everyone in the office and sends the remotes a little stipend to get their own healthy start to the day. Some WTF breakfast favorites:
Oatmeal bar
Smoothies
Toast bar
Egg bake
Parfait bar
Kodiak cakes
Breakfast sandwiches
We also coordinate the occasional "food week" at HQ, where Lemonheads sign up to bring a dish to share for lunch, breakfast, or afternoon snacking, usually themed around a particular food group or type of cuisine. Past weeks' themes include crockpot, tailgating, garden, fruit, and even foods of particular colors based on the day of the week.
Movement
To get the bodies moving, the WTF set up a couple of lunchtime yoga sessions at a dance studio down the block from HQ. Several Lemonheads also participated in the Avera Race Against Cancer 5k/walk, with Lemonly covering the registration cost. More recently, we've started (optional) group stretches after the weekly All-Call team meeting on Monday mornings.
De-stress
If you've never tried singing bowl meditation, we can't recommend it highly enough. We organized some lunch hour trips over to the free weekly Tibetan Temple Sounds at the Avera Cancer Institute, and we also had a session right in the office during our Zen Week.
Our Pre-Holidays Zen Week included a week-long lineup of a few cozy and quiet activities to help folks de-stress amidst the bustling holiday season.
Aforementioned singing bowl meditation
Essential oil diffusers
15-minute massages
Presentation from Lemonly mental health care benefits partner
Visit from rescue puppies
WTF WFH
Here are a few of the remote-friendly activities and programs WTF put on during the past year of remote work.
Doodle Telephone. Otherwise known as Telestrations, but played via Slack. One person chooses a phrase, and Lemonheads alternate drawing the phrase and guessing the phrase based on the previous person's drawing, Slacking their responses to the next person in line throughout the day. The final phrase or doodle—along with everyone's guesses—are shared at the end of the day.

PTO incentive. People's use of vacation time can decrease while working from home, especially during the long winter in quarantine while pretty much everything is shut down and there's less to do. But we all need a little time away from work now and then. So, we did a raffle of sorts where any Lemonhead who took some PTO during February or March was eligible to win a special prize or gift card. Every single Lemonhead took at least a few hours off!
Show-and-tell Zoom chat. Staying social is good for your brain. WTF picks a question or prompt (like "What's the item you own that's most likely to be haunted?"), sends out a 15-minute calendar invite, and whoever wants to can hop on for some show-and-tell with teammates.
Scavenger hunt. We assembled a list of easy- or hard-to-find fall items and encouraged Lemonheads to snap photos of things they found while outside for a walk, run, or bike ride. Folks dropped their photos into a designated Slack channel, and the person who spotted the most items from the list won a prize.
Donation drives. Promote a little healthy spring cleaning with a donation drive. Compile a list of local collection sites for a variety of items folks might be ready to part with—clothes, books, furniture/housewares, food, etc. Those who donate can be entered to win a prize or just feel good about decluttering and giving their items a second life.
Jackbox games. You might've played these online with friends over a virtual happy hour (or heard your teens talk about Quiplash or Tee K.O.). All you need is Zoom (if playing remotely), your phone, and jackbox.tv.
Pumpkin decorating. Have you ever decorated a pumpkin live on Zoom with your coworkers? No? Well, we have. So get with the times. All we had to do was set up the calendar invite, reimburse folks a few bucks for their pumpkins, and ooh and ahh at everyone's creations.
Remote takeout lunch. Non-stop WFH can be isolating. Whether or not you have the budget to send everyone a lunch stipend for some local takeout, you can still hop on Zoom for a virtual lunch together—a nice break from the usual client calls or strictly work-related meetings. Have people share what they got to eat (and where from) or put folks in breakout rooms for some friendly non-work socializing.
How to create your own WTF
How many people should be involved? We have a group of three with help from Emily, our amazing office coordinator.
What's your budget? It doesn't have to be huge! Our budget was mainly used for breakfast supplies, some small prizes for challenge winners, and a few bigger activities like massages or yoga courses.
How often do you want events? We shoot for one program or activity per month in addition to our regular monthly breakfast.
Work with your team to identify wellness challenges that are important to you. Remember, wellness is more than physical activity. Look at the Wellness Wheel and brainstorm activities that can address different areas of wellness.
Think about a mix of passive and active programming. Some initiatives like challenges and stretching don't require much planning, while others like lunchtime yoga might take more time and effort for planners and participants.

Get feedback and refine your approach. After the first year of our WTF, the full team filled out a survey that asked them to rank different types of wellness as well as give feedback on the events and programs they'd done so far.
Don't forget your internal communications. – How you spread the word about your WTF events and programs speak volumes to your team about their purpose and importance. A piece of paper on the break room fridge that says "Tibetan Temple Sounds at noon" won't get the same reaction as something with a little more personality.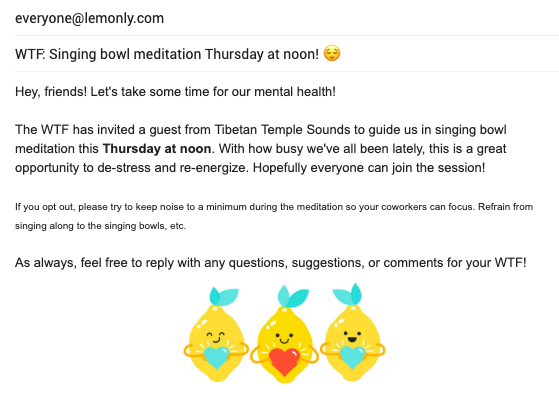 We know a thing or two about internal communications with personality. Learn more about that here, and be sure to let us know if you come up with your own WTF!