Wireframe & Moodboard Presentation
Lemonly has a unique and proven process that gets us from beginning to end efficiently, while still making sure to get every client a product you'll be proud of. Part of that process is the wireframe and moodboard.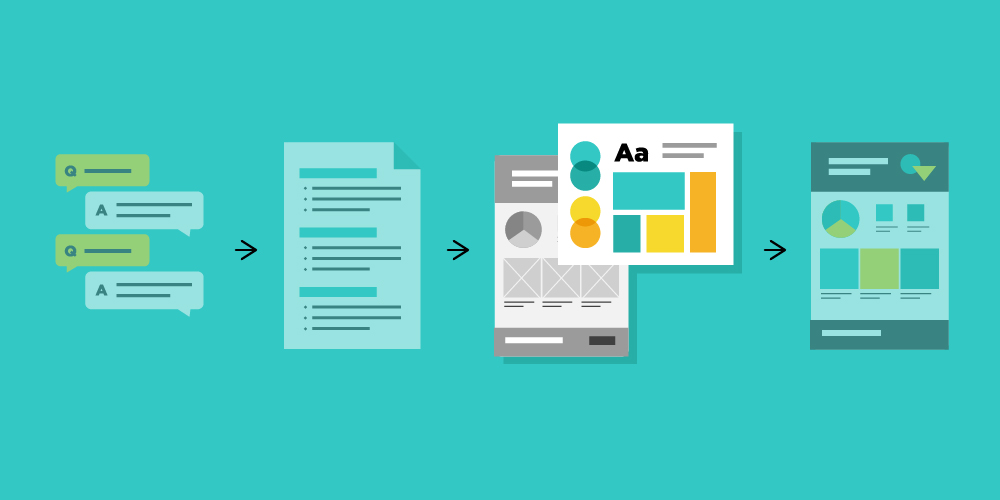 After receiving approval on copy, we get to move a bit closer to making design magic happen. But every visual has to start somewhere. The purpose of the wireframe and moodboard stage is to establish the overall style and layout of your story. This essential step in our process lays the groundwork for the entire project – and you know what they say about a strong foundation! We've had a few common questions pop up when clients go through this stage on their first go-round with Lemonly, so we took the time to assemble some wireframe/moodboard FAQs:
A wireframe and moodboard are what, again, exactly?
The wireframe is essentially the blueprint of your infographic. The main purpose of the wireframe is to nail down layout and copy placement. Fonts may be incorporated at this stage, but as you'll see, no element design has happened yet – the main focus is the hierarchy of information. Instead, we'll use placeholders for designed elements, i.e. "pie chart here." This is more for you to start seeing the copy/data we plan on including and where we plan on placing it.
The moodboard shows the color palette we plan on using once we move into design as well as illustrations and icons from which we plan to pull inspiration. This will help you immediately see the direction the designer is planning on going once we move into the design phase. (Still confused about the deliverables? Read this blog post.)
How will you send me the wireframe and moodboard?
We'll email you the files shortly before our scheduled wireframe and moodboard presentation call. This call is an important part of the process and is a great opportunity for your designer to walk you through both pieces. We're able to explain why certain design decisions were made, go into greater detail as to what the vision is once in the design phase and, of course, answer any immediate questions you might have.

What happens during the presentation call?
After the Lemonly designer walks you and the project stakeholders through the wireframe and moodboard, we're looking for any initial high-level questions, concerns and comments. Taking time to digest the wireframe and moodboard with your team after the call and providing detailed feedback via email are both crucial steps of the process.
What type of feedback is Lemonly expecting after the call?
Wireframe
Are we displaying the hierarchy of content correctly?
Are there any sections of copy that you would no longer like to include or any sections that you would like to expand on?
Data representation, i.e. Would you rather us showcase a section of data in a bar chart vs. a pie chart?
After seeing your infographic laid out, do you want us to move sections around?
At this stage, we want to make sure that the placement and layout of the wireframe are accurately telling your story. Ideally, this is the final chance for copy edits, so make sure to let your whole team see the wireframe and to include them in the presentation call.
Moodboard
If we're following your brand guidelines – did we meet your brand expectations, look and feel?
Do you like the color palette?
Are there certain illustration examples that you especially like/dislike?
Nailing down the moodboard is essential before continuing the design process. If we're envisioning "light and airy" and you decide you want the direction to be "serious and bold," this is the chance for us to connect on that before we begin creating illustrations and icons that wouldn't get their chance to shine in the final piece.
What are the next steps?
After the presentation call, we'd love for you to take your conversation offline, get all of your stakeholders in one room and talk through your feedback. Getting everyone's thoughts at one time usually alleviates the concern of conflicting feedback and often cuts down the rounds of revisions, getting you to the finish line more quickly.
Once you've got everyone's feedback, mark up the PDF or send us a bulleted list of all changes you have for both the wireframe and moodboard.