Editor's note: This post is part of our blog series all about internal communications. We've got other posts about treating your internal comms more like content marketing, why you should rethink your approach to internal comms, making your internal comms more than an email, and putting your internal communication where it counts.
---
What have we learned so far about internal communications? Here's a quick review of what we've covered so far in this blog series.
"Internal communication" means more than just company memos about new policies or benefits. It's also the everyday ways your team members interact with each other, share information, and build relationships.

Internal communication is how we create and enact company culture.

The communication tools and platforms you use (email, Slack, telephone, etc.) carry implicit messages about who you are as an organization based on how you communicate. They should reflect your organizational values and how your employees actually prefer to interact and share information.

Treat your internal communications more like content marketing

by creating and implementing a strategy and using metrics to prove ROI. Use content marketing best practices — including sweet visuals and tailored messaging — for your internal audience (your employees) just like you do for your external audience (your customers).
Wow, we've come a long way! Give yourself a pat on the back.
Where do we go from here? The remaining parts of this series will focus on practical strategies for upgrading your internal communications in specific use cases.
Let's talk about how to make your internal communication a more engaging experience — not just another email.
---
A younger workforce means higher stakes for communication and culture
Millennials have taken over the workforce, and Generation Z is comin' in hot. This presents some challenges and opportunities for internal communication and company culture.
Let's take a look at some compelling data points: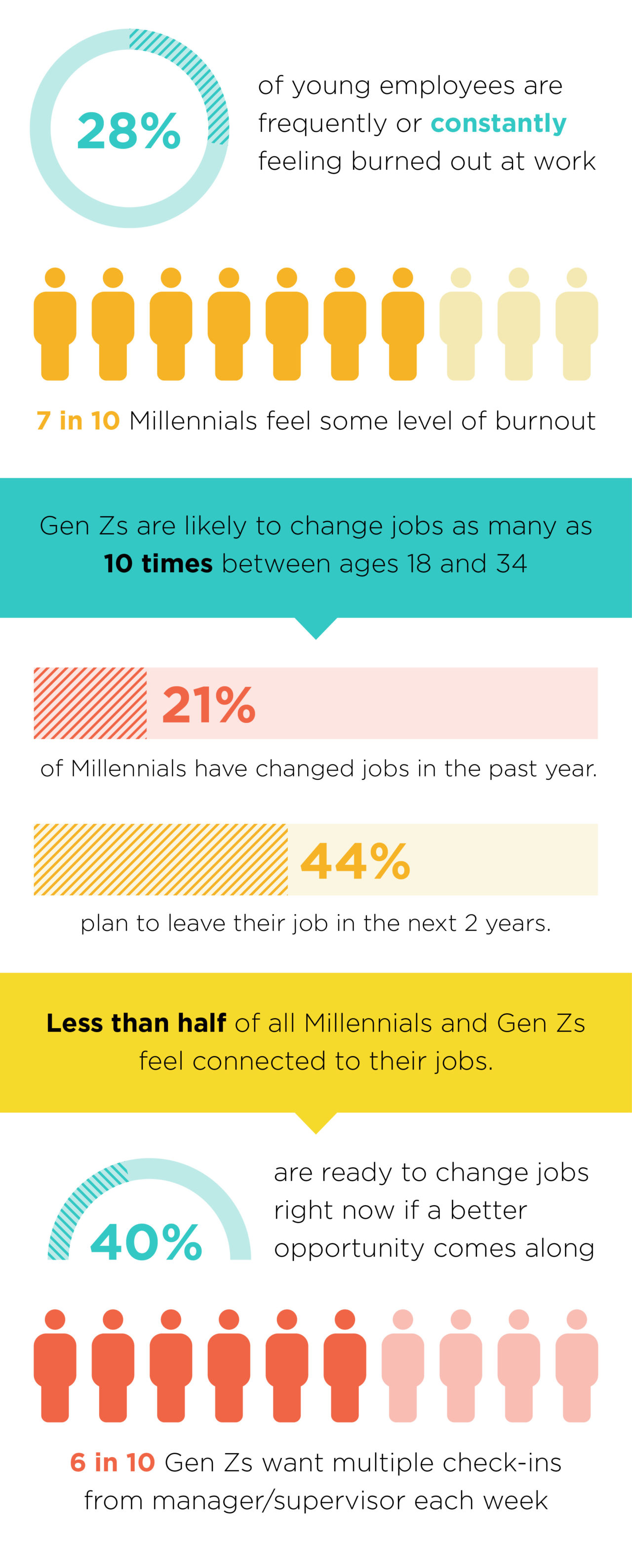 It's clear that burnout and low engagement are important challenges for employers to address, especially in order to attract and retain young employees. Moreover, Gen Z'ers crave a human element in their work—they need to feel connected to the organization's mission and cause. Sure, tech savvy is important; but having the right tools in your workplace and knowing how to use them are basic expectations young job-seekers have for potential employers. To stand out, companies need to tell their story (internally and externally) in a way that is clear and compelling.
To meet the needs of a younger workforce, internal communications should be efficient and visual. While the human attention span continues to shrink, Gen Z'ers especially have a strong ability to filter an extreme amount of information very quickly. Visual content brings information economy and understanding immediacy to your team's important messages.
Make your company culture an experience
Great company culture allows employees to be their best and do their best work. It's a noble goal, to be sure, but rather amorphous and hard to measure. Sometimes company culture looks like strong employee engagement, job satisfaction, or productivity. Sometimes it's high retention, lively office chatter, and great employee benefits. And yes, sometimes it's a beer keg and a ping-pong table in the break room.
But ultimately, great company culture is a communicative experience that begets all of these things. One more time, louder for the people in the back: Organizational culture is built through communication.
Too many organizations talk the company culture talk without really walking the walk. These are the workplaces where everybody knows what the core values are but doesn't know how their work demonstrates or advances those values. In these workplaces, the boss might do a lot of lip service to the organization's mission, vision, and values, but the employee benefits and team policies don't reflect them clearly or thoughtfully. These are the workplaces that have employees who speak positively about the organization but also have high rates of turnover and resistance to change.
Let's assume none of these things are due to any ill intentions on anyone's part (because they're probably not). Rather, organizations don't have a well developed understanding of how to do company culture. 
Culture is something you feel as an employee. It's baked into your everyday experience at work, and it should engage the senses with visual and tangible elements.
Talk about your company culture.
This one comes first because it's probably the easiest to do and the one most likely to already be present: culture talk. When employees come to work, are there conversations about the organization's goals, people, and purpose? Does company leadership report culture initiatives and successes to stakeholders? Hearing about your company culture regularly will keep it top of mind for everyone in the company, and over time the group will develop vocabulary for meaningful discussions that can continue pushing your culture forward.
Make it happen:
Communicate about your culture in staff meetings, one-on-ones, annual reviews, interviews, and onboarding.

Create a recurring agenda item to share a culture "win" from the past week or pose a challenge for living your culture in the week to come.

Ask coworkers and peers from other companies about their experiences of organizational culture.
Show your company culture visually.
It's absolutely true that our nonverbals communicate just as much as, if not more than, our words. When employees aren't talking, nonverbal visual reminders can keep the organization's values top of mind. Visuals can also help visitors or newcomers get a sense for who you are—for example, we have our core values on pennants hung on the wall and we recently added a new neon sign near our office entrance to publicize our Better Every Day mantra. 
Make it happen:
Display core values using banners, murals, or custom artwork.

Give every employee a framed graphic, poster, or calendar to serve as a visual reminder at their desk.

Publish your mission, vision, values, and benefits prominently on your public website so everyone from current team members to fans and prospective employees know exactly what you're about.
Celebrate your culture and your people.
Your team is full of great, talented people who deserve to be celebrated. Food is one way to communicate your appreciation and care for your employees, but this is really all about doing something unexpected. Surprise and delight—unexpected moments of joy—create powerful positive impressions in our minds.
Make it happen:
Build moments of joy and pleasure into your employees' experiences. Maybe it involves food—a spontaneous treat or occasional

lunch

-and-

learn

—or opportunities for community building through an office book club or

party planning committee

.

Create joy in the community by using some of your annual profits to

support local charities

or causes that matter to your team.
Create interactive touch points for employees.
Think about all of the objects and spaces your team interacts with throughout the day. Maybe you have a team uniform, branded attire, or company swag; a locker room or backstage area; company vehicles for salespeople or delivery drivers; an online portal or intranet. Each of these touch points presents an opportunity to visually communicate your organizational identity. By creating usable objects for interaction or introducing branded visuals into highly trafficked team spaces (physical and digital), you can give your company culture and internal communications a tangible, experiential dimension.
Make it happen:
Provide company swag in an onboarding bundle with custom packaging featuring illustrated representations of your values.

Enliven the break room or backstage area with illustrated or photographic wall coverings.

Design visual content like banners or splash pages to greet employees when they log onto the company intranet.

Share motivation or event announcements using visual content on internal social media.

Distribute a new desktop background each month illustrating a timely or unique aspect of your organization's work.

Create stickers with company branding, icons, or small illustrations to easily make any mundane object a talisman for the company culture.
---
Ready to tell your organization's story with visual content? Talk with us about how Lemonly can help.
Don't forget to grab our free guide to crafting an all-star internal communications strategy—packed with tips, how-tos, case studies, and DIY exercises.