Vision
A design system centralizes your company's visual knowledge into a convenient, confusion-free base that can be tapped at any point of any project. It isn't an illustration library, a style guide, or best practices concerning a few FAQs—it's all that and more.
"A design system is a great way to focus on the experience rather than the pixels."
---
Research
Review current brand and map out opportunities for improvement
Establish design system goals
Develop plan for exploration, creation, launch, and support
Training
Build style guides for visual assets
Design core visual assets (including icons and illustrations) to amplify brand
Liftoff
Make core assets accessible via an online portal and design-tool libraries
Create branded templates for easy-to-use collateral across teams
Produce materials that demonstrate how to use the system
Orbit
Document assets within the system to ensure consistency
Define rules for asset usage, maintenance, and additions to the system
Educate brand ambassadors on how to manage the system
Reentry & Landing
Implement rollout teamwide
Monitor success and field suggestions for potential additions to the system
Provide extended support when necessary
---
Not sure where to go next with design systems?
We've prepared a quiz to see what size of design system fits your company best. You might just earn yourself a spaceship.
Dive into Design Systems with our Blog Series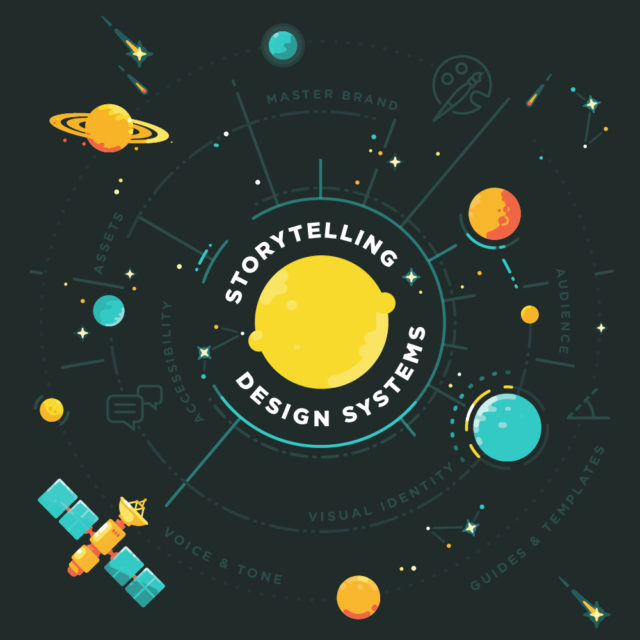 Part I: Intro to Design Systems
Think of your brand's visual identity as a solar system. If different types of content are the planets, your design system is the sun. Its gravity keeps the brand revolving in organized patterns. It's the base of the food chain, feeding the content and supporting the visual identity…