Are you getting ready to celebrate the Fourth of July? To help you get the in the Independence Day spirit, we compiled a list of a few fun Fourth of July infographics. From learning about the economics behind the day to comparing different firework types, we have quite the list for you below.
---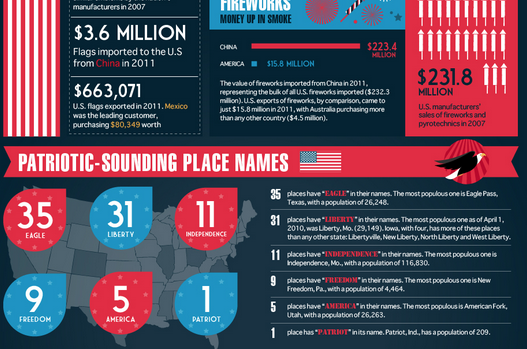 All About Independence Day
This first infographic by Project Simply features data on flags, fireworks, and even most patriotic sounding places. Who knew potato salad and potato chips were so popular?
---

July 4th Firework Data
Graphic number two by Checkmate features some great firework data, like where they're allowed in the US, safety precautions, and even how to treat a firework burn. That may be a helpful one to read.
---

Hamburgers: Economics of America's Favorite Food
Most of the time, independence day celebrations are surrounded by food. Our friends at Column Five made a sweet infographic that looks at the economics of America's favorite, the hamburger. Yum.
---

Red vs. Blue? America's Fittest Presidents
Number four is a graphic of our own that has to do with the fitness level of our nation's forefathers and our presidents of today. Red vs. Blue?
---

Money to Burn
Our last featured graphic is by H&R Block and features visuals of all types of fireworks with their names as well as specific state laws, best shows,and what chemicals cause each color. What's your favorite, willow or crossette?
---
We know there are a ton of patriotic and fun Independence Day graphics out there. If we missed a favorite of yours, let us know in the comments below!
Have a safe and Happy Independence Day, friends!