It's that time of year again, folks! Summertime means a fresh crop of SLICE interns here at Lemonly.
We're pumped to welcome a couple career-ready collegians to the team. More than half of our full-time Lemonheads are former interns, after all (including yours truly).
You'll recall how interns from the past few years have each left their mark on Lemonly, just as we (hopefully) sent them off with some nuggets of wisdom and supercharged visual content skills.
With that, meet our 2021 SLICE crew, Blake and Nicholas! We grilled them with the usual Q&A.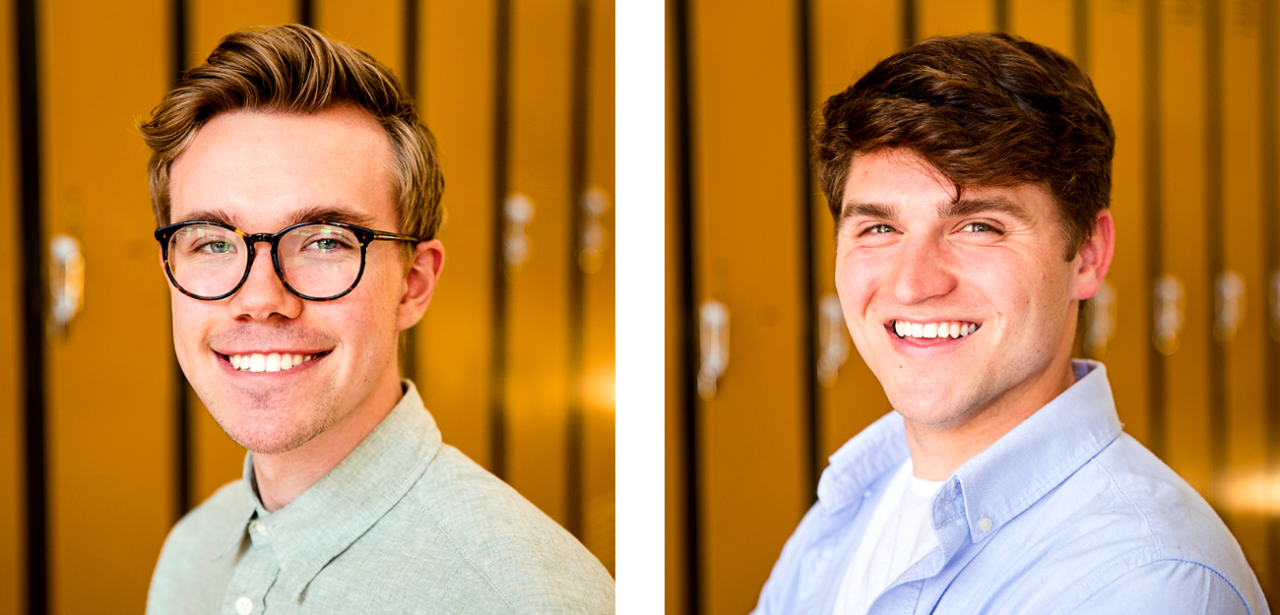 ---
Hometown?
Blake: Sioux Falls, South Dakota
Nicholas: Akron, Iowa
College and major/degree?
B: I'm a senior at Augustana University, where I major in art with a concentration in graphic design.
N: I went to Dordt University in Sioux Center, Iowa, where I majored in both digital media production and graphic design.
What's your favorite app (mobile apps or appetizers both fair game 😉)?
B: I'm gonna have to steal Nick's answers and say YouTube and wings, although I'm more of a traditional, bone-in wing kinda guy.
N: YouTube and boneless wings (preferably at the same time!)
What do you like to do in your free time?
B: Outside of just hanging out with my wife or our friends, I enjoy disc golf, board games, and other activities that I'm generally not very good at.
N: In my free time I like to run or work out, then immediately undo what I just accomplished by eating a bunch of food! I also enjoy hanging out with friends, watching movies and YouTube tutorials (because who doesn't do that in their free time!?)
What's your favorite genre of music to work to?
B: I can almost always get behind something in the indie realm, so long as it has a little funk to it.
N: Ooooo it definitely depends… If I am just methodically working through some design stuff, I can listen to anything, but if I have a tight deadline, intense movie trailer music is the way to go!
Do you have a favorite design/inspiration Instagram account other designers should follow?
B: Lately I've been getting pretty excited about what Tom Bates (another local designer) has been making, but I've also been a longtime fan of the Bible Project and how they are able to visually articulate some pretty high-level concepts.
N: Honestly, I follow so many different design accounts on Instagram that I don't even know who is who anymore! Ben Marriot has always been an inspiration though!
As a kid, what did you say you were going to be when you grew up?
B: When I was a kid, I really wanted to be an insurance auditor. Just kidding. All I've ever wanted to do was make cool stuff, and fortunately I get to do a lot of that this summer!
N: AsTrOnAuT! 👨‍🚀
What's one thing about yourself that would surprise people?
B: Probably the fact that I have a fake tooth (as well as a slew of lies about how I obtained said tooth).
N: I am really bad at making turns when I drive. For some reason I can never tell myself to slow down in time, so it's often a jolty mess when I make a turn!
What drew you to Lemonly? 🍋
B: I've always been enticed by Lemonly's policy of asking for forgiveness rather than permission when it comes to creative endeavors. Also, the people-first culture is a big draw.
N: For me it was definitely the creative environment and flexible work hours that they offer! It also helps that I am partial to their style of illustration and animation! 🙂
What's your favorite part of the office so far?
B: Being part of a friendly environment with passionate people who are incredibly skilled at what they do—but who also don't take themselves too seriously.
N: So far I'm loving the fact that I get to be amongst awesome artists that are determined to present only their best work! It's inspiring and pushes me to do the same.
Share a goal you have for the summer.
B: I think my big goal this summer is to learn the art of effective communication—visually, verbally, and relationally. But also to embrace being uncomfortable and growing more confident in my abilities.
N: One of my biggest goals this summer is to become a confident artist even when I'm surrounded by artists that are at a higher level of experience than I am! I also wouldn't mind having a nice tan by the end of the summer.
If you had to pick one for the rest of your life, would you choose burritos 🌯 or pizza 🍕? Why?
B: As both a former pizza-maker and lifelong burrito advocate, this question puts me in a bit of a dilemma. But if I had to choose one, I'd say burritos—I have a soft spot for soft shells.
N: Burritos, because there are a lot of different types of burritos, one of which could be a pizza burrito…best of both worlds!
---
Stay tuned for more from this dynamic design duo as the summer continues! We're psyched for the sweet visuals they'll make—including their first out-of-this-world infographic already underway. 😉🚀👨‍🚀🪐