Editor's note: This post is part of our blog series all about internal communications. We've got other posts about treating your internal comms more like content marketing, why you should rethink your approach to internal comms, why you should invest in your internal comms, and making your internal comms more than an email.
---
Hey! Good news! Going into 2019, 35% of internal communication teams planned to decrease their use of email announcements, and 66% planned to increase their use of internal social channels (Yammer, Jive, Workplace by Facebook, etc.) The industry is definitely heading in the right direction, technology-wise. 
But, while the proliferation of tech-based solutions have made internal communication easier in some ways, the changing world of work has opened up new challenges, too.
Online, mobile-friendly platforms allow more opportunities for internal communications to reach the "deskless workforce"––the 2.7 billion workers around the world who do their jobs away from a desk. Think nurses and firefighters and construction workers and agriculture producers.
On top of the deskless workforce, more and more employees who do work from a desk (The desk-ful workforce? The desk-ed workforce?) aren't in the same physical location as their teammates and coworkers. Up to 43% of Americans work remotely at least part of the time, and that number is only going up.
If your organization strives for effective employer branding, engaged employees, and adaptability for the future of work, your internal communications need to meet your employees where they are.
Combine visuals and technology to make your message stick
Meeting employees where they are doesn't just refer to a physical work location. Thinking of employees' mindsets also gives internal communicators insight into strategies for sharing information. The golden rule of organizational communication: Communicate with others how (and where and when) they want to be communicated with.
Simplicity is perhaps never more appreciated than during personal milestones. Life is already hectic enough for someone preparing to welcome a new addition to their family––trying to process the fine print on a big PDF explanation of the company's parental leave policy adds even more stress.
This company created an interactive microsite that guides employees through how to prepare for parental leave, what their related benefits entail, and what to expect when they return to work.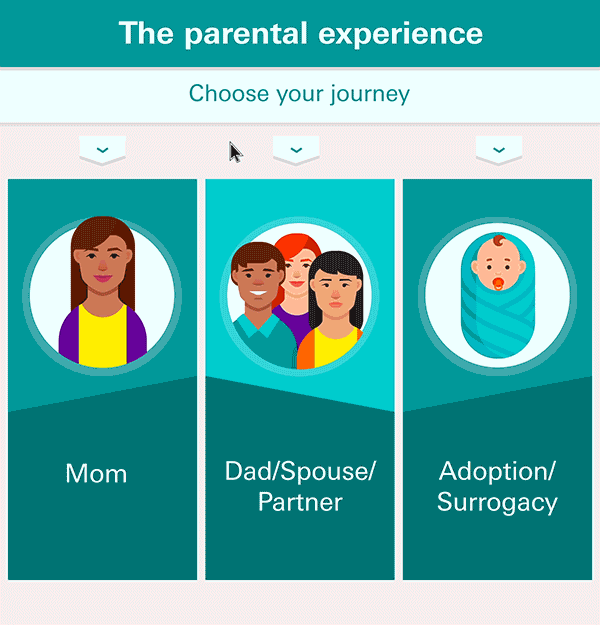 Instead of giving parents-to-be another packet of complex information to process, the microsite communicates the necessary information and makes the employees feel as though their employer supports them and shares their excitement for this new chapter.
In what ways can your organization harness digital options to improve how you communicate parental leave policies (or any policies)?
Tailor the technology to work for you
Intranets and internal social channels don't work for every message or every employee, but other technological solutions might fill in those gaps.
Say your organization has business development employees who spend significant time driving between prospects or clients. They might be interested in continuing education or training, but their schedules make it difficult to carve out time to watch webinars or read materials. In this case, the solution could be as simple as having someone do a voice recording or podcast communicating information these employees would want to know. Meet them where they are.
Recall your middle school American history class for a moment. During the Great Depression, President Franklin Delano Roosevelt had his fireside chats, a series of talks about the state of the country and economy during a time of extreme hardship for many families. These families gathered around the radio to "chat" with the president.
FDR used the most personal method at his disposal to make sure American families understood the steps being taken to address their concerns on a national level. How are you using your platforms to speak to your audience on a personal level at scale?
But don't forget the non-digital environment
Those 2.7 billion deskless employees we talked about earlier? Those folks and others, like their road-ready sales colleagues, might not have the same access to technology throughout the day as teammates who work behind a screen. So, the adroit internal communicator would consider how important organizational messages can be communicated in analog or tactile means—something a mobile employee can take with them, interact with, or pack along.
At Lemonly, our core values greet us every day in the form of pennants affixed to the wall above our lockers. The physical space where we do our work reminds us of who we are as an organization.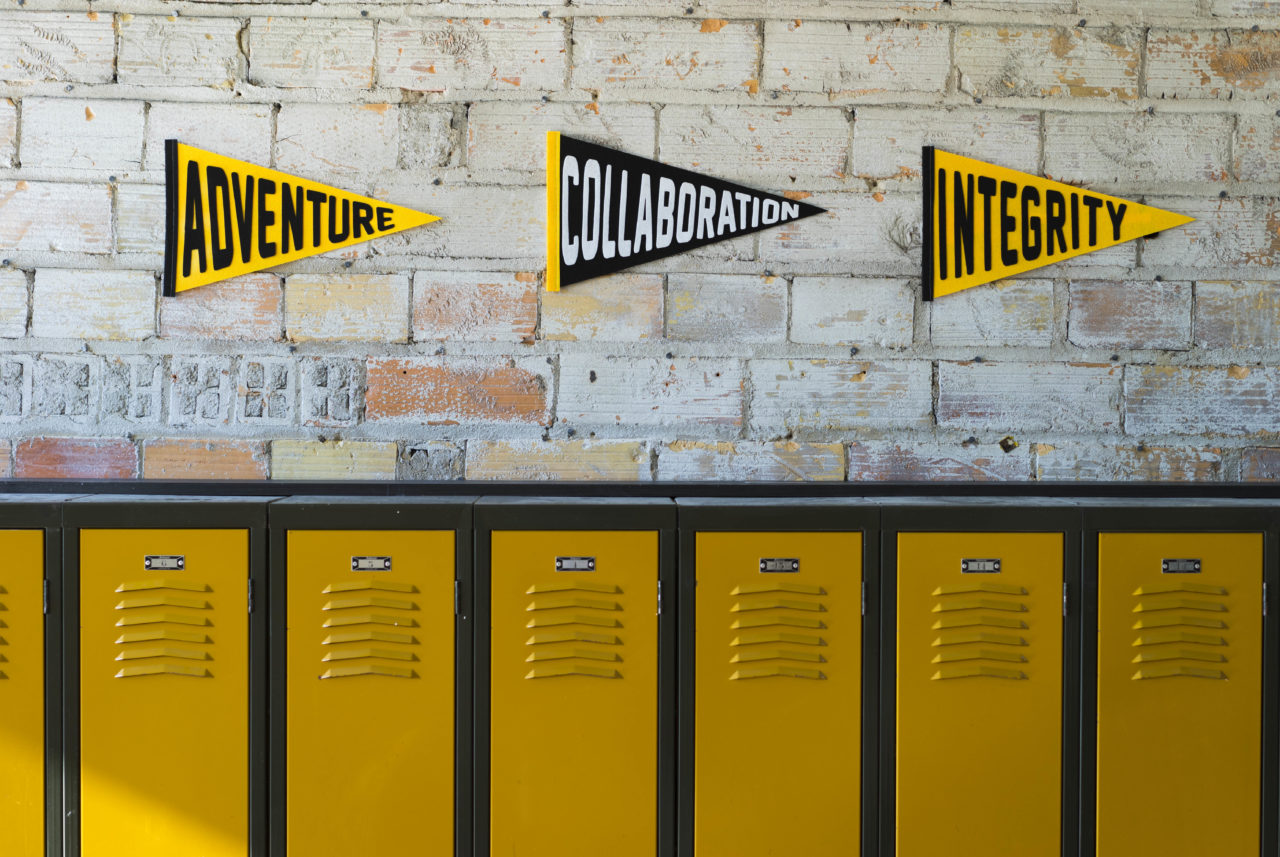 Let's think of our traveling sales folks again: A luggage tag with the core values to make them feel connected to the company even when they're on the road. Something they can give the prospect that not only helps personalize the company but also reminds the giver what their employer stands for.
What's next?
Want more to chew on? Check out "Why you should be investing (more) in your internal communications."
Want to show off the best piece of internal communications material you've been part of creating? Tweet it to us at @Lemonly or email it over to hello@lemonly.com
Want to upgrade your internal communications strategy? Download our free guide, packed with tips, how-tos, case studies, and DIY exercises to build your team's internal comms playbook.