Lemonverse, meet Kaley Schweitzer, our account coordinator! Originally from Redfield, SD, Kaley is a University of South Dakota grad with majors in marketing and strategic communications.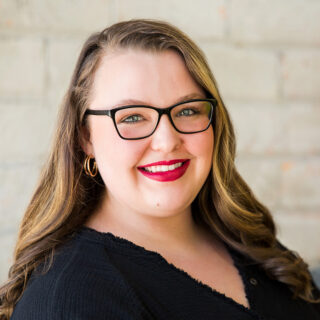 With a background in marketing and an eye for processes, Kaley is a great fit for Lemonly and our clients. She's been with us for a few weeks and has already helped make Lemonly more organized and optimized. We're stoked to have her aboard!
Get to know Kaley with our classic introductory Q&A below.
---
Tell us a little about your background.
I'm from Redfield, SD. Growing up in a small town, I learned the value of community and commitment—values I took with me to Vermillion, where I built my own community of friends and church family.
I graduated from USD with degrees in marketing and strategic communications. Almost all of my past jobs have included marketing or social media management of some kind. I was recently an intern and communications coordinator for The Event Company, and I've been a barista for many years. I love a white chocolate and raspberry latte! ☕️
What's your favorite app? Appetizers or mobile apps are both fair game.
In no particular order: mozzarella sticks with lots of sauce, chips and queso, and Google Calendar.
What do you like to do in your free time?
I like to push myself creatively. Photography and videography are my favorite off-the-clock hobbies, followed closely by driving with the music so loud you could hear every syllable in the car next to me.
Do you have any pets?
No, but my roommate has a fierce and handsome lynx siamese that I spend a lot of time with. He's turned me from being afraid of cats to loving one (and only one). 🐈
What's your favorite genre of music to work to?
Oof. What am I not listening to? When I'm working it's hard for me not to sing along, so probably some type of gospel worship or soul. I'll leave my hip-hop and Adele playlist for my car (audience of one). 
Do you have a favorite podcast you'd recommend?
I love @itsmollysheppard's podcast. She's a kick-ass, Midwestern photographer who's motivated me to kick down doors, laugh louder, and be my true self in front of and behind the camera. She also makes me laugh so hard I'm gasping for breath. Highly recommend it.
Name something on your bucket list.
Travel to Italy. 🇮🇹 Italian is my favorite food of choice, so I must try some authentic dishes. Not to mention the sights will bring tears to my eyes. Counting down the days.
As a kid, what did you say you were going to be when you grew up? 
A teacher who performed on the big stage outside of work. My momma is a music teacher who was heavily involved in the local theater. So, like any daughter would, I wanted to be just like my momma. Still do in some ways. 😊
What is one thing about yourself that would surprise people?
I love a fun pair of pants. You wouldn't recognize it from any of my headshots, but I almost always have a funky pattern or loud pair of pants on. Thank you to Arula (Altar'd State) for allowing me to express my loudness in pant form.
What drew you to Lemonly? 🍋
I was initially drawn to Lemonly because of their creative drive and company culture. From the outside, it looked to me like the company takes care of its employees. It seemed like employees were met with the support, encouragement, respect, and transparency they deserve. I'm happy to report from the inside perspective that all of that is still true. And then some. 
Name one dream client and why Lemonly should work with them.
I would love to see Lemonly work with Airbnb or VRBO. With all our tourism infographics, they'd be a perfect match.
What question are you dying to answer that we haven't asked?
What's my binge-worthy TV series?
What's the answer?
NCIS or Criminal Minds. Basically any dramatized crime show—I'll watch it. I've seen NCIS and Criminals (all seasons) more than five times. They're my comfort shows!
If you had to pick one for the rest of your life: burritos or pizza? Why?
Pizza. 🍕 Please reference the appetizer and bucket list questions above. 😉
---
Look out for more from Kaley in the months ahead! Meet the rest of the Lemonly team and check out more of our oh-so-intimidating new employee interrogations on the blog.