This guest post is by our new office coordinator, Alyssa. Before coming to Lemonly, Alyssa had been a part of the letterpress world. Learn about the differences between designing for letterpress and digital infographics below.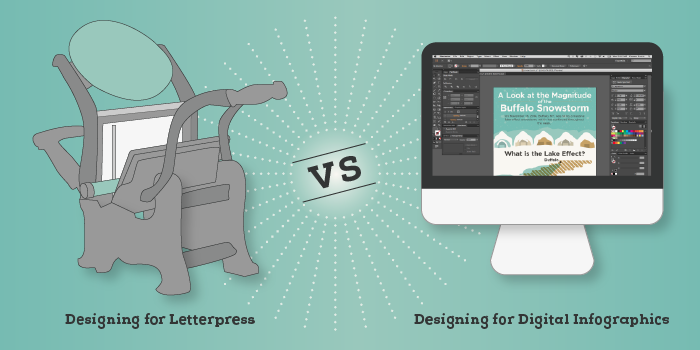 Since 2010, I had been designing wedding invitations for letterpress printing. When I started working for Lemonly, which specializes in digital infographics, I never would have guessed the amount of differences that exist between the two mediums.
I mean… I knew there were going to be differences, but I had no idea how different the two would be. Letterpress is becoming a forgotten skill that dates back to the 1400s. Digital infographic design is a trade of the modern age that isn't going anywhere but forward. Below is a comparison of important tips to remember when designing for letterpress versus digital infographics:
Tips for Designing for Letterpress: 
Letterpress is generally priced out first by size and then, more importantly, by color. Say you have two colors on your design – the paper will need to go through the printer two different times; one time for each color. That being so, letterpress projects usually only have one or two colors. Three is a treat! And four or more is extremely rare.
All inks are opaque! Because of this, you need to be careful which papers you use as the ink will take on a tint of the paper color. Example: If you try to use yellow ink on royal blue paper, the ink will likely show up green once printed.
All artwork needs to be vector.
The final product is only as good as the printer. Your artwork can look stellar on the computer screen, but if you have a printer that isn't well-trained, it can ruin everything.
 Tips for Designing for Digital Infographics:
Colors need to be eye-catching. You have only a few seconds to draw someone in. And unlike letterpress, you have free rein on which colors you choose and can have various tints of the same color.
Digital design easily accommodates effects, transparencies, photographs, and vectors alike.
Flow is extremely important. There should be some thinking behind the way the data is presented so that the viewer is walked through a story.
Choice of words and legibility are key. Make your case concise and clear. An infographic is nothing without strong graphics and precise data. Make sure a good analysis was taken and the graphics are relatable.
When designing, it is also important to know if it is going to be interactive or responsive and how it will translate from computer to mobile.
The clearest difference between the two is that in letterpress you constantly have to be thinking if your design is "printer friendly" with colors, sizes, papers, etc., and with digital infographics, the message and catchability need to be outstanding.
The most important part of letterpress is actually the letterpress printing. That is, the effect and feel of the product. The ooh and the aww. For digital infographics, the actual design and message need to carry the effect and feel.
To see a marriage of the two concepts, check out this infographic that we had letterpress printed to commemorate year five of Big Omaha, an entrepreneurship and innovation conference! You can read more about it here, and see the graphic below.
I have only been at Lemonly for a few weeks now but I feel like I have learned so much in this constantly moving and evolving field. I look forward to expanding my horizons, growing, and taking in all the information I can.