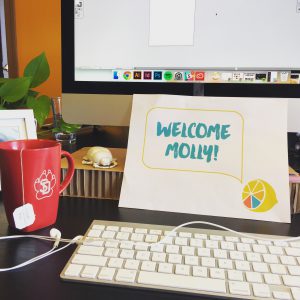 You probably have heard the saying "do what you love and you'll never work a day in your life." As it turns out, doing what you love is an option. For me, that's designing, and as Lemonly's newest visual designer, I'm doing just that.
Coming from Lemonly's sister company, 9 Clouds, I only had to move a hop, skip, and jump down the hall. And even though I wasn't new to the scene, they welcomed me warmly — signs and all. This is especially significant as I am a USD Coyote, whereas a majority of the Lemonly team members are rival SDSU Jackrabbits. Fortunately, Coyotes and Jackrabbits all look the same in Lemonly yellow.
My first Monday started off with a bang and of course, a series of important onboarding questions from the team. I was asked things like, "Do you prefer pizza or burritos?" and, "If you could be any fictional character, who would you be?" (My answers: pizza and Charlie from "Willy Wonka and the Chocolate Factory.") They seemed satisfied, so I think I passed.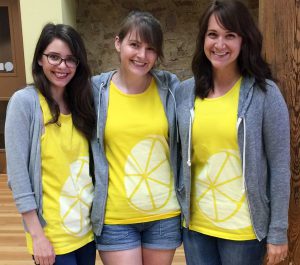 Already comfortable with the standard Lemonly tools, such as Slack, Basecamp, Google Docs, etc., I was presented with my first project right away. The assignment: a Marriott infographic about things to do in Miami's Little Havana. I was given some copy to work with and sent on my way to design it in any creative style, color palette, and direction I wanted. I was like a kid in a candy store.
Throughout the week, I had to give myself reality checks. Am I really getting paid to design all day, every day? I was used to designing for fun in my free time, and I even got the chance to design once in awhile in my previous position, but this was much more. Now I'm designing full-time, learning new design techniques, hanging out with my awesome co-workers, and designing some more.
By midweek, I was really getting into the swing of things. Between design sessions, I was exchanging podcast suggestions, learning new design tips, and really soaking in the Lemonly culture. Before I knew it, I had an infographic in the books, my very own Lemonly bro tank, and promise of many more wonderful weeks to come.
After one week, I can confidently say that I'm officially a lemonhead.