Another year has graced its presence upon us, and with that, new resolutions have sprung up among the Lemonly team members as well. Here are a few of the goals the Lemonheads are working towards achieving in 2016.
---
Alyssa McDowell, Office Manager
Finish the crochet blanket.
So how much work do you have yet on the blanket?
I have two-thirds yet to finish. Oye! Which is probably about 5' x 5' left…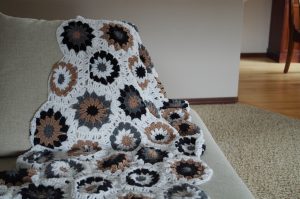 Have you crocheted for awhile now?
My grandmother was always crocheting something while I grew up. I was never able to catch on to her teachings, so in 2006, my freshmen year at SMSU, I took a class with my mom at a local yarn shop.
Does the blanket have a special significance?
I tend to pick up a project if I am grieving or am just plain bored. With this blanket in particular, I had actually just miscarried a pregnancy – so crochet I go.
And how does it help your work at Lemonly to have a project like this?
I think it is a good chance for me to step away from a computer screen and do something with my hands. If it isn't a new pattern, it is just a mindless continuous motion. It doesn't require anything of me, really, but time. And the yarn, of course!
---
Amy Thorne, Project Manager
Drink 80oz of water a day.
We at Lemonly know you're a runner, but for readers, tell us about your active lifestyle.
I've had an interest in endurance events since my teenage years. During college, I was a track athlete, which helped prepare me for post-college events such as marathons and Ironmans. I'm currently signed up for the Coeur d'Alene Ironman 70.3. The longer the better! It's a love-hate relationship.
What are some of the benefits of drinking this amount of water every day?
I've always had a hard time drinking the recommended amount of water, and since I am so active, it's even more important for me to stay hydrated. I've battled with kidney stones in the past simply because I'm not drinking enough H2O. This year I'm pledging to drink my 80oz a day and I should see the following results:
Fluid Balance

 — This helps transport nutrients in the body, regulate body temperature, digest food, and more.

Calorie Control

 — Drinking more water can help people lose weight because that extra fluid makes you feel more full.

Muscle Fuel

 — Muscles lacking water tend to tire more quickly.

Clearer Skin

 — Water does flush out these toxins and can reduce the risk of pimples.

Kidney Function

 — Kidneys need fluid to flush out waste and bacteria.

Fatigue Buster

 — One of the most commons symptoms of dehydration is tiredness.

Brain Boost

 — Studies show H2O can promote clearer thinking.
Is it a hard goal for you, or have you been drinking about the same amount for awhile?
I'll definitely have to work at this! I get distracted throughout the day and forget to hydrate. I'm trying to get in the habit of having a water bottle with me at all times.
---
John T. Meyer, Co-Founder/CEO
Write 500 words a day.
How has this goal gone so far, and what do you see as the major barriers you'll need to overcome to accomplish it?
Good. I always start off strong in the New Year so I'm hoping the early success isn't just like the folks who go to the gym in January. Most importantly trying to create the habit and set aside the time here early on.
Biggest barrier is not making it a priority. Last year I wrote 500 words a day for about three weeks, so that was a decent trial period. I'm a big believer in not breaking the streak. Just get started and you'll keep going.
What do you hope to get out of writing daily?
I hope to get a clear head. I always have ideas, thoughts, business questions, and just opinions rattling around in my head. I find when I write (public blog post or even just a private journal) it allows me to clear my head and also flesh out my ideas. Certainly if the writing turns into blog posts, ebooks, or something larger, there will be business value as well.
Will there be any poems for Margot (John's newborn daughter)?
No poetry yet. I did write a journal entry to Margot. She hasn't read it yet, but probably next month. 😉
---
Michael Todd, Developer
Record album.
Is this your first album?
It will be my second full-length. I made one called Coriolis in 2012. I also made a short, five-song EP called Mess of Nerves and Silly String in 2011.
Did you write all of the songs? If so, over what period of time did you write them?
I did write them, and I think it'll be 10 songs total. It looks like the oldest one is about five years old, though I added a new bridge and final chorus last fall. The newest song is from September 2015, and all but one other were written last year.
Where are you recording?
I'll record on my friend Dan McCarthy's piano (named Alice) in Omaha. Dan plays in a band called McCarthy Trenching, and we met through my work at Hear Nebraska, a local music nonprofit.
For a handful of months, just before and while I was attending Omaha Code School, I'd walk a couple blocks from my apartment to Dan's place to "practice" piano. Mostly, because of my unscrupulous studying habits, we'd share songs we were writing (and Dan would show off his actual sheet-music-reading skills with Satie and Joplin).
The true start of this album came when Dan and I tried a songwriting exercise where the chord structure of a main section walked down the scale. His song is far better — listen here, I mean really listen — but ultimately, the tone and storyline of my song, called "Below Bryant Park" — about a ghost living out his deathly salesman ways in a New York subway, naturally — kicked off the album.
Omaha's Ben Brodin will be recording, and I will be in good hands. I'm gonna keep it simple with just vocals and piano. Not sure what I'll call my "band." I'm currently The Full MT, but like all my "band" names, it's super silly.
My recordings are sort of like Christmas cards for friends and family. Hopefully, they don't mind all the fantastical characters and dumb jokes.
---
Morgan Hauck, Project Manager
Pay off another student loan + never use my credit card again. (#bossmode #daveramseymode)
Whoa! Never use your credit card again? Explain how and why.
I'm following Dave Ramsey's seven "baby steps," which are his core principles to getting out of debt and building wealth in his book The Total Money Makeover.
Dave is very anti-debt (which also means anti-credit card) and teaches people common-sense principles on using only the money you have by budgeting each month, setting up an emergency fund for unexpected expenses, and spending less than you make. Once you get out of debt and stop having all of these small payments month-to-month, you suddenly have so much more money coming in that you get to decide what to do with it, rather than just paying it out again as soon as it comes in.
Although I don't have a TON of debt, my monthly student loan, car, and credit card payments DO eat up a chunk of my paycheck, and I realized it doesn't have to be this way! So far in my four months following this plan, I've saved $1,000, paid off a credit card and a student loan, and have not used my credit card to buy anything. Boom! 🙂
Dave Ramsey might have a lesson on this: Do you not need a credit card to build credit?
Following Dave's principles of never borrowing money again means that we don't actually NEED credit. By paying off all of debts and saving for all future expenses, I'm slowly making my credit score essentially disappear, which is okay.
The only thing I'll need to potentially borrow for in the future is a house, and there are still ways to take out a mortgage without having a credit score. Though unconventional in today's world, there are ways to do anything you think you need a credit score for without having one.
What does it feel like to pay off a student loan?
It feels magical. I'm now using the money that I once used on that student loan to help pay off another student loan I have off even faster. How sweet is that?
---
Tess Wentworth, Project Manager
Read before bed four nights a week.
How has the goal gone so far?
Not bad! Not amazing either. Last week I couldn't stop watching Making a Murderer, which cut into my goal pretty hard, but this week, I read three weeknights and a bit on Sunday, so I consider that a win.
I love reading. And I love real books. My favorite college professor told me she's never picked up a book without also reaching for a pencil. "Write down what you're feeling." she'd say. "If you come across something profound, react to it. Circle it. Underline it. And don't forget it." So if you ever find me reading, it won't be on a Kindle or Nook. And if you ever borrow a book from me, expect my thoughts to be all over it.
Tell me about a book you're reading, or are planning to read.
I'm revisiting Quiet: The Power of Introverts in a World That Can't Stop Talking by Susan Cain. I've started the book about four times now and haven't made the time to stick with it. I recently graduated college and realized there is still so much I don't know about myself. One thing I learned more recently is that I am a definite introvert. Cain brings the introvert personality into light and reveals a ton of misconceptions people have about introverts as well as misconceptions introverts have about themselves.
How do you think this goal might help your Lemonly work?
I've found that it's always important to know how to work with all types of people and personalities. Lemonly is a small company, with sweet people. Taking the time to know myself better will help foster my work relationships and understand my fellow lemonheads even more. According to the book, one-third of the people we know are introverts, so I know a few other lemonheads must be as well … I'd like to know more about them.