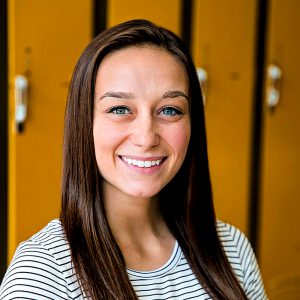 Introducing Allison, our newest project manager at Lemonly HQ. If you think she somehow looks familiar, that's because she was a part of the amazing trio of interns we had this summer. This Aberdeen, SD native and recent South Dakota State University Advertising graduate rounds out our Project Management team, helping both clients and the Lemonly team stick to schedules, interpret feedback, and make projects run smoothly. Let's get to know her with our always-riveting Q&A below!
---
What's your favorite app?
Instagram
What do you like to do in your free time?
You can usually find me going for runs, looking up new music, or exploring new restaurants in Sioux Falls.
If you could be any fictional character, who would you be? and why?
Jessica Day from New Girl. She's hilarious and has an awesome group of friends. I aspire to her level of quirkiness.
What's your favorite genre of music to work to?
Alternative/Indie. Everyone go look up "Alaska" by Maggie Rogers. That's my jam.
Do you have a favorite blog or podcast?
The "Stuff You Should Know" podcast is great if you're looking for an in-depth look at how common things work!
Name something on your bucket list.
Go to Italy and try gelato because holy moly, I love ice cream.
What did you say you were going to be when you grew up?
I wanted to be a journalist. I even created my own newspaper in an early version of Microsoft Word. 🙂
What is one thing about yourself that would surprise people?
My dad is a twin and I have twin sisters!
What drew you to Lemonly?
The opportunities for both personal and professional growth, crazy-fun environment, and outstanding work Lemonly does. I'm excited to learn from such a talented group of people.
Why are you a project manager?
I love being able to help a client take an idea and transform that into a beautiful piece of content that helps their business shine. Also, organization is a very important part of my life and project management allows me to organize all of the things. 🙂
If you had to pick one for the rest of your life, would you choose burritos or pizza? Why?
Pizza. It's basically universal, right? I could go anywhere and try a new kind.
---
We're so pumped to have you on board full-time, Allison! Here's to keeping us all organized.