Let's start with the hard data: Over my first 107 days as Lemonly's junior developer, I've built 33 sites (that's 3.24 days per site, statisticians). In an environment that's both fun and conducive to hard work, that kind of productivity is easy to come by.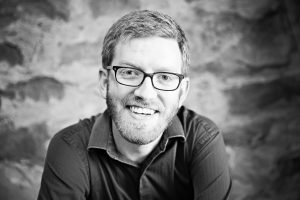 I've traveled the world vicariously through sweet, interactive visuals for our client Marriott, whose sites have comprised the majority of my work. I've discovered "Star Wars" in San Francisco and chocolate in Hershey, Penn., not to mention a handful of Floridian forays including the gators and crocs of the Everglades and the magical attractions of Orlando.
Lemonly has provided the perfect transition from journalism, a career path change enabled by Omaha Code School, which I attended this spring. As we look ahead to the end of the year, I'll look back at the milestones that have made my first five months wonderful.
JULY
Learning the Ropes
built 5 sites (plus one in June)
After proving my mettle in June with a freelance site, I was hired to start in Sioux Falls on July 7. I appreciated the quick onboarding process and ability to work on day one with our creative director Amy Colgan to add a new element to a design.
Joining me on her first day as well, project manager Becca Eisenhauer was similarly swiftly entrusted in retooling our workflow for max efficiency.
To more fully understand what we developers do here, click through to "How Lemonly Developers Work," an interactive infographic we made to explain the process.

Also in July: A Flywheel article on code school
I had the pleasure of writing about my code school experience for Flywheel, which hosts this very website. In my case for intensive web development programs, I close by saying, "I'm fortunate to be in a position where I'm encouraged to build upon my code school knowledge when we plan and execute future products." Read on for more.
AUGUST
Rosie the Riveter, One of Lemonly's Cuddly Mascots
built 5 sites
In August, my girlfriend and I decided that we were smothering each other with too much love, so we sought to siphon some off to a puppy. This is where Rosie entered in. Possibly the sweetest dog to ever be born — sorry, Lassie and Air Bud — Rose is just the best.
The forward-thinking work/life balance at Lemonly has encouraged a few doggy visits from time to time. You'll see the daughter of our lead designer Ashton Dockendorf meeting Rose for the first time below.
In addition to other pets at work, we've enjoyed pumpkin week and Crockpot week, featuring favorites such as mulled wine and apple crisp. I'm also a proud member of our party-planning committee (PPC, represent) — serving my post as representative of the dudes — and look forward to our Christmas party later this month.

Also in August: A summertime vinyl treasure hunt
At code school, I developed a site for monthly vinyl treasure hunts called Unfound Sounds. I plan to start it up again in May, with free albums hidden at local businesses in Sioux Falls, Omaha and Lincoln.
I love Lemonly's support of side projects and other creative enterprises. Among other great work on the side, I encourage you to check out a furniture treasure hunt, Lumber Hunt by designer Connor Burtis; a greeting cards and paper goods shop, Quirky Paper Co. by designer Cheryl Loh; and a business and career development conference, Prestige Conference, co-run by senior developer Josh Broton.
SEPTEMBER
Innovation Expo, and Lemonly's Part in Building Sioux Falls
built 6 sites
Bosses, take notes from John Meyer. Aside from being smart, organized and understanding, John spearheads Lemonly's involvement in cultivating the startup community of Sioux Falls and the surrounding area. One piece of that multifaceted puzzle is Innovation Expo, which John helped coordinate in September. Bringing in speakers from Onboardly's Heather Anne Carson out of Canada to Docutap's Eric McDonald from here in Sioux Falls, the conference was a well-executed event, "where suits and shirts connect."
When I walk home for lunch on Fridays, I'll sometimes hear John on SDPB's TechRadio. He helps run the weekly 1 Million Cups speaking events on Wednesday mornings at Prairie Berry. And among the stories he writes for national publications or his own Point Letter, he's somehow never too busy, serving as a friendly, effective CEO for us.
Also in September: Continued writing for Hear Nebraska Before code school, I worked for a local music nonprofit Hear Nebraska as managing editor. Even with a couple side projects here and there, I've enjoyed having the time to continue writing and helping HN in whatever way I can. In September, I wrote concert previews for the touring English band Glass Animals, singer/songwriter Justin Townes Earle and Dear Herman, a masterful, storytelling group out of Lincoln, Neb. Then I finished out the month with Bold Nebraska's fight-the-pipeline concert with Neil Young and Willie Nelson, reviewed here.
OCTOBER
Company Retreat to the Black Hills
built 6 sites
One more A+ on Lemonly's report card comes due to its many remote workers. Project manager Amy Thorne works from Idaho, Cheryl and designer Dafne Sagastume are in Vancouver, product designer Scott Johns lives in Miami, and designer Ana Djordjevic is all the way across the world in Serbia. While only Amy and Cheryl were able to make it this year to our company retreat to Lead, S.D., the team-building sessions, hiking and sightseeing brought us together.
Here's looking forward to next year's retreat, with an even bigger crew.
Also in October: Continuing a Halloween tradition For Halloween, I brought my Beanie Baby puppy to work, and dressed as Fantastic Mr. Fox. Designer Brett Hanes took home the best costume award, coming as a president, but morphing into something else entirely by the end the day. Following last year's assortment of characters and our Halloween costume infographics, Lemonly is a holiday-loving team.
NOVEMBER
Startup Weekend, or Making a Business in 54 Hours
built 9 sites (plus Due in Two, our Startup Weekend site)
What happens when you put teams of sharp, creative designers, developers and business people together for 54 hours? We build some cool stuff.
At Startup Weekend in Sioux Falls, Amy Colgan and I made a working prototype of a "library for everything," a site called Due in Two that enables people to borrow and loan tools, kitchen supplies and other goods. For me, the fast-approaching deadline, and our ability to make a strong, well-designed site proved that although I'm new to web development, my skills are ever-strengthening. I can't wait to build out the project even more as we move into 2015.
Also in November: A shiny new sign at the office Just look at that beautiful logo. After a bit of renovation that allowed us all to be in the same room at Lemonly HQ, the sign was icing on the cake. I love coming into work and seeing it by my desk.
DECEMBER
Gearing up for a Great End to a Great Year
built 1 site (so far)
So here we are nearing the end of 2014. From journalism to code school to Lemonly, my year has been one of big changes and lots of fun.
I'm looking forward to what we'll accomplish next year. Thank you for following Lemonly, and send us a note if you'd like to work with us!